CAT students create emergency management website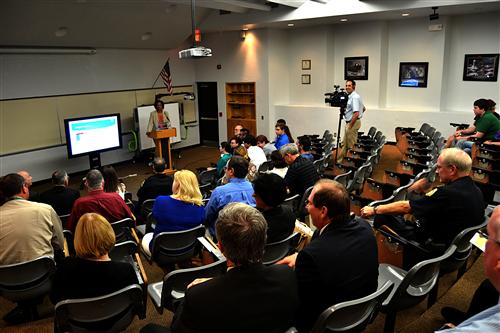 Pinellas County District Administators gather in the CAT Auditorium on 4/29 for the Website reveal.
(NAIMA JACKSON | SNN)
By RACHEL BROWN
SNN Staff Writer
For years, schools have been used as emergency shelters during major hurricanes, and school administrators were assigned to oversee the schools during those emergencies. In the past the district used a printed out list of all the staff in Pinellas County, but there was no way to quickly find out which school each staff person was assigned to. Sometimes it could take hours to figure out the staffing.
Lakewood's Center for Advanced Technologies students have figured out a way to solve that problem.
The students created a website that allows administrators to quickly and efficiently staff shelters in an emergency, a project that started back in September 2015, when the Pinellas School District approached CAT network administrator Lou Zulli with the problem.
"We didn't know how to solve the problem, so I said 'I'm just going to call the kids at Lakewood'," associate superintendent Clint Herbic said during an event on April 29 to reveal the new website.
In the end he said he was grateful for the students' work. "This could save lives," he said.
Seniors Avinash Perera, Andrew Shafer, Adis Husic, Katie Syron, Clayton French, Kaylee Hoyt and juniors Sean Brodney, Nikhil Sharma and Adriana Nazarko were the creators of the Hurricane Shelter Preparedness Portal website.
"Being complimented by all these amazing people… it's great," said Hoyt after the event in the CAT auditorium unveiling the new website.
The website will allow administrators to see what shelter they are assigned to during hurricane season. It will also allow administrators to add and remove any staff members who leave or enter the Pinellas County District.
A year and a half ago, the Hurricane Shelter Program was inherited by Herbic and Sally Bishop, Pinellas County Emergency Management Director.
"I'm looking forward to doing more challenges with you guys," Bishop said.
Along with district administrators, Chief Rick Stelljes attended the event.
"The district could have paid thousands of dollars to have this website created, but to have high school students create it, is just amazing," Stelljes said.
Lakewood principal Erin Savage said she was impressed with the students' work.
"I'm not surprised. I'm more wowed," she said.