It's not your mother's school library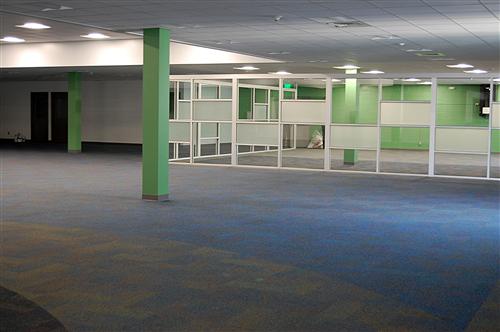 (ALTANIQUE MOND-ROGERS | SNN)
Over the course of this school year the media center has been under construction. In April the media center sits empty waiting for furniture. This fall it will be complete and ready for staff and students.
By ANNIE GJINECI
SNN Staff Writer



The old library, which was overcrowded with rarely used books yet vacant of people, has been transformed into a more student and teacher friendly area.

"I think it's nice. The library needed a refresh. Students will use it more because of how it's going to be," freshman Isabel Rask said.

Opening at the beginning of the 2016-2017 school year, the "library" isn't actually a library anymore, according to Center for Advanced Technologies coordinator Peter Oberg. The media center will have many new additions, including a new name, which the school is taking name suggestions from students.

The new space includes a conference room with a 72-inch Smartboard, which many people can access at one time so students can work together on assignments, a smaller glassed-in area that will hold the books and a café.

But it's also a place to hang out with peers with cushioned furniture that will be placed all over the library for a more comfy zone.
Unlike the old library that became rarely used by students with only 10 percent of the books being checked out, this one will be different. Lakewood High School didn't want a repeat of history.

"We wanted to repurpose something that wasn't usable anymore. We want this to still be used 30 years from now," Oberg said.
The space will have two filtered water fountains and a café with vending machines that will sell snacks, coffee and hot chocolate. This new café will be in the old teacher workroom in the library.

Only a small section of the new media center will actually be dedicated to book space - and all books that haven't been checked out in over 20 years will be not be put back. Instead they will be replaced by shipments of books the school recently recieved.

With almost an entire school year with no media center to use, many students and teachers are very excited to have that space back.

"I think people will go in there a lot compared to the old library, and it will also be really profitable for the school," sophomore Veronica Sierra said.

However, some students are a little wary about the brand new addition. Junior Mark Henton said while it could be a good hangout place, he's worried there will be too many rules.

"I don't think it will be as great as it seems, because we as students will probably be more limited than we want," he said.

However, Oberg said that the staff has yet to decide on rules, and what time the new space will be accessible for students.

"We're looking at opening it 20-30 minutes before school as well as after school," media specialist Kate Drof said.

The idea to renovate the library was discussed for two years before the district agreed to it. A more professional college type area was what the school had in mind for the space. The inspiration came from an area at the University of South Florida in St. Petersburg. The budget for the student commons area, as principal Erin Savage likes to call it, was $500,000 for the entire renovation.

"One of the best things that happened this year is the media center being converted from an 'old school media center' to a new student commons area," Savage said.