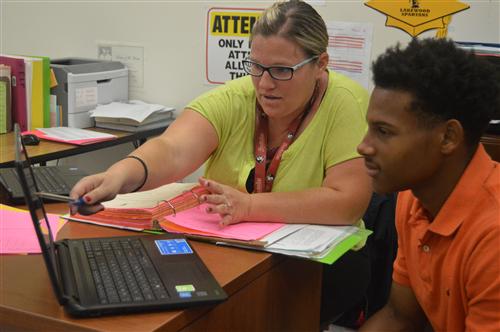 Credit recovery teacher Emily Cipolla helps senior Julian Jackson with his senior paper on April 11. Cipolla helps students in all the grade levels recover credits through a computer based class called GradPoint. (DE'QONTON DAVIS | SNN)
By CHRISTIAN MILLER
SNN Staff Writer
Emily Cipolla has been teaching at Lakewood High School for five years, and though her original position was to be a math teacher, she's now more known for making sure seniors will be walking across the stage at graduation.

In fact, many consider Cipolla Lakewood's hero, because on an average day in her class you can see her helping freshmen, sophomores, juniors and seniors do work for GradPoint - a credit recovery course - or any class that students may be struggling in. Lately, she has been busy helping tons of seniors finish their senior papers.

"I absolutely love helping students graduate," Cipolla said. "I love working with really low level kids or kids that are struggling to be successful in high school. One of my favorite things to do is help them turn it around."

Cipolla said what she does – helping students graduate - gives them options to either go get a job, go to college or Pinellas Technical school, or do whatever they want to do.

Assistant principal Harriett Davis said Lakewood has one of the highest graduation rates of African-American males in South Pinellas County, mainly due to Cipolla.
"I really love Mrs. Cipolla," Davis said.Lakewood High School's graduation rate is 87 percent. Pinellas County's graduation rate is 76 percent. Lakewood's graduation rate has progressively gone up over the past five years, Davis said.
Senior Brykwan Black entered Cipolla's class in the beginning of his junior year. Black had to retake biology, geometry and Earth Space science, all full-year courses.
Cipolla began helping Black by getting to know him as a person and seeing where he came from and also seeing where he wanted to go in life.
"I thank God for creating her every day, because if it wasn't for her, I wouldn't be on track today," Black said.

Cipolla graduated from Florida State University in 2002 and got her master's degree in education from the University of Florida in 2013. She describes a typical day as "busy from the moment I get here to the moment I get home."
"I'm constantly helping kids even through my lunch time. There is always something to be done," she said.

Cipolla has had hundreds of success stories, and Black is just one of them.

"I had one student this year who was considered a drop out. I got him back this year and he's absolutely phenomenal. He finished all his classes. He earned honor roll for the first time in his life, and it's absolutely wonderful," she said.

This year Cipolla has helped more than 100 seniors. She believes students get off track because they never learn how to work the system, and by the time she gets them, she has to teach them how to be successful and how to stand up on their own and get their work done.

Cipolla helps students by building a relationship with them.

"They know they can always come here and ask for help. I don't care if it's my planning period, lunch time, after school … They know that I'll help them with whatever they need," she said.

Look for Cipolla at Tropicana Field on June 3. She'll likely have tears in her eyes. "I cry every single time. I'll be crying this graduation," she said.