Seats still open in Lakewood's programs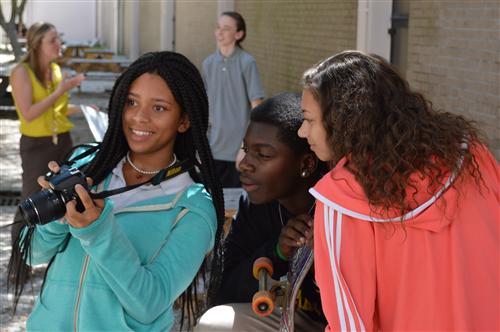 (GABBY SLIWOSKI | SNN)
Freshman Cayla Hester shows other Center for Journalism and Multimedia students her photo. CJAM is the journalism career academy at Lakewood where students focus on writing, photography and multimedia skills.
By Deonnie J. Brown
SNN Staff Writer


A number of seats are still open in Lakewood's Academy for Aquatic Management & Environmental Technology (AMSET), Center for Advanced Technologies (CAT) and Center for Journalism and Multimedia (CJAM) - but it's not too late for students to apply.
Pinellas County schools late application period is under way for students who still haven't decided what school they might like to attend next fall.

At the end of the application period in early March, AMSET had 35 seats open, CAT 24 seats and CJAM had 23 seats. By early May, AMSET still had 35 open seats, CAT had 12-14 and CJAM had 21.

AMSET teacher James Kostka said fewer students applied for the program this year.

"The numbers have dropped significantly for AMSET," he said.

Ten years ago, about 180 students would apply each year and 40-60 were invited. This year only 30 applied and only 10 accepted, he said.

Kostka said he thinks that part of this is because there's not enough publicity for the program.

"A lot of middle schools don't advertise the academy, and there's a big disconnect between middle schools and high schools," Kostka said.

He also said that Lakewood doesn't advertise to the incoming freshmen and a lot of students who are interested in the program live farther north in the county and don't want to take the long bus ride to Lakewood.

To fill the open seats Kostka said he plans to try to recruit freshmen during orientation in August.

CAT assistant principal Peter Oberg said he is positive that the open seats in the technology program will be filled.

"We are slowly approaching the numbers from last year. I'm confident we'll reach or exceed the numbers," Oberg said. "I'm going through two to three late applications every day."

He said he is working with middle school programs to recruit students and he is seeing kids apply from outside the district as well.
CJAM program coordinator Gretchen Letterman says that the number of applications have gone down this year.

'The numbers are down just a bit from the regular choice period, but this year's midyear recruiting effort (in January), which brought in 14 ninth-grade students into CJAM, definitely helped," Letterman said.

This is the first year the district has had the position of District Application Program Specialist, Melissa Campbell, who oversees all magnet and attractor schools, Letterman said.

"So that should make a difference," she said.

The goal for journalism is to increase by a small percentage each year
.
"Our Journeys in Journalism advisory committee is working constantly to raise the profile of CJAM in the community, with more events such as the recent "Through Our Eyes: Our Stories!" that was part of the SunLit Festival," Letterman said.

If you are interested in a seat in one of Lakewood's program, you can apply at https://reservation.pcsb.org/.