A 'Kool' place to find music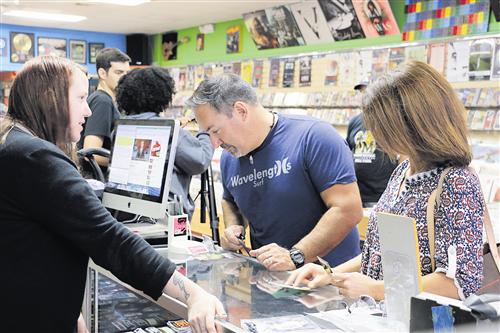 Steve and Lisa Freeman speak to employee Victoria Huddy at Daddy Kool Records in November 2015. The Freemans were at Daddy Kool purchasing holiday gifts for their teenage daughters. "We're here looking for a little bit of vinyl ... which has made a nice come-back from when I was a kid," Steve Freeman said. (SOPHIE OJDANIC | SNN)
By DALLAS DAVIS AND RACHEL GADOURY
SNN Staff Writer
In 1989 Emmanuel Matalon started working in a record store to help make money for college. Ten years later Daddy Kool Records opened up in downtown St. Petersburg, and Matalon was offered a job to manage the store.

He was so dedicated to the business that he legally changed his name to Emmanuel "Manny" Kool.
"It's just what I like to do, so I just stuck with it," Kool said.

The store, which was named after another Daddy Kool store in London, appeals to all ages, from teenagers to people in their 70s, Kool said.

Welcoming bright neon colors hit customers in the face when they walk into the store. Rows and rows of records line the store and fill up the center aisles. Dolls and other collectables are at the front, and patches and pins are at the checkout. The back of the store had accessories for instruments, mugs and, of course, more records.

Although iTunes means fewer people are coming into the store to buy the music, Kool said the online music store still has some positive effects.

Customers are demanding better-quality vinyl because it's better than iTunes and streaming, Kool said. Another positive effect of iTunes is that it brings a broader demographic of people demanding different genres of music.

"If someone is inclined to buy something and has heard it on iTunes, they will come in," Kool said.

Pink Floyd, a band from England that started in the 1960s, is Daddy Kool's biggest vinyl seller.

"Dark Side of the Moon or The Wall have been consistently top sellers," he said. "One piece that blew out the door in one day would be a band like Brand New. Their album Deja Entendu sold 25-30 copies in one day."

Kool thinks - and many of his customers agree - that vinyl sounds better.

"You get this experience when you listen to a record of dropping it on the platter, cleaning it, dropping the needle, reading the liner notes, looking at the artwork. … It's a very different experience than listening to streaming audio," he said.

Steve Freeman is a regular customer at Daddy Kool Records. He was shopping for vinyl for his kids who are into funkier and edgier bands such as Twenty-One Pilots and Paramore.

Freeman said he likes Daddy Kool because of its location.

"It's convenient; we like to keep it local," Freeman said.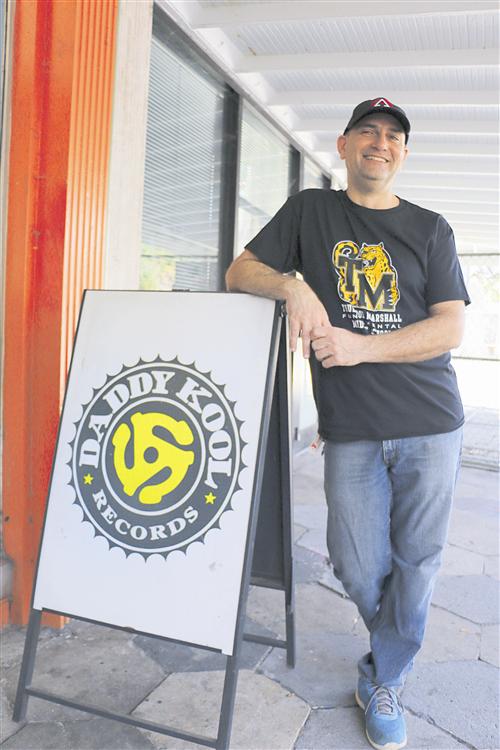 St
ore manager Manny Kool stands next to the Daddy Kool Records logo outside the store in November 2015. "(The store owners) knew I had been trying to open up my own store, so they asked me to run this one," Kool said.
(
SOPHIE OJDANIC | SNN
)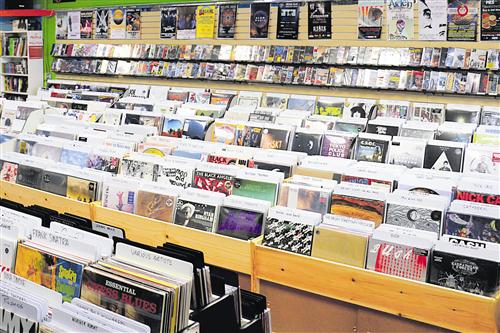 Daddy Kool Records, 666 Central Ave, sells vinyl records, CDs and concert tickets. It was named after Daddy Kool in London, a store that specialized in reggae music. "You get this experience when you listen to a record. ... It's all a very different experience," store manager Manny Kool said.
(
SOPHIE OJDANIC | SNN
)