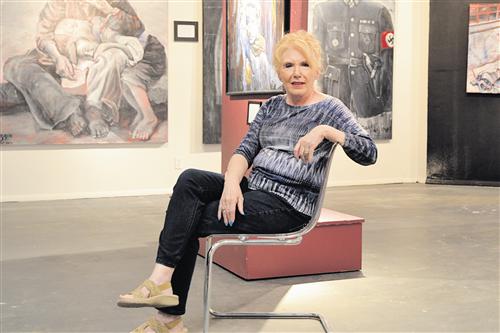 Owner of Dazzio Art Experience Judith Dazzio sits in a chair in her gallery. Her personal collection of Holocaust paintings is on display at the studio, with one room dedicated to paintings about the Warsaw Ghetto. She said sometimes surivors come to see the exhibit. "They stand there and they start remembering and tears come down their eyes," she said. (JAYLA BRISCOE | SNN)
By ALEXIS HOPTON
SNN Staff Writer
St. Petersburg artist Judith Dazzio started painting when she was very young, drawing in the gravy at the dinner table. Her grandmother gave her first set of oil paints to her, and since that moment she knew she wanted to be an artist.

But her dad, an engineer, had other ideas, and he took away her paints when he saw them. He wanted Dazzio to work for his company.

"An artist's life is really bad," her father told her.

So when Dazzio went to college she thought she had her mind set on being a medical doctor, but her passion for art wouldn't leave her, and she realized she needed to pursue a career in painting.

"I believe everybody that wants to paint should be able to," Dazzio said.

Now, she owns the Dazzio Art Experience, a business in the Warehouse Arts District. It is a gallery and art school run by artists for artists.

In 1987, Dazzio moved to St. Pete Beach from New Hampshire, and she and her husband, Jay Dazzio, started teaching art at the Beach Art Center. She was there for three years and then relocated to a new facility called the Morean Arts Center, where she stayed for five years. However, as soon as artists started making the place successful the rents went up and their artists' contracts were not renewed, she said.

In 2015, she moved to a new location at 535 22nd Ave. S. She was one of the first to locate her business in the Warehouse Arts District, she said.

When they moved to the new location, she brought about 100 students with her, and a third of them are on art scholarships. A class is about $100 a month and anyone can take them. Dazzio teaches about 200 students.
One of Dazzio's students, Elizabeth Ogata, 81, comes once a week to take a class.

"It's inspiring to see others work and Judy Dazzio is a super teacher," Ogata said.

Many of Dazzio's pieces are made of acrylic paints. Her building is full of big paintings that she and her students made and hung up.

"People look at big paintings. I want them to be seen," Dazzio said.

One of the most interesting aspects of her career is her collection of Holocaust paintings, which are on exhibit at the Dazzio Art Experience. One room is full of paintings about the Warsaw Ghetto. When she was in grade school in New Hampshire, Holocaust survivors talked to her class. There was one woman Dazzio said she would never forget who showed the class two black and white photos.

"She made us feel what the war was. She made it feel real," Dazzio said.

The woman inspired Dazzio, and she knew one day she would do something that had to do with the Holocaust. Dazzio created the paintings over 10 years, based off of photographs that were taken by the Nazis. Some of the paintings are made out of clay. One of her favorites is called Nowhere to Hide because it took her 20 minutes to do. The painting shows a young girl who is wearing sandals and a shirt, squatting on a windowpane looking ahead. Nearby is a bird looking in the window.

When Dazzio paints her Holocaust pieces, she free hands them and then adds a 3-D effect to make them pop out and be more realistic. All of Dazzio's Holocaust pieces were on exhibit in New York in April.

Many people have come to St. Petersburg to see her exhibit, including some of the survivors.

"They stand there and they start remembering and tears come down their eyes; they don't say anything they just lived it," Dazzio said.

- Staff Writers Ameer Williams and Xavier Richards contributed to this story.