The next big thing: dorm registries
5/13/16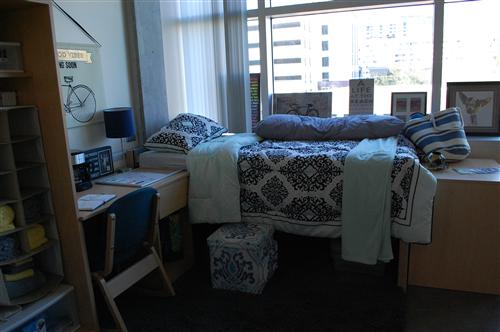 The student housing facility at the University of South Florida, St. Petersburg (USFSP) campus has a dorm set up and on display for potential students to see. The showroom helps incoming freshman get an idea of what their dorm can look like. The rooms are 300 square feet and come with a bathroom. "I like the convenience of my dorm because there is a kitchen and there is a lounge," USFSP freshman Katie Harold said. (NAADIRAH DAVIS | SNN)
BY NAADIRAH DAVIS AND AMBER SEAY
SNN Staff Writers
Registries are often used for baby showers and weddings. You can ask friends to buy you baby clothes and diapers, crystal wineglasses and silverware.
Now – as you're searching for sheets and shower caddies - you can you use a registry as you head off to college.
According to USA Today, the average freshman spends $1,200 on dorm room supplies – and Bed Bath and Beyond, Target and Walmart all have college registries so you can make your selections easier. You can create a registry by going on the websites or going into the stores and taking a registry gun and scanning items.
So what should you bring?
There are multiple things that you can take to the college of your choice, but you don't want to bring everything because dorm rooms are smaller than you think. The average dorm room at the University of South Florida-St. Petersburg (USFSP) is 16 by 11 sq. ft.
Joshua Dulong-Bays is a student assistant at the USFSP campus. Dulong- Bays, in his junior year, is originally from Detroit, Mich., and he came to USFSP because he liked the location, being near water and living on a small campus.
"I can get ready in five minutes and still be on time to class. It's only a couple of blocks," Dulong- Bays said about living in a dorm.
When he first came to the school, he said he spent at least $200 on dorm supplies, mostly for bedroom items and storage bins.
"Boys don't really have to buy things," he said.
Dulong-Bays said that as you prepare for your next big move, you want to make sure that everything you plan on bringing is allowed at the college you're attending. You should check with the housing department to see what they recommend and what they don't.
Dulong-Bays said USFSP has a list of "Must Haves" as well as "Do Not Brings." (See chart.)
USFSP sophomore Kamila Waugh from Miami is a resident assistant on the third floor at the USFSP Student Center.
"What I like about my dorm is that it's easy to network, because when you are in the lounge or getting out of the elevator you have to talk to people, it's unavoidable," Waugh said.
She offered some tips for living on campus: You may not always like your roommate, but try to get along. Be kind to your neighbors, keep your room clean and decorate as much as possible.
"You will have to learn how to compromise with people because you cannot get your way all of the time," Waugh said.
USFSP junior Christopher Rivera who is from Winter Haven is a resident assistant for the dorm hall Residence Hall One, also known as RHO.
Rivera said he spent $1,500 for dorm supplies his freshman year. He spent his money on clothes, shoes, bedding, storage items, a refrigerator and school supplies.
"The most creative room I have seen was during my freshman year. It was my friend Kelly's room. Her room was decked out. She had paintings, lots of pictures, fake candles, and her bed was always made. Her room was her own and very creative," he said.
Freshman Katie Harold, a pre-business administration and information system management major, lives in RHO and she likes the convenience of her dorm because there is a kitchenette and a lounge.
"I spent $500 on dorm stuff and supplies. My mom got a lot of things in advance, and if she waited longer she would've spent more," Harold said.
A couple of items that you can buy from Target and will have to bring are comforter sets which are $69.99, A hamper for your clothes $14.29 and a shower caddy which is $7.99.
To create a college registry at Target:
Step 1: Go to Target.com
Step 2: click on lists/ registries
Step 3: click on create a new registry or wish list
Step 4: click on College Registry
Step 5: Answer all of the questions
Now you can begin adding items to your registry.
What to bring
to your dorm:
Towels
Bedding (sheets, blankets, pillow, comforter)
Toiletries
Cleaning Supplies
Medicine
Clothes
Laundry basket
Desk lamp
School supplies
Hangers
Social Security Card/ ID
Insurance cards
What not to bring to your dorm:
Candles or incense
Hot plates
Pets
Halogen desk or floor lamps
Weapons
Curtains
Adhesive things that may leave residue on the dorm walls
Extension cords
Fireworks/ explosives