5/13/16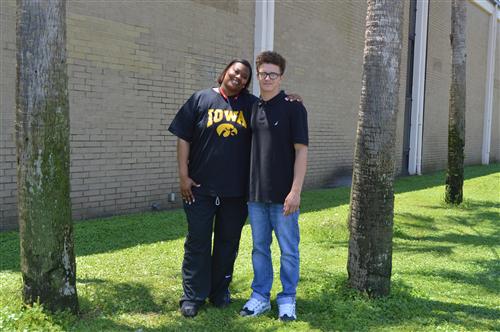 \\
Freshman Tyler Betz stands with Coach Necole Tunsil, his foster mom. Tunsil took Betz and his brother into her home a year ago. In April, Betz and his brother moved to Pasco County with their adopted family. (TASINA TAYLOR | SNN)
BY TASINA TAYLOR
SNN Staff Writer
Freshman Tyler Betz lived with his parents in Pasco County for 12 years. Like many families, they would go to places like the movies and mini golf.
After a few years, however, his parents began to develop a drug problem, and the family began to slowly break apart. Betz has one sibling, a brother named Zach Betz. Because their parents were selling and using drugs, along with fighting with each other, Betz said he and his brother were taken away from their once happy family and were put into the foster care system.
"They said it was a bad environment, so they took us away," Betz said.
He said at first he had some difficult times, but soon his luck changed.
Betz was under the care of Lakewood High School's girls' basketball coach Necole Tunsil. Before the two met, Betz was living at another foster home in Pasco. He said he didn't like the way his foster mom behaved and the kids there were horrible.
"There was this kid with his head down. I went over to him to help, and he hit me. I hit back," Betz said.
This incident led to Betz getting kicked out in 2014. He then went to court where he was assigned to Tunsil, a licensed foster care parent. Tunsil provided Betz with proper clothes, food and anything he wanted - as long as his grades were good.
"I see Tyler as a success story, and I (said) things like that to him all the time. He doesn't have to allow being a foster child to be a hindrance to his life. He's a good kid. I just want him to have fun in life and not worry about the things that most foster kids worry about," Tunsil said.
Medical skills teacher and athletic trainer Ericka Miller said she's known Betz for more than a year, and there are a number of activities that Betz had been involved in on campus during that time. Wrestling, football and baseball were some of them.
Miller talked about how much of an awesome athlete Betz is.
"He's a phenomenal athlete, and it's been a pleasure to work with him on both the football field and in wrestling. In the next couple of years, I expect to see him do wonderful things," Miller said.
Last August, Betz attended a Rays' Match and Meet event, where he met a family who adopted him and his brother in April. When he first met them, Betz said he did not immediately like them.
However, Zach thought differently, so Betz decided to give the family a chance. They all hung out a few times to get to know each other. They went to dinner, bowling and the movies where Betz grew to like them. Zach moved in with his new parents in Zephyrhills on April 27, and Betz moved in a few days later.
"I am going to miss Ms. Necole dearly. She's such a great role model and has taught me so much. She's been a really big part of my life. She's helped me in sports, school work and making me focus on education, which is what I need in the future," Betz said.
Coach Tunsil said she feels the same.
"I'm going to miss him. I think this is a great opportunity for him to get adopted. It'll be a great situation for him and his brother. Tyler has a goofy sense of humor. I'll miss him making me laugh. … I'll worry about him keeping his grades and his athleticism," Tunsil said. "It'll be a bittersweet day. I'll have to begin the detachment process.