Senior excels in academics, performing arts
5/15/16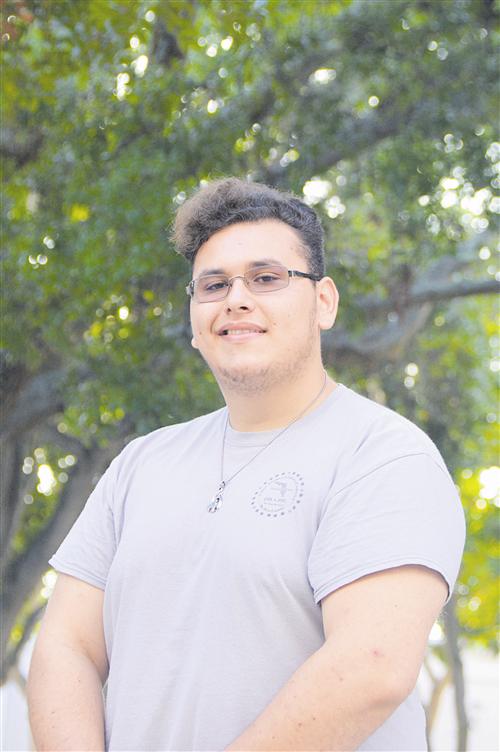 (SANJULO KING | SNN)
Senior Dean Justiniano will attend Cornell University in the fall on an academic scholarship. Justiniano plans to major in aerospace engineering.
BY NAADIRAH DAVIS
SNN Staff Writer
Senior Dean Justiniano not only plays many instruments, but he earned a score of 2060 on the SAT and was also accepted to seven big-named schools: Carnegie Mellon University, Cornell University, Colombia University, University of South Florida, University of Central Florida, Florida State University and Florida Institute of Technology.
But the school Justiniano was mostly interested in broke his heart. He had his mind set on attending Massachusetts Institute of Technology.
"I purchased the keychain, the shirt and the sweater. I was pimped out with MIT gear," he said. "They rejected me on March 14 at 6:28 p.m., and then at 6:45 p.m. I got an e-mail saying that Cornell had accepted me."
In all, he applied to 16 schools and got accepted to seven. His choice: Cornell University in Ithaca, New York.
Justiniano, a student in the Center for Advanced Technologies, would like to become an aerospace engineer.
"I want to work on spacecraft. The issue is none of these schools actually have an aerospace engineering program," he said.
So, Justiniano hopes to major in something that will help him achieve his goal to become an aerospace engineer.
He is a Gates Millennium Scholars finalist.
"Bill Gates can pay for whatever the rest of the school doesn't cover," he said.
Despite wanting to major in engineering, Justiniano, who is in the school's award-winning jazz band, said he will never give up on music because it's fun, and he's been playing since he was 8 years old.
"I play trombone, bass trombone, euphonium and trumpet," Justiniano said.
He's been in the All County band four times. He's also in the jazz band and wind ensemble.
"It's been a decade now (since I first started playing music); wow I feel old," Justiniano said.
Justiniano said he does not plan to major in music because he doesn't want to make a stressful experience out of something that is supposed to be soothing.
CAT coordinator Peter Oberg said his best memory of Justiniano is that he really took advantage of everything that school has to offer, from academics to performing arts. He said he enjoyed watching Justiniano excel in both.
"Passion has to do with success, and Dean has the passion," Oberg said.
Music teacher Michael Kernodle knows that Justiniano will do great in the future.
"I think Dean is a driven young man. He sets goals and he is academically talented," Kernodle said.
He said he is fine with Justiniano not majoring in music.
"The cool part is you can always do this in your life – either part time or full time," Kernodle said.