Talented musicians hit 54th Ave South
5/15/16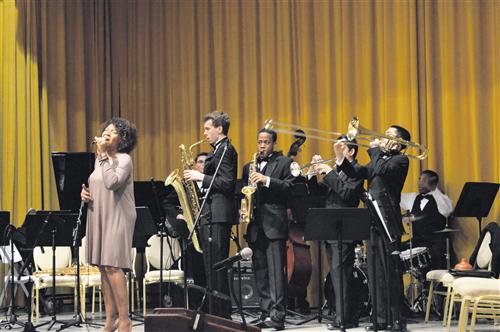 Lakewood High School's 54th Ave South jazz band performs with Belinda Womack on Feb. 5 at the Museum of Fine Arts in downtown St. Petersburg. The concert was held to help raise money for a trip to New Orleans. (HALEY DOLAN | SNN)
BY GISSELLE ZAYAS
SNN Staff Writer
The Lakewood High School 54th Ave South jazz band is a group of nine students who also play in the larger Lakewood jazz ensemble. The band, according to band director Michael Kernodle, is named after the street Lakewood High School is on.
"We started another jazz band because when you have strong soloists in a big band, it's important they know how to play an instrument correctly in a smaller group," Kernodle said.
The students in the band are seniors Chase Goggins, David Deister, Malcom Butler, Jonah Hollander, junior Quan Maybell, sophomores Johnny Liles, Michael Dodge and Matthew Sala and freshman Erik Hemple.
"I joined (54th Ave South) because I'm a senior here, and I've been in the band for a long time," Goggins said. "It only makes sense for me to be involved in something like this. Plus I love jazz."
The band plays at many events.
It performed at the inaugural Bay Area Jazz Festival on Feb. 27 and earned straight superior ratings. It also earned a superior rating on the state level at the Florida Bandmaster Association State Jazz Music Performance Assessment and the Solo and Ensemble assessment on March 29.
"I am extremely proud of the band because they are almost like an independent group that goes out to play in the community or in private events," Kernodle said. "They have taken ownership, which is the goal of any jazz ensemble."
On April 17, they played at the Dr. Carter G. Woodson African American Museum for a poetry performance.
The band students have also earned awards for their performances.
Deister earned a superior rating for his grade six trombone solo on March 29, accompanied by music teacher Jacob Merrett on the piano.
"What inspired me to play in the band was my love for music," Deister said. "Music is a big part of my life."
It's unclear what will happen next year because many of the band members are seniors and will be graduating.
"We're still deciding on whether the band should be a traditional thing that new students can join, or if it should leave with us," Goggins said. "The band is really special to us."