5/16/15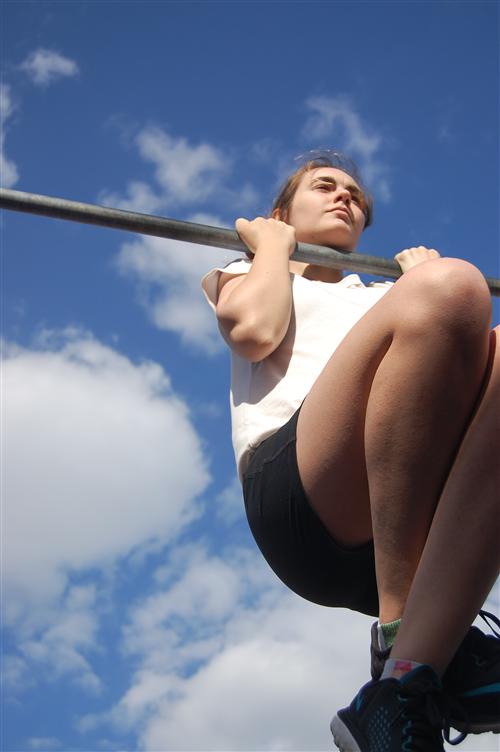 Senior Amber Bein does a flex arm hang for the Marine strength training test on March 7. Bein decided to enlist in the Marine Corps this year, she wants to be in infantry. "If I'm going to do this then I won't give up, I won't be weak and let it defeat me. I will be a Marine," Bein said. (JULIE CHRISTIANSEN | SNN)
BY AMBER BEIN
SNN Staff Writer
After a few exercises and stretching in the open grass by the hill, we head over to the two-mile starting point.
"Column of two," our staff sergeant says.
We line up, an arms-length away from each other and wait for a biker to pass. Our feet start to move, one after another. We start off almost at a sprint. I'm not that fast but I can't fall behind. Eventually we slow to a light run, breathe in through the nose, out through the mouth.
Kids in the back start to fall out, getting farther behind as they can't keep up. About a mile in I start to slow down. I want to stop, but I can't. I'm in the back now, forcing myself to keep going. We usually don't rest when we're on the Seminole Lake Park trail. Eventually I start to fall out of line, and they slowly get farther away from me as they near the end of the trail.
But I don't stop. I keep going until I get there myself.
I talked to a Marine recruiter almost two months ago. At first I wanted to do the reserves. The reserves is a part of the military but you get to stay at home. You only go in one weekend every month and two weeks a year. I was hoping that if I did that then I could pursue a career in art as well and stay at home with my animals. But I realized that probably wouldn't work for me.
Staff Sgt. Leroy Mateaki and another recruiter Staff Sgt. Chad Chong explained to me that the reserves is more for people who already have a plan in place. It's great for people who are going to college and already have a job. I don't even have a driving permit. Plus there's already few jobs in the reserves and being a female the jobs would be few and far between.
So I decided I wanted to enlist full time.
They invited me to join their physical training, which is held the first Saturday of every month to see where all of the enlistees – known as poolees - are at and how they've progressed. I haven't exercised in years, and the most running I've ever done is the pacer test for gym.
After some flexed arm hangs, crunches, ammo lifts and failed pull ups came the mile and a half timed run. The guys had to do it in 13:30, the girls in 15 minutes. I made it in 16 and some odd number and dry heaved at least four times, refusing to puke. After a month of physical training twice a week, the next Saturday function I made a time of 13:28. I made the guys time by two seconds. My next goal is single digits.
It took me a while to think of a job I would want. I'm not good with mechanics or math, and a desk job is not my preference. I finally decided on what I wanted: infantry. No female has made it into Marine combat before, and now they've opened all jobs to females if they meet the qualifications. I want to be one of the first females - if not the first - to make it in.
Because I want to do infantry I have to do everything the guys do. I'll receive no special treatment because I'm a woman, and that's exactly how it should be. But I want to prove that this is what I want, that I can do this and I don't want to leave any doubt in anybody's mind that even if I do make it, I still may not be good enough. So not only do I have to make the guy requirements for everything, but I want to be better than at least half the guys. I can't be weak and show them that. I refuse to.
Every Tuesday and Thursday I do physical training with some of the Marine recruiters and other poolees. I haven't enlisted yet, because there are some technicalities I need to get out of the way first. One includes constantly rubbing my ears so the holes I have from ear gauges close up.
I believe that this decision is only going to make me better, stronger. This entire thing, the want and desire to accomplish this, it's driving me. It's driving me to perform better, to try more, get better grades and do what I need to do.
And I love it.