Marine science skills lead to boys' business
5/16/16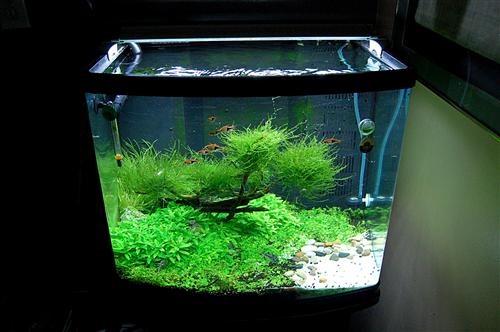 (TONY RENGIFO | SNN)
One of the three tanks of JJ Aquatics sits in the corner of senior Joshua Roach's living room.
BY RACHEL MOORE
SNN Staff Writer
Three Lakewood High School students and one recent graduate banded together in early August 2015 to create a business that does aquascaping, which is basically landscaping under water.
Seniors Joshua Roach, Malcom Butler, Jaime Gonzalez and Lakewood alumnus Kahil Holmes call their business JJ Aquatics.
For a fee, the students help their clients set up ecosystems in fish tanks.
"We use really high-intensity lights. We get good soil and nutrients and we use all live plants," Roach said.
After making the decision that they wanted to start the business, Roach and his pals decided they should get their business license, which cost a little over $200.
"I paid it, then they gave me the money back on their own time. ... So we all paid $70 for it," said Roach.
Money for the license, plus money spent promoting the business, plus money for their website - that's about $345 spent in all to start JJ Aquatics.
By the end of April, the business had done work for five clients, Roach said.
"The first tank we did was a 40-gallon tank for my mom," he said.
Roach, who was recently named valedictorian of the senior class at Lakewood High, said he plans to attend Eckerd College in the fall and major in environmental technology.
For his business, Roach uses the expertise he learned from environmental science teacher James Kostka in the Aquatic Management Systems and Environmental Technology program to start the new business.
"I think what he learned through AMSET amplified his interest and gave him the confidence to try making the aquascapes," Kostka said.
He said he thinks the business has a lot of potential, especially in the business and service industry.
"I think some major companies may also look at creating these enclosed green spaces in their work-space to help improve productivity and improve corporate moral," Kostka said.
He said Natural Geographic did a story on scientists who studied how humans need nature to relieve stress and help reduce the chance of nearsightedness.
"Who knows, maybe Josh could create an aquascape therapy room to help combat stress and improve vision. With the right kind of marketing, aquascapes could be huge," Kostka said. "Maybe he'll even hire me on."