5/12/16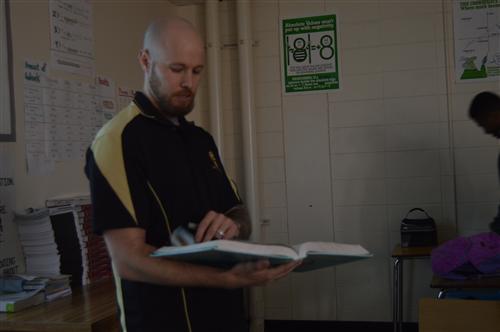 Math teacher Phillip Morgan teaches his trigonometry class on April 26. Morgan's last day at Lakewood is May 27. "I'm going to miss mainly my relationship with my co-workers and students. I met lots of cool teachers who are fun to work with, and I've met a lot of cool students who have been fun to get to know," he said. (GISSELLE ZAYAS | SNN)
BY AMBER SEAY
SNN Staff Writer
As the school year comes to another end, Lakewood has to say goodbye to one of its own. Math teacher Phillip Morgan has decided to leave Lakewood High School and go back to his home state of Michigan.
"That's where my family is. My wife and I want our daughters to be closer to their grandparents," Morgan said.
Morgan has been at Lakewood for 10 years. It was his first job right after college.
While at Lakewood he has taught several math classes including Algebra 1, Algebra 2, Geometry, Probability and Statistics, Trigonometry and Analysis & Functions.
"I've taught Algebra 2 the most out of the good array of classes that I've taught," he said.
Junior Andre Winn who is in Morgan's Algebra 2 class said he didn't know that Morgan was leaving.
"I'm sad. He teaches us in the right way, and it's easy for me to understand because I'm not that good at math," Winn said.
Morgan isn't going back to Michigan to work as a teacher; he is going to work for the Michigan Department of Corrections.
"I needed any job to get me up there. Michigan and the education turnover is very small," Morgan said.
Junior T'Keyah Masten also has Morgan for Algebra 2.
"He's a pretty fun teacher. He gets the humor out of different subjects. Algebra 2 is going to be real boring now that he is leaving," Masten said.
Science teacher Justin Bending said he has known Morgan since he started working here in 2012.
"I will miss discussing video games with him and having students mistaking me for Mr. Morgan," he said.
Morgan said he won't miss all the politics involved in education because it takes away the passion in teaching - although he said he will miss the kids.
"I will miss the handful of students that care about their teachers and take time to get to know them. They're the rock that we lean on to keep going," Morgan said.