Longtime teacher says farewell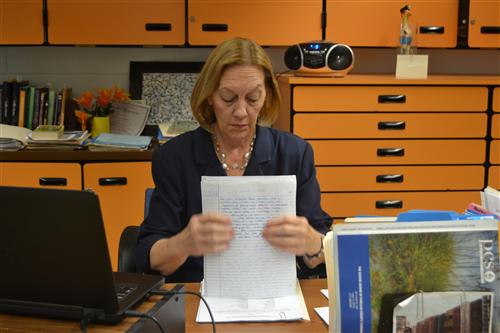 English teacher Barbara Palmer straightens out papers at her desk in room C107. This is Palmer's last year teaching. "I would describe Mrs. Palmer as a very chill, relaxed sarcastic person. She throws a lot of shade, but it's all for love. I like how her bob is always on fleek," senior Edgar Martin said. (ELIZABETH WRIGHT | SNN)
BY ELIZABETH WRIGHT
SNN Staff Writer
Long-time English teacher Barbara Palmer's calm voice fills the room. If students are misbehaving or complaining, Palmer doesn't yell or scream at them, but she will be the first one to call them childish.

"Are we in first grade? You guys are almost seniors," she'll say.

Palmer, who teaches AP Literature in addition to English, has been working at Lakewood for 30 years, and has taught for 37 years.
After three decades at Lakewood, Palmer, 65, will retire on June 30.

"I'm getting tired. I'm too old," she said.

Palmer said she would like to spend time in England and Florida with her family. She will miss the students and their creativity the most.

"We're going to lose a big part of our school," economics teacher Sharyn Jacob said.

Jacob has known Palmer for 29 years at Lakewood. They met in a meeting one morning and have been friends ever since. Jacob describes Palmer as a happy person.

"She loves her family, she's very dedicated to her job, and I think she's ready to retire to go to England," Jacob said.

Palmer was born in Cleveland, Ohio, and grew up in North Royalton, Ohio. She graduated from North Royalton High School in 1968, attended Albion College and then transferred to the University of South Florida and graduated in 1972.

Palmer has a 95-year-old mom who is in the Guinness Book of World Records for being the oldest woman teaching yoga. She also has one daughter who graduated from Lakewood and then attended Eckerd College, Ringling School of Art and Design and then received two master's degrees, one from Savannah College of Art and Design and another from University of South Florida.

"She is the joy of my life," Palmer said.

Senior Edgar Martin has Palmer for English 4.

"I would describe Mrs. Palmer as a very chill, relaxed sarcastic person. She throws a lot of shade, but it's all for love. I like how her bob is always on fleek," Martin said.

Palmer's class is not your typical English class. She teaches on a college level to get her students ready and ahead. Martin said being in her class helps him prepare for college.

"From Ms. Palmer I've learned how to better myself with college essays, formatting to just better my writing," he said.

Palmer sparks up her classroom with creative lesson plans to make her teaching more interesting. On any given day you can find her dressing her students up with costumes and props so they can get a chance to play out the book they are reading.

When they read The Scarlett Letter, one student played Hester Prynne, complete with a long gown and a red "A" pinned to her dress. The students held a trial, debating on whether Hester was in the wrong.

"She does crazy wacky things in her classroom. She dresses up and she dances," Jacob said.

Palmer has been here so long that sometimes she even teaches the children of former students.

"It's kind of interesting . . . on Halloween. Every once in a while I'll see a former student with her young children come up to me dressed up for trick-or-treating and it makes me feel really old," Palmer said. "I guess the older you are the more you are a legacy."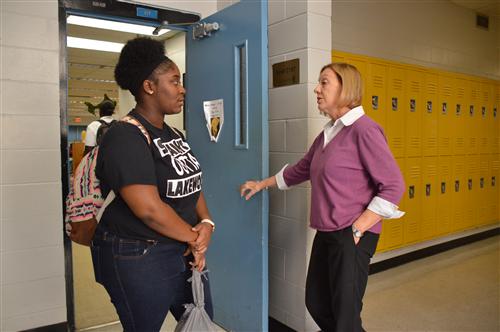 (ELIZABETH WRIGHT | SNN)
Senior Naadirah Davis talks to Palmer outside of her classroom. "I call her P-Wizzle and she calls me N-Dizzle. She's one of the best teachers I've had here. I'm going to miss her," Davis said.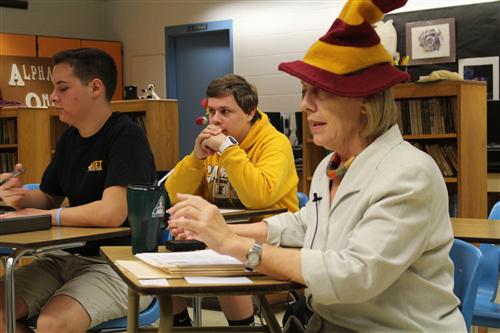 (ELIZABETH WRIGHT | SNN)
Seniors Deven Assidy, left, and Nolan Zondervan, center, sit in Palmer's class. The class was going over a writing assignment.