A decade of photography in south St. Pete
June 1, 2016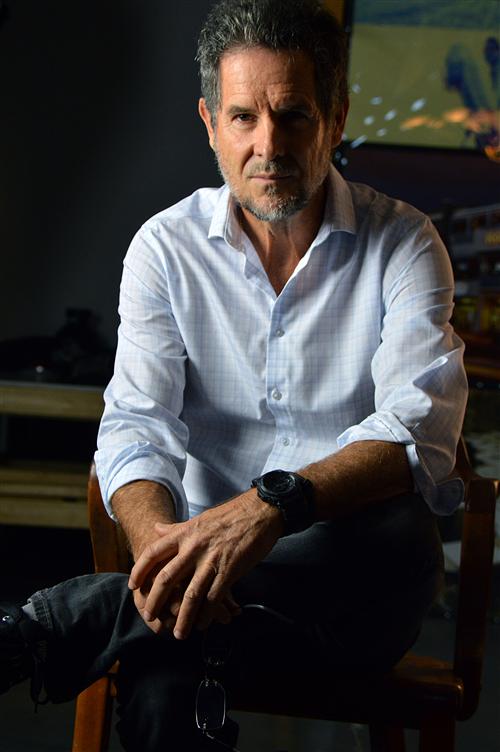 (BRY-ANNA BANI | SNN)
BY JAYLYNN PRESLEY
SNN Staff Writer

The outside of the Alvarez Photography building is bright white with a pinkish-purple door that will catch your attention. The inside of the building is full of pictures of female models and famous people – all taken by professional photographer Jorge Alvarez.
The building at 150 22nd St.S in St. Petersburg includes a huge photo studio, a dressing room and an upstairs kitchen and office area that leads out to a patio that overlooks Midtown. Above Alvarez' desk is a black and white photo of his son and daughter. While he works at the computer, he sits on a blue exercise ball instead of a chair.
"I keep moving all the time so I knock over chairs, so I decided to get rid of them," he said.
The dressing room is covered with autographs and messages from all the people he has taken photos of, including Queen Latifah, Paula Abdul and Brad Culpepper, an ex-Buc, now a lawyer.
"I like remembering they were here," he said.
Alvarez, who moved to the United States from Cuba as a child, said he first wanted to be an architect, but ended up going to art school and taking a photography class. He first started out just photographing models and then it developed into more.
He built the studio about nine years ago, and he picked the location because he loves St. Petersburg and it's close to the interstate.
"I wanted to build a playground, so this is what I built," he said.
Alvarez uses a Canon 35 mm camera for everything, and he loves black and white photography, though he won't say what he thinks his best photo is.
"My favorite photo has probably not been taken yet," he said.
- SNN Staff Writers Alexis Hopton and Xavier Richards contributed to this story.