A rollercoaster of a summer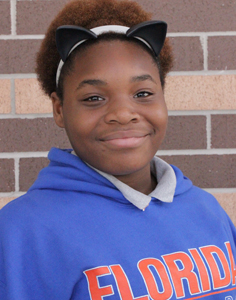 Sixth-grader Alana Gipson spent time with her grandfather this summer.
A rollercoaster of a summer
BY ALEXANDRA NEELY
JHT Staff Writer
Sixth-grader Alana Gipson has plenty of traveling experience, but her favorite excursion was a mere three hours away. She says her experience occurred recently over the summer, and has proved for her that "family is how (you) make connections, and brings you more together."
Alana, along with the rest of the Gipson family, trekked out to Perry, Florida in order to keep in contact with her grandfather. Alana reported that Perry had a lot of differences between modern St. Petersburg, where she grew up. "You can't escape the trees. It was almost like, isolated. There wasn't much activity at all, literally." According to Alana, there was more vegetation than there were cars. She'd been relieved to eventually reach the secluded suburban neighborhoods.
But what made this trip the most memorable part of her summer was spending time with her grandfather. They'd driven to a nearby theme park and played joyously together. Their time together involved riding numerous rides available in the park, her favorite being a towering Ferris wheel more than 30 ft. high. During that time her grandfather had even assisted Alana in overcoming her fear of heights. "It was a short visit, but it was the best part of my summer."
It was an emotional parting, but Alana dwells now only on the good memories. She says that she'd enjoyed the brief visit, and that the departure had made her realize something. "Family is so important. My granddad is so important (to) me. I'll treasure that time with him forever."