Lessons learned from the Parkland shooting
One afternoon, that February, the school's fire alarm goes off, telling students to evacuate. Not long after, the school's resource officer that there may have been shots fired in the 1200 building. At first, he believed they were firecrackers, but quickly realized it was more than that. Thirty three people were injured, and 17 people were killed in the shooting.
The two-year anniversary has recently passed since the mass shooting at Marjory Stoneman Douglas High Nicholas However, many lessons from the Parkland shooting have been taken into account by schools all over the country, including J.Hop.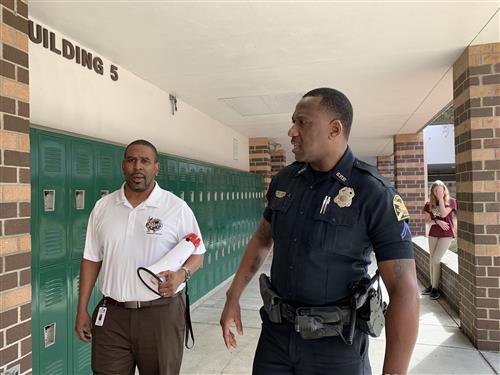 John Hopkins Middle School resource officer Bobby Johnson has taken many steps to ensure our school is kept safe. "What really changed was making the campus more secure, and finding the areas we need to secure better, like the perimeter of the campus. We also needed to make sure all the doors close properly, and make sure all the know to secure their classrooms," he said.
Lockdowns have been taken more seriously since Parkland. Students are required to hide behind a string in their classrooms that marks the blind spot from the door. Lockdowns usually take place once a month as a precaution to ensure a safe environment.
Some faculty and staff have taken their own precautions since Parkland. "I've been more aware of who's on campus, more aware of students who may have some trouble and aware of the things that have been going around campus," said administrator Willie Tillman.
Staff on campus try to make sure students feel safe each day at school. Bilee Fischer, the mental health therapist from the Suncoast Center, also shares her concerns.
"Since Parkland, outside of school there is a level of fear that's associated with [the event] just because you walk into what you believe is a safe environment and you never really know what's going to happen in that day."
Some fear may even come from the active assailant drills that we have been practicing here at John Hopkins Middle School. "Kids express their fear and anxiety about the drills. I think as much as it is a preventative measure to do the active assailant drills, they do cause fear and anxiety," said Fischer.
Since Parkland, survivors have acted to help prevent gun violence. Activists started an annual protest called "March for Lives." In 2018 the march brought millions together to organize the largest single day protest for gun violence to rally to government officials for action.
KALEIGH KING, CHARLOTTE SHAW AND HAILEY CLAYTON