Spartans Hold off Green Devils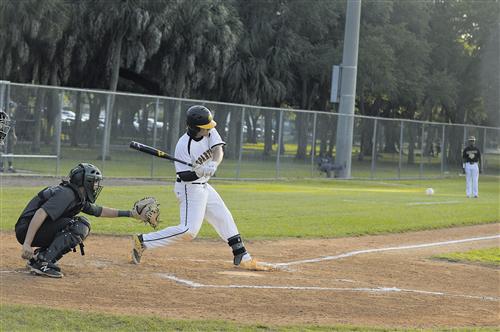 Senior Bo Bichette swings at a pitch in the first inning at Lake Vista Park on Monday night (04/11). Bichette singled in this at-bat and the Spartans offense produced just enough to edge out a 5-4 win. (TONY RENGIFO | SNN)
By MALKOLM BELFOR
SNN Staff Writer
The Lakewood Spartans beat the St. Petersburg High School Green Devils 5-4 at home on Monday, with some early offense and some great pitching late in the game.
Freshman Anthony Hudson started on the mound for the Spartans. After a rocky start Hudson settled in.
In the first inning, Hudson hit the first two batters he faced and then gave up an RBI single to the Green Devils' fourth batter.
Shortly after, Hudson found his groove retiring five out of his next six batters.
"I settled down and started to throw strikes more," Hudson said.
"Hudson was just off enough to keep them out of sync," Coach Jayce Ganchou said, "but he got us through five innings."
Lakewood's offense was hot in the first inning. With bases loaded senior Vinny Grybauskas hit a hard a groundball to the Green Devil's third baseman, forcing an error and scoring senior Jamie Robles. With two outs, senior Marcus Bradley also forced an error and squeezed two runs in.
The offense didn't stop there.
In the second inning, with Robles on first, senior Bo Bichette hit a double to drive him in.
In the third inning, the Green Devils were in a great position to score more runs.
A bad throw from Bichette and a failed pickoff attempt resulted in a runner on third with no outs. The runner then scored on a groundball out.
In the fourth inning, the Green Devils looked as if they would tag on another run, but a great double play from second baseman Grybauskas prevented any chance of that.
"The plays I made probably stopped the team from scoring about three runs," Grybauskas said.
The Spartans increased their lead by adding another run in the bottom of the fourth.
Junior Sean Thornton started the inning by getting hit by a pitch. Hudson pinch ran for him. Freshman Jeremy Texel joined Hudson on base with a bunt. A double steal meant that Robles had a runner on second and third with one out. Robles hit a groundball and got out, but not before Hudson scored, increasing the lead to 5-2.
"We scored our five runs by getting guys on base and being aggressive," Ganchou said.
The Green Devils attempted to mount a comeback, scoring two runs in the fifth and sixth inning off of two ground ball outs.
In the top of the seventh, freshman Aiden O'Dowd came in to close the game, replacing Robles who pitched in the sixth.
A single and a dropped third strike resulted in runners on first and third and a great position for the Green Devils to tie the game.
But the Spartans held on. O'Dowd struck out the next batter to end the close game.
"What we did was keep all of our errors to be non-costly," Ganchou said, when asked how they overcame their defensive faults.
With this win, the Spartans improve their record to 8-10 and face the Largo Tornadoes tonight at Lake Vista. It is Senior Night for the Spartans.
- SNN Staff Writer Eli Trippi contributed to this story.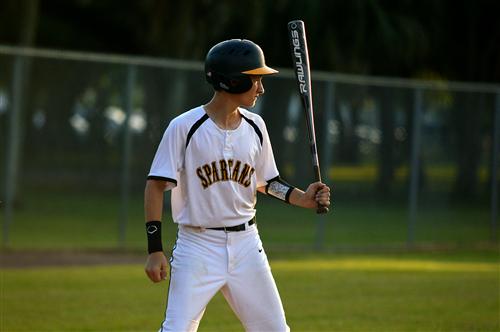 Senior Vinny Grybauskas gets ready to hit, up at the plate on Monday night (4/11) at Lake Vista Park, a non-conference game against the St. Petersburg Green Devils. Grybauskas good defense led to Green Devil's runs not scoring, further helping the Spartans keep their lead in the game. (TONY RENGIFO | SNN)


Freshman Anthony Hudson pitches during the Spartans non-conference game against the St. Petersburg Green Devils on Monday night (4/11) at Lake Vista Park. Hudson put in five innings of work on the mound, having a shaky start but adjusted and started to put batters away. (TONY RENGIFO | SNN)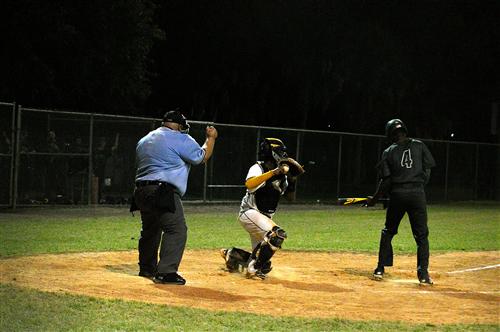 The umpire calls a strke three on a Green Devils batter during a game between the Lakewood Spartans and St. Petersburg Green Devils. This out was the first out of the top of the seventh inning, a strikeout from closing pitcher of the night, freshman Aiden O'Dowd. O'Dowd ended up closing it out successfully, a 5-4 win for the Spartans. (TONY RENGIFO | SNN)