Flag football team loses to St. Pete Green Devils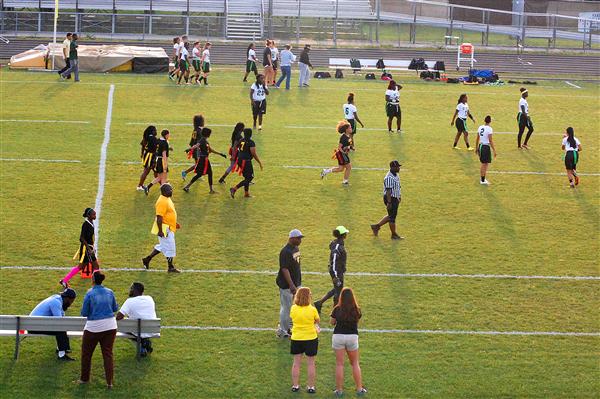 Lakewood girls' flag football team plays against St.Pete High on April 12. Lakewood lost 12-20. (DAISHANNA REAVES | SNN)
BY LA'NASIA MORRIS
SNN Staff Writer
The Lakewood flag football team lost Tuesday night (April 12) to the St. Petersburg High School Green Devils with a score of 12-20.
Junior quarterback Azaria Wilson threw two touchdowns to junior Latavia Nelson and junior Sahkiha Jones.
Star player Wilson pulled the most flags off the Devils during the game.
Lakewood High School art teacher Larry West is the coach of the Flag Football team at Lakewood High School. This is West's first time coaching Lakewood's Flag football team. He has also taught at recreation centers and certain places around the community. West thinks they will finish off the season the right way even though they had a rough start.
"If the girls stay focused, they will do real well," West said.
The girls' record currently is 3-6.
"We started off bad," senior Amina Riggens said. "But we're going to come back stronger."
"I think the flag football team will go good because we have grown as a team to where we can progress … for the season," Nelson said.
West thinks when it comes to teaching the girls the different plays, they tend to pick up easily on how to do them. The girls sometimes show a lack of effort, but West said he pushes them and lets them know that they are able to do what they put their mind to.
You do not have to try out for the team, which has 10 players. Anyone can still join the team just by coming to practices.
Their next game is Tuesday (April 19) in Pinellas Park at 6:30 p.m.