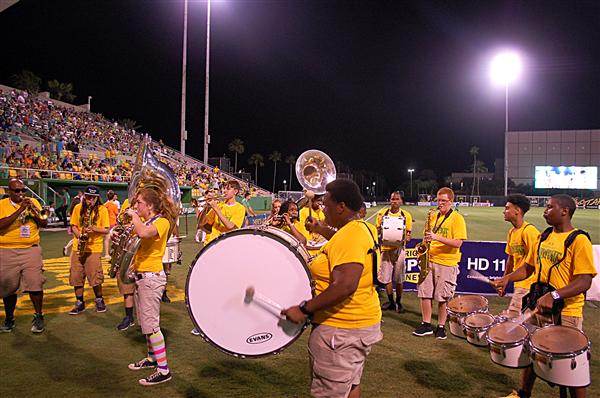 Members of the Loudies band preform in Al Lang stadium during the Rowdies match-up against the Carolina Railhawks on April 23. The Loudies play for the Rowdies every game to get fans in the rowdy spirit. "It's all really hype and everyone's excited and it's loud, but that's not a bad thing,"sousaphone player Georgia Dunning said. (MALKOLM BELFOR | SNN)
By CHRISTIAN DE NAPOLI and DORIAN SHEELEY


SNN Staff Writers
The Tampa Bay Rowdies games have been a little more rowdy because of the newest, revamped edition of the Tampa Bay Loudies. The band was in action back in the '70s, but a few months ago the Rowdies asked Lakewood music teacher Michael Kernodle to step up to the stage and revive the age-old band.
"There was an email that was sent out to band directors in the community. I happened to reply to it," Kernodle said.
During the game, members, some of whom are from Lakewood High, said they have a blast on and off the field.
"It's very thorough and exciting, it's a very good atmosphere," said sousaphone player DaQuan Maybell, a Lakewood junior.
The band has performed at all home games at Al Lang stadium and looks forward to keep performing in front of the crowd and on the field. The Loudies instruments vary from sousaphones and drums to trumpets and saxophones. Along with the Loudies, the Rowdies also have Ralph's Mob, a huge group of fans with large flags and a steel drum.
"A lot of them applaud us and tell us we're doing great and they like what we do. We usually play during intermission, and we usually gather large crowds. It's a good feeling," said sousaphone player Georgia Dunning, a Lakewood sophomore.
Lakewood isn't the only school that has members in the Loudies.
"We have students from other schools and colleges, even adults have shown up to the games. … It's more like a community," Kernodle said.
Together, all these bands add another level of atmosphere at the Rowdies games that the fans really enjoy.
"It's all really hype and everyone's excited and it's loud, but that's not a bad thing," Dunning said.