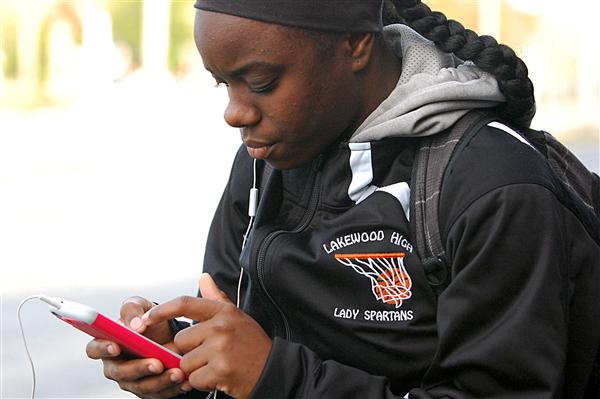 Junior Latavia Nelson checks her phone before loading the bus for a basketball game on Jan. 29. Girls' basketball coach Necole Tunsil is one of the few coaches at Lakewood who enforces a strict social media policy for her players. (NIKIYAH NEAL | SNN)
BY JAYDA WATTS
SNN Staff Writer
Junior Matthew Landers, who plays football for the Lakewood High Spartans, has Facebook, Twitter, Snapchat and Instagram. But he doesn't worry about recruiters visiting his so social media.
"I wouldn't care because my social media is safe," he said.
Athletes at other schools, however, cannot say the same. Recruiters from major colleges are dropping prospects after reviewing their social media pages and finding information that is "embarrassing" to their programs.
"Dropped another prospect this a.m. due to his social media presence. … Actually glad I got to see the 'real' person before we offered him," Penn State University recruiter Herb Hand posted on Twitter.
In this generation social media has a major impact on high school students, and at Lakewood High School - known for some of the best sports teams in the county - coaches aren't really sure of where to draw the line when it comes to regulating their athletes on social media. While girls' basketball Coach Necole Tunsil and football Coach Cory Moore have certain expectations of what their athletes can do on social media, swim and soccer coach Andrew Holzbog and boys' basketball Coach Lawrence said they have not yet formed a social media policy.
"I think that I put somewhat of a restriction on what my players do on social media," Tunsil said.
When her players use social media, she said, "it all needs to stay appropriate because it can hurt their chances of going to college if they don't."
Being the head coach she said she has to set rules and regulations for her team. Moore said that the players have to understand that they are representing the school, the sports they play as well as their families.
"So they cannot do anything that will devalue themselves or the program," he said.
Both soccer and boys basketball coaches do not oversee their players' social media.
"To this point I do not have a social media policy for my teams," Holzbog said.
Neither does Lawrence.
"But I think with the growing social media and the information that is passed on via social media, that's is something that I will be looking to implement… in the near future," he said.
Most students, however, said they think a social media policy is not necessary.
"We should be responsible enough and mature enough to monitor our own things," said boy's junior varsity basketball player Khalid Davis, a sophomore.