'No one inspires me ... I just love to play the game'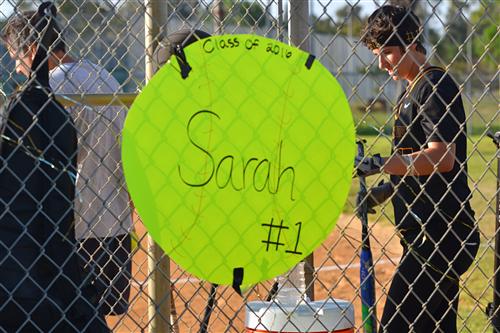 For senior night, underclassmen decorated the dugout with posters and balloons for the senior softball players.
Senior Sarah Snell, right, will attend Tennessee State University in the fall on a softball scholarship. "Sarah is
one of those players that comes early and stays late," softball coach Robin Brady said. (DALLAS DAVIS | SNN)
BY DALLAS DAVIS
SNN Staff Writer
Sarah Snell is graduating from Lakewood's Center for Advanced Technologies program with a 3.8 GPA. She scored a 31 on the ACT and will be attending Tennessee State University next year on a full scholarship. But the senior isn't just a force in the classroom. She's also a force on the field.
Snell started playing baseball at age 4 and softball at age 12; she has a passion and drive for the game that is unbreakable.
"She's very competitive. If she wants to be the best at something, she'll challenge herself until she is the best at something," Coach Robin Brady said.
Snell has a .476 batting average and .560 on base percentage, better statistics than some of the top 10 athletes performing in those categories in college. She performs well while in games and has fun doing it with the support of her teammates, coaches and father.
"She's been able to make some plays in big times when we needed those," Brady said.
Snell went to many different colleges in search of the one that appealed to her the most. Tennessee State and Georgia Tech University caught her eye more than the many other colleges she considered. In the end, she decided on Tennessee because she preferred it, and they gave her a full ride. The hard work and dedication that Snell puts in, prepares her for the more intense college playing level.
"Everything is more intense and faster paced," Snell said. Snell's father, Ray Snell, has pushed her the extra mile to practice not
only softball but basketball and flag football as well. Ray is very eager to get to see Sarah playing on a higher level of softball in college.
"I was very proud of her, to see her on the next level going to college," Ray Snell said.
You can always hear the cheers of her father in the stands. He always attends all of her games for Lakewood and the Sarasota Heat, a competitive softball team that Snell plays for.
"My dad has given me every opportunity for success. He's not only
been a parent but a coach and taught me everything I know." Snell said.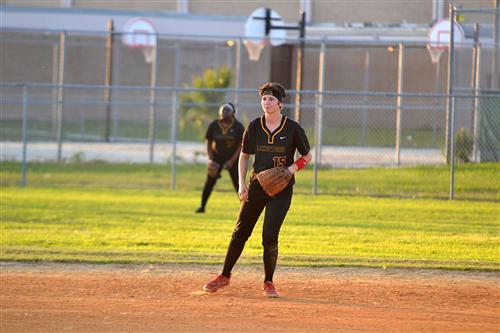 Snell plays shortstop during a game against St. Petersburg High on April 6. Snell started playing baseball when she was 4 and started playing softball at the age of 12. "She's very competitive if she wants to be the best at something she'll challenge herself until she is the best at something," coach Robin Brady said. (JORDEN POMPEY | SNN)