Lakewood spring sports welcome new coaches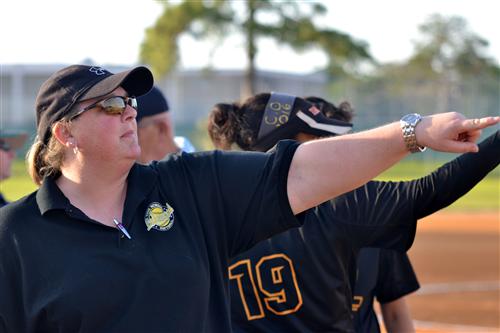 Lakewood softball Coach Robin Brady directs a player during the softball game against St. Pete High School on April 6. This is Brady's first year coaching at Lakewood. (DALLAS DAVIS | SNN)
BY MAYANA APPEL AND MALKOLM BELFOR
SNN Staff Writers
The Spartans' softball and tennis teams started their seasons off with a new coaching staff. Robin Brady and Coach Motez "Mo" Robinson were looking to take the Lakewood teams into a successful and rewarding season. Coach Brady said she has over 20 years' experience as a coach to high school softball players. She attended Amarillo High School in Amarillo, Texas, and played travel ball since her high school didn't have a softball team.
"I think she knows a lot about the sport, her coaching style is that it's very important that everyone knows their basic fundamentals, because there are a lot of people on our team that have never played before," said captain Mara Brody, a senior.
The Lady Spartan's softball team was hopeful for a great season.
"It's going to be interesting to see how it ends. I think we're going to definitely end at better point than how we are starting," said third baseman Angelina Carney, a senior.
At the end of the season, however, the Lady Spartan's softball team didn"t meet their expectations.
"We fell a little bit below, but we got better as the season went on," Brody said when asked about the team meeting their expectations.
The softball team isn't the only spring sports team adapting to a new coach. The Spartan's tennis team welcomed coach Motez Robinson. Robinson was the head coach at Shorecrest Preparatory School before starting his season here at Lakewood.
"Most of the kids that are on the Lakewood team have trained under me in the after-school program at the St. Pete Tennis Center. When the job became available some of the parents and players went to the athletic director and said you need to try to get Coach Mo to coach these kids," he said.
The teammates seem to like the new change in coaching.
"A lot of us know him from coaching prior … at the St. Pete Tennis Center. He's been coaching there for like 11 years, so he's taught me and some of the other players since we were really young," junior Keylee Gibbons said. "He does really well. He focuses on us a lot individually, which I like a lot."
Coach Robinson said the year was a major learning curve for most of the players.
"To sum it up I'd say we are low on experience but high in enthusiasm," Robinson said.
In the end, the Spartans' boys tennis team did better than they expected while the girls team fell a little short.
"As a girls team, I don't think we met our expectations," Gibbons said, "the boys team actually exceeded their expectations."

Lakewood tennis coach Motez Robinson poses for a picture at practice on March 3. (LATAVIA NELSON | SNN)