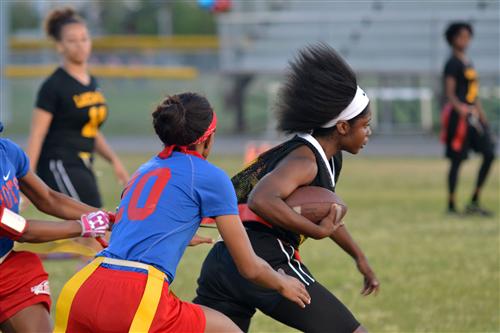 Senior Sakhia Jones runs the ball down the field after catching a pass from junior Azaira Wilson. Lakewood lost 6-0 to Pinellas Park High School on April 18.
(
WALLACE NEAL-WILLIAMS | SNN
)
BY JIANA JOHNSON
SNN Staff Writer
The spring weather hits you in the face as you run speedily through the field to the end zone. An opponent comes near you, threatening to snatch your belt before you reach your territory. You worry you won't make it until you slide through the grass. You've touched the flag.
That's what senior Sonya Casey endures as she plays the sport of flag football. Casey and seniors Sakhia Jones, Laila Abdul-Ghaffar and Amina Riggens are captains of the team.
"We all help each other out," Casey said. "We're out there to have fun."
Casey said that when it comes to being a captain, there is a balance between being friendly and being assertive, because there is always a time to get serious such as before games or when an individual needs help with techniques.
"I have played every sport out there, but I stuck with flag football for the principle," Casey said.
Casey said she started off playing recreational flag football until junior Keandra Brown told her about Lakewood's team. Casey tried out and got in.
Casey and the girls practice on weekdays, excluding Fridays, usually doing drills on Lakewood's football field or at Lake Vista's field. They are hoping to go to states with some effort and a handful of hope.
"We are currently trying to pull both ends together, because otherwise we'd be labeled as a mediocre team," flag football coach and Lakewood art teacher Larry West said.
He said that the players' summer and fall leagues will contribute to their success. It was rough in the beginning of the season, however, as the team started off with four losses.
"If I had to describe my team in three words, they would be speed, smart, and aggressive because once we do get everything together and work with consistency, the outcome is beautiful," West said.
Junior Takiyah Cainion said that it wasn't always easy to catch on to the methods of playing flag football.
"Until the captains and coaches show you what to do, there really is no way to just know it yourself," Cainion said.
For two of the losses, she wasn't able to play, due to a torn ligament in her finger from catching the ball. West said he hopes to start a candy or donut fundraiser for next year's team so that they will be more prepared for the season as far as uniforms and trips.
"Nothing is set in stone as of right now," West said.
He said consistency is something the team had to work on because most of the girls worked and couldn't make it to practices all the time – Casey included.
"I make it to games when I don't have to work," Casey said.
She said balancing sports and work can get difficult. Casey said that her job sometimes gets in the way of being a fair captain to her teammates because it costs her time to help them, even though Jones, Abdul-Ghaffar and Riggens are there most of the time.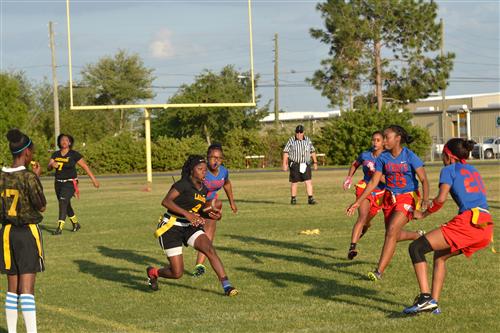 Junior Latavia Nelson runs the ball down the field.
(
WALLACE NEAL-WILLIAMS | SNN
)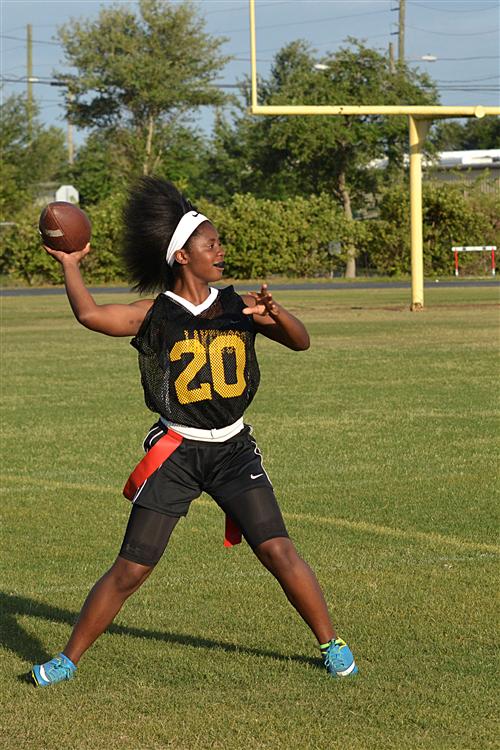 Senior Sakhia Jones throws the ball. The team ended the season with a 3-7 record.
(
WALLACE NEAL-WILLIAMS | SNN
)