Green ogre and his princess will come to life on Lakewood stage
April 13, 2015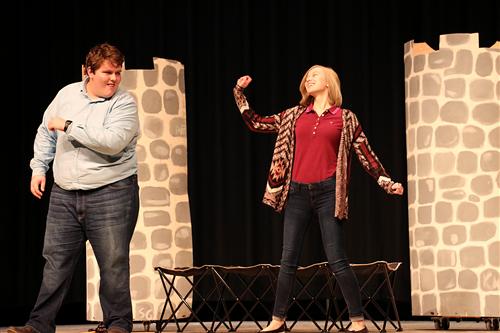 Seniors Danny McSorley and Alyssa Dodge rehearse their parts as Shrek and Fiona for Shrek the Musical. Opening night is April 21. (SOPHIE
OJDANIC | SNN)
By SYDNEY MOORE
SNN Staff Writer
The cast of Lakewood High School's spring musical stands around the stage, practicing their lines and restarting when they mess up, saying the words with confidence in their voices. The cast isn't complete, but they make it work, doubling up on parts and hoping for the best.
They are preparing for Shrek the Musical the best way they can.
The Drama Club will perform the show on April 21, 22 and 23. Auditions were held Jan. 26 in the school auditorium, and the cast list was posted shortly after.
Senior Danny McSorley will play the lead.
"(Shrek is) very similar to me, sarcastic rude; a fun character but he's a good guy in the end so he's all right," he said.
In the musical, which is based on the movie that came out in 2001, Shrek goes on a quest to save Princess Fiona in order to get his swamp back. He does not go alone, though. Freshman Taylor Ortego plays Donkey, Shrek's newfound friend. With Donkey at his side, Shrek will learn valuable life lessons and meet his one true love.
Senior Alyssa Dodge will be playing Shrek's love interest, Fiona.
"She's been locked in a tower for 20 years so she's pretty lonely, but very excited about life so she's hopeful for the future. Um, she's also a redhead so she's super fiery and she doesn't like being told no. She's a morning person and she's super happy and bubbly and she loves everything," Dodge said.
Ortego's character, Donkey, provides the comedy in the musical, much like in the actual Shrek movie.
"Donkey is a very spastic, 'let's go' kind of person, while Shrek and everyone is more laid back, but Donkey has a lot of fun. He's more the comic relief character," Ortego said.
Lakewood alumna Kelsey Hill is directing the play while music teacher Jacob Merrett is the music director.
Tickets will be $5, and the musical starts at 6 p.m. in the Lakewood auditorium on Thursday and Friday, and 4 p.m. on Saturday.