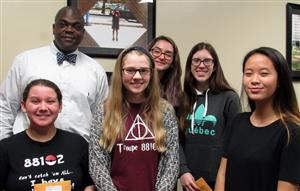 Tikeiria Isom | JHT
Winners of the PRIDE award for 2016-17 receive medals from Mr. Brown. From left, Kailyn Rosenthal (foreign language), Annika Fuller (social studies), Ajla Kuc (writing), Makayla Schmidt (science), and Christina Ni (math).
BY ANGELINA SAENKA AND MARIE BAPTISTE

Jhop Times Staff Writers
Principal Brown is honoring five J.Hop students for their ability to succeed in a specific subject area. The five eighth-graders received PRIDE awards for excelling in either math, science, social studies, writing, or world languages.
Makayla Schmit, Christina Ni, Ajla Kuc, Annika Fuller, and Kailyn Rosenthal earned medals and tickets for a ceremony at Ruth Eckerd Hall on April 6 that will honor Pinellas County School PRIDE winners. PRIDE stands for Program to Recognize Initiative and Distinction in Education.
"I feel excited and happy to win the social studies award," said Annika.
Students were eligible to win the award if they earned an A average in their subject area, had a positive attitude, and scored high on the subject area test. Christina Ni wasn't expecting to win the award in her subject.
"I was totally surprised because math is tricky and confusing," said Christina.
Along with having a 3.5 average in the subject area, eighth graders needed to be involved in a subject-related club and demonstrate good citizenship. Ajla Kuc, who won for writing and is the editor-in-chief of the J.Hop Times, noticed that all of this year's winners were female.
"I'm not surprised because girls mature faster than boys," she said.