Return to Headlines
3/25/2019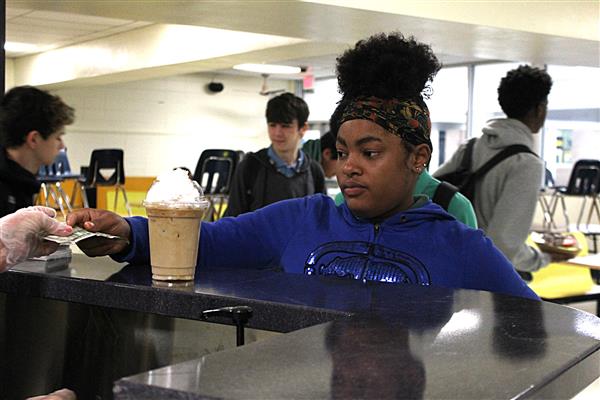 Freshman Damyka Dalrymple pays for her coffee at the new Moo Brew coffee bar early in the
morning before a long day of school. (EMMA COLLINS | SNN)
Students can get a jolt in the morning with a cup of coffee from the new coffee bar.
By MAYA RISH AND REBECCA LAND
SNN Staff Writers
Students crowd around cafeteria manager Kim Griffin's small cart inside the cafeteria as she hands out orders of cold brew coffee to tired-looking students. One chilly Wednesday morning, students walked in and out of the building carrying cardboard breakfast trays and a lazy demeanor.
The new Moo Brew cart is in the center of the bustling atmosphere. As students line up to grab a cup of the new coffee option, Griffin happily pumps flavored syrup into the plastic cups.
"I think it gives them a little bit of boost because you wake up so early in the morning and the typical high school student doesn't go to bed before midnight," Griffin said.
The Moo Brew coffee bar is open Tuesday, Wednesday and Friday 6:30-7:30 a.m. The coffee bar opened on Jan. 24 and has been slowly gaining popularity since the Thursday it opened. The drink contains four ounces of cold brew coffee, eight ounces of milk, one or two pumps of your choice of vanilla, caramel or mocha syrup and whipped cream. For students with lactose intolerance, a choice of Silk almond milk is available. Each cup costs $2.
The Moo Brew coffee bar is funded by the Dairy Council and was in the works for about a year before it opened. Out of the 16 schools that had the opportunity to participate in Pinellas County, eight including Lakewood jumped in. No money from the Moo Brew bar goes to the Dairy Council; all proceeds go back to the schools that are participating. Surprisingly, many people were behind the idea of students drinking coffee.
"It's enough to kind of give you a little wake up in the morning," Griffin said.

The consensus was that although coffee is addicting, the four ounces of coffee and the eight ounces of milk were just enough to get a student going, not overwhelm them with a hyper buzz. Most students said they enjoyed the coffee and thought it was a good school alternative to a more expensive Starbucks or McDonald's option,
"It's got a rich flavor," freshman Damyka Dalrymple said.
Some students, however, thought that it could use more coffee, and less milk, or that it was too weak.
"It's very watered down," freshman Robert Crabb said.
"I wanted more whipped cream," Dalrymple said.
Though the coffee is now sold in the cafeteria, the Moo Brew coffee bar will eventually move to the courtyard sometime next year, Griffin said.