Return to Headlines
Spartan from the other side of the pond
12/12/19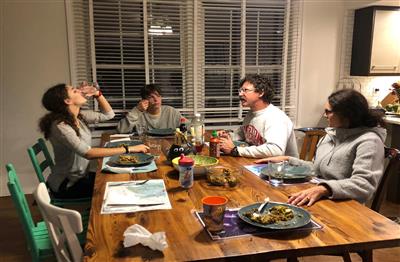 From left, sophomore Maya Rish, sophomore Benjamin Plehn and his host family eat dinner. Plehn is an exhange student from Germany staying with Rish's family for the school year. "We'll be lifelong friends," Rish said. "The hardest part about having him here is that I know he's going to leave." (EMMA COLLINS|SNN)

By ZONTERIO GREEN
SNN Staff Writer
Sophomore Benjamin Plehn, who was born and raised in Hamburg, Germany, is an exchange student this year at Lakewood High School.
Plehn said his mother gave him the idea to become an exchange student, and he joined Youth for Understanding, an organization for intercultural exchange and educational programs.
To get accepted into the program, he had to do a lot of paperwork to get a visa and a lot of waiting for the paperwork to go through. Plehn said he arrived in the United States on July 6, after a 20-hour plane ride from Germany.
"I was super excited once I landed, and I couldn't wait to start my experience," Plehn said.
Plehn said America is very different from Germany when it comes to culture. People in Germany are more confrontational, and insults are more commonly a part of their culture compared to America, he said.
He also said the food in the United States is worse than in Germany in terms of quality. Some of his favorite foods here are tacos and snacks such as Doritos. A food he doesn't like are Cheetos.
"In Germany, we have less junk food and generally food is way cheaper," he said.
Plehn said school in America is also different and harder to get used to than in Germany. The grading system is different as teachers in Germany grade based on performance in class rather than homework. Students still have different classes, but they don't move around as much as he does here at Lakewood.
He said the kids he has encountered in America are the same as the kids in Germany when it comes to personality, though the looks of the kids are very different. Plehn said the biggest adjustment has been living with a new family. He said the experience has been great, but he misses his family.
Although he misses his family, he said the organization forbids anyone in his family from visiting him. "They think it ruins the experience of an exchange year," Plehn said.
Sophomore Zenlee Evans met Plehn in an AMSET classroom. He said he bought him a bag of chips after exchanging a couple words and they have been friends ever since.
"He seemed really nice, but he was kind of shy," Evans said.
Evans said he and Plehn both enjoy skate boarding and hanging out all the time. "He's pretty chill, and he's a lot like me," Evans said.
Evans said they both share the same personality traits and they have almost everything they like to do in common. Plehn lives with sophomore Maya Rish and her family in St. Petersburg. She said she has really enjoyed having an exchange student live with her, and her two younger brothers love him. They have an older male influence who is not their dad to hang out with and do activities such as sports.
Plehn is like an older brother to them, she said. Rish said she didn't want someone living in her house she wouldn't get along with. "I was pretty nervous at first," she said.
But it has worked out well, and it is nice to have someone to always talk to, she said. "We'll be lifelong friends," Rish said. "The hardest part about having him here is that I know he's going to leave."
Plehn will go back to Germany at the end of the school year, and he's not sure if or when he will return. "I only see myself living here if it's convenient like for a job or school. I would like to go to college," Plehn said.