Return to Headlines
A gamer, a teacher, a billiard champ and an entrepreneur
12/14/19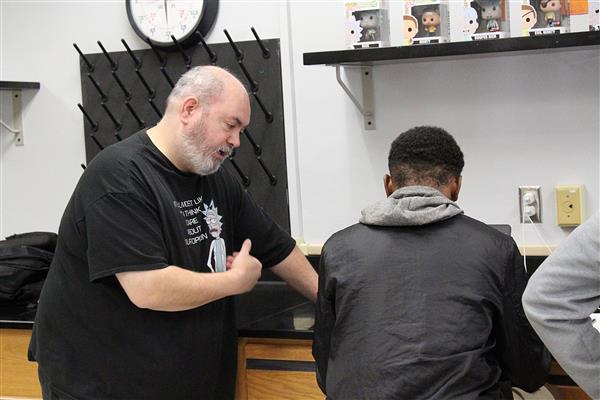 Math teacher Thomas Penkethman helps junior Stevmoney Medaries during class. "I like the freedom that he gives us to do our work without interruption," he said. (CHRISTOPHER WESSEL|SNN)

BY ROBERT ZACHEM
SNN Staff Writer
You have undoubtedly heard of math teacher Thomas Penkethman's unique flipped classroom, where students watch lectures at home and work on activities in class.
"I like his teaching style because it allows you to be flexible with your learning," junior DaJaun Anderson said.
Penkethman's approach to teaching isn't the only unique thing about him. Penkethman is a well-known gamer. His room is littered with his video game collection on shelves for every major console, and on the walls are posters for different games like Fallout.
Penkethman is the sponsor for the esports club, leading them into their first season. Penkethman said he doesn't have a favorite video game, but if he had to choose, it is Grand Theft Auto 5, mainly because he enjoys the role-play-game element to it.
Another thing students notice about Penkethman is his love of the animated TV show Rick and Morty, a science fiction sitcom. "I enjoy the unpredictability of the comedy and the surprisingly high-level wit. They are very intelligent jokes," Penkethman said.
He can often be spotted sporting a Rick and Morty T-shirt and has a large collection of Rick and Morty paraphernalia such as a giant Pickle Rick.
"He's a devoted Rick and Morty fan," history teacher Jessica Herring said.
Lesser known about Penkethman is how he got his start teaching. Originally, Penkethman was a businessman with a degree in finance. He got his start working at his parents' dealership where he discovered his love of driving different cars.
"You name it, I have driven it," he said.
In 2003, Penkethman sold one of his businesses, because he wanted some time off to get a doctorate in mathematics. Then a friend of his told him about an opening at Dixie Hollins High School, where he wrestled and graduated from in 1991.
He met the principal who offered him a position as a math teacher. Penkethman accepted because he loved math and wanted to be in the school system while pursuing his degree. He started teaching in 2003 and came to Lakewood in 2006. He has taught for 16 years.
"His drive and desire to learn new things is impressive," fellow math and physics teacher Kayla Smith said.
Penkethman has acquired lots of life experience through several interesting activities. One of these activities he did was motocross. In 1985, he was the east coast champion in two different classes.
"We were a motocross family, so I grew up riding and racing with my brothers. I still have a bike, but I no longer race," Penkethman said.
In addition, he was a billiards (pool) champion. He placed ninth in the nation two years in a row, competing for the University of South Florida. He also competed on a pro tour.
"I competed in my late teens and early 20s. I was the first ever student at the University of South Florida to qualify for the national tournament, which takes only the top 16 players in the nation. I still have a pool table in my house and enjoy playing today," Penkethman said.
Penkethman is also a member of Mensa. The largest and oldest high-IQ society, Mensa, is an international group of people who score in the top 2% of the world on the IQ test.
"I am a lifetime member, since my early 20s. I considered it as a challenge to see if I could get in," Penkethman said. And one final thing, as Mr. P often says: "I love working math problems."