Return to Headlines
'Chickens were a close second'
12/16/19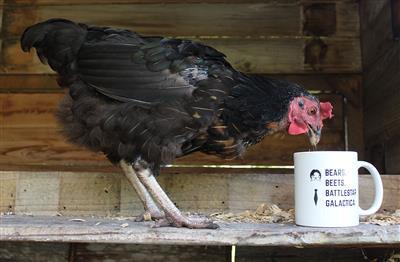 A hen named Agnes pecks into a coffee mug for food in the outdoor classroom on Nov. 4. The chicken eats a cornmeal feed at least once a day. "I think it's a good experience. I think it's really cool to work with Agnes since I plan on becoming a vet after high school," junior Damyah Hall said. (ESSEX POTTS|SNN)
BY OERYAN WILSON
SNN Staff Writer
When it comes to learning about marine birds, most teachers might choose to stick to the books, but science teacher Rachel Fawaz chose to take a more hands-on approach.

"We can't have actual marine birds in school, so chickens were a close second," said Fawaz, the coordinator for the academy of Aquatic Management Systems and Environmental Technology (AMSET).

In the past, Fawaz brought in chickens for her classes to take care of during their marine birds unit. In mid-October, two of those chickens named Edith and Agnes returned to Lakewood's outdoor classroom.

However, in late October, Edith disappeared. It is assumed Edith died over the weekend of Oct. 26. The door to the chicken coop was left open and upon returning, Fawaz said she was only able to find one of the sisters.

"I assume she was eaten," Fawaz said, most likely by an alligator that lives in the outdoor classroom's pond.

Every Friday, students go to the outdoor classroom and feed Agnes, perform maintenance around the chicken coop and collect any eggs. The eggs she lays will be harvested by Fawaz, to either eat at home or feed to her dog Watson, who can't eat regular dog food and must be fed raw meat and eggs.
Not all AMSET students are excited about Agnes - for instance, junior Logan Corial.

"It's just another AMSET pet, it's nothing special," he said.

During school breaks, such as the upcoming semester break, Fawaz usually allows students to bring the AMSET animals home, but chickens are not allowed to go home with students because she isn't able to send them off with the right caretaking material.
Junior Damyah Hall often cares for animals over breaks, and said she is disappointed that Agnes the chicken is not allowed to be in student care.
"I think it's a good experience, I think it's really cool to work with Agnes since I plan on becoming a vet after high school," she said.