Return to Headlines
AMSET teacher has baby girl
3/11/20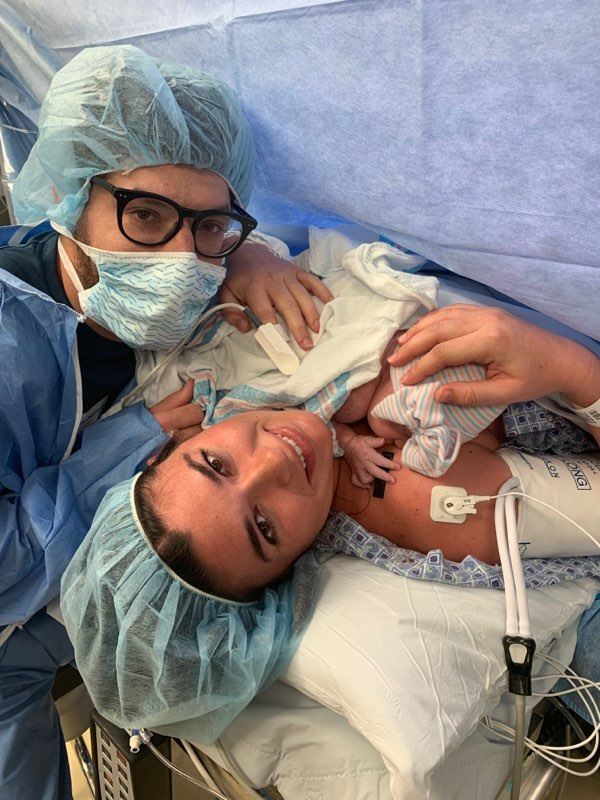 AMSET teacher Rachel Fawaz and her husband Tarek Fawaz hold their newborn duaghter, Arya Anne Fawaz, on Jan. 10. (SPECIAL TO SNN)


By JADE MARKS AND OERYAN WILSON
SNN Staff Writers

Aquaculture and marine science teacher Rachel Fawaz runs a classroom teeming with little lives. Crabs and turtles and axolotl fill up the glass tanks and give the main AMSET classroom its unique look and smell. The newest addition to her life, though - which won't be kept in a classroom tank - is named Arya Anne Fawaz, Fawaz's new daughter.

Arya, who was born on Jan. 10, is 20 inches long and 7.7 pounds of baby. She has "lots of dark hair," in the words of Fawaz, and a pair of blue eyes that are likely to change later on. Her name was agreed upon easily by Fawaz and her husband, and is pronounced like "Aria" from Game of Thrones.
"We both love the character from the show," Fawaz said.

Fawaz will be on maternity leave for eight weeks, until the week before spring break, taking care of Arya. While she's gone, students and members of the AMSET team are making sure the animals are taken care of. Leaving them under the supervision of a substitute is a tall order to make, so students such as junior Damayah Hall were ready to pitch in and bring the AMSET pets home. Hall made herself the temporary guardian of Nagini, AMSET's ball python. It's her way of helping Fawaz through the transition.

Cafeteria manager and friend to Fawaz, Kimberly Griffin, is happy for her and ready to help. The tortoise Dolores is under her care during Fawaz's maternity leave.
"I have not spoken to (her), but (we) texted all the way up until she had her baby," Griffin said.
Transition brings further difficulties to the classroom; students will have pre-delegated assignments to complete, and are expected to be civil toward the long-term substitute.
"Some of the classes have a tendency to be silly and I don't want anything to happen to our expensive technology or animals or each other. I hope everyone can be on their best behavior," Fawaz said.
Childbirth and the aftermath are not widely considered easy to adapt to. Changes at home interrupt the flow of work, and Fawaz said that by being away from school she was afraid that things "will slip into chaos and students will feel like they are missing out on their education."
Worry and woe fall behind when it comes to Fawaz, behind her desire to take care of her new daughter.
"You never imagine being capable of loving someone so much," Fawaz said.