Return to Headlines
Here's how she kicks back
3/12/20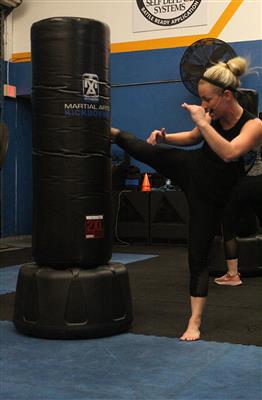 Math teacher Melissa Ostrowski kickboxes while leding a class at MA Fitness on March 12. (MAYA RISH|SNN)
By MAYA RISH
SNN Staff Writer
Math teacher Laura Lake is retiring after a 32-year teaching career - 17 of them at Lakewood High School. Lake taught all grade levels several different courses, including AP calculus, statistics and research in the Center for Advanced Technologies.
"This year is my 32nd anniversary of teaching, and it's just time. I could probably go for three more years but... no," she said.
Lake was born in downtown Detroit and lived in the suburbs until she was 14 and moved to Florida. She said she ended up going back to Michigan to finish high school. She had no intention of ever becoming a teacher until closer to her junior year in college after she changed her major two times.
"When I was a little girl, I thought I wanted to be an astronaut. When I first got into college, I was a computer science major. I was thinking about an engineering major and then I got sidetracked with astronomy," she said. "But all the time I kept taking math classes. … A person is really lucky who gets to make a living at what they love or have a passion for, and I was lucky to have some really wonderful teachers early on in mathematics."
Teachers at Lakewood adore Lake and have nothing but good things to say about her.
Guidance counselor Cheri Ashwood has known Lake for "as long as I've worked here," which is about seven years. She describes her as "very caring and really good with all grade levels, 9-12. She's just a great all-around teacher."
Computer teacher Bob Tenza has known Lake since she started at Lakewood. They eat lunch together every day along with several other teachers.
"She's a wonderful person and a great teacher and puts (the students') best interest first. Even though she loves teaching, there comes a time where a person needs to focus on their family, friends, and activities," he said.
Lake said once she retires she looks forward to playing more tennis. But she will also do some volunteer projects that she has had on the back burner for a long time.
"I was never blessed with children; I was the baby of the family, so you know everybody adored me. I have my one brother in California. I married a man with five sisters, and between us we have 19 nieces and nephews and it is such a fun family. We have a blast. I'm looking forward to spending more time with them," she said.
In addition, Lake is also a big reader. Outside of school, she belongs to two book clubs. They read books and meet at each other's houses or different restaurants once a month. Sometimes, they go on trips sometimes related to the books.
CAT secretary Beverly Michell-Brown is not only a colleague but also a member of one of her book clubs.
"As a person she is fun and always willing to help out," Mitchell- Brown said.