Return to Headlines
Jazz band travels to New Orleans
3/20/20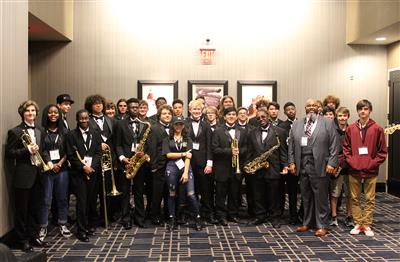 The Lakewood jazz band gathers for a photo after their performance in New Orleans. The band traveled to Louisiana in early January for the Jazz Education Network conference. (JADE MARKS|SNN)
BY ZONTERIO GREEN
SNN Staff Writer
As many students were adjusting to the first week back from Christmas break, the jazz band took a five-day trip to New Orleans to start off their 2020 year. According to the website for the Jazz Education Network (JEN), Lakewood was among 15 schools invited to the JEN Conference. The JEN conference consisted of some of the best jazz performers performing along with open clinics where schools played a set of songs practiced by the jazz band in front of jazz performers and judges. They also performed as a demo band where they were judged and critiqued on what they could improve on.
Band director Michael Kernodle said the band left on the Tuesday returning from Christmas break and they returned the following Saturday night. The band had an early jump start in plans as they were required to arrive at Lakewood at 5 a.m. to load a motorcoach they used as transportation. After loading and having an attendance check, the band departed from Lakewood at 6 a.m. to New Orleans.
During the 10-hour bus ride to New Orleans, they spent their time bonding, recording each other doing silly things and overall enjoying their time together.
"The bus ride was insanely long but we all made the best of it," jazz band member Adam Darbyshire said.
Kernodle said although he didn't know how to feel about the band's maturity at first, he thinks they handled the stress and overwhelming pressure from the performances and the time they spent practicing well.
"Some of this stuff can be a little overwhelming when you see so many people and you hear so many musicians, but I think they held it down," Kernodle said.
During the trip the band performed three times. Kernodle said their first performance they were a part of the generation jazz festival at a clinic, they also performed at Jackson square for fun and as a demo band where they were judged by educators and jazz musicians. He said he thought the band did well and he's glad they were given pointers on what aspects of their performance they could improve on. He also said he thinks the trip benefited the jazz band.
"It was great exposure for them to hear different levels of music and meet different musicians, some their age and some professional," Kernodle said.
Jazz band member Apollo Leavy was interviewed after their demo performance about the performance and the judges' critiques.
"We did learn some new stuff about what we should be doing and what would make us better, and (we will) just use the criticism ... to improve ourselves and play better," Leavy said.
Darbyshire said he thought it was a great trip and thinks the band benefited from it in more ways than they thought. He said New Orleans has music on every corner and being right in the middle of it was an incredible experience for him. Although he said he had a fun experience he also said missing a week of school had its impact.
"It was hard catching up after, but I was able to manage," Darbyshire said Although their trip came to an end quickly, Kernodle said they spent time they weren't performing exploring New Orleans, getting a feel of the history and eating all the food there. He said in the end he learned different techniques he could apply to future kids who join Lakewood's jazz band.