Return to Headlines
3/12/20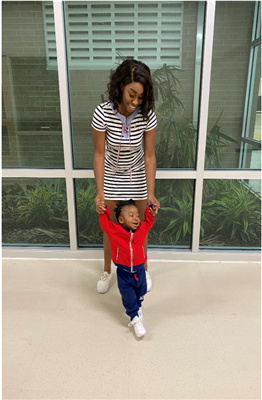 Senior Sorayah Douglass, who was voted Ms. LHS by her peers, walks with her son, Sebastian, in front of the gym lobby on Jan. 31. The two were attending a Lakewood basketball game. (SPECIAL TO SNN)
BY ROHEY BARROW
SNN Staff Writer
Only 40 percent of teen mothers finish high school and fewer than two percent finish college by age 30, according to the National Conference of State Legislatures - but that won't be 17-year-old Lakewood High School senior Sorayah Douglass, who gave birth to a son the fall of her junior year.
"She knows what her end goal is. She knows she wants to be a good example for her son, Sebastian, and she knows that going to college is the way to be better," said Spanish teacher Linda Santiago, a supportive teacher throughout Douglass' pregnancy.
Douglass, whose son was born on Oct. 24, 2018, currently has a weighted GPA of 3.7 and plans on going to the University of South Florida in Tampa to major in biomedical engineering after she graduates with her Center for Advanced Technologies (CAT) certificate and diploma in May.
"It was hard in the beginning to maintain my GPA," Douglass said.
Douglass discovered she was pregnant in the summer of 2018 when both her mother and grandmother had a dream about it and noticed she was gaining weight. She then took a pregnancy test and it came out positive.
"I don't really know what my mom was going through; she didn't show it much," Douglass said.
Her family arranged a meeting between her mother, Sebastian's father, Raymond Richardson, his parents and herself to give them the news.
"(The father) was silent the whole time, he didn't really do or say much. I wouldn't say he was excited, I wouldn't say he was not excited; I didn't know what he felt," she said.
Douglass dated Sebastian's father during her freshman year and his mom really liked her.
"His mom was way too excited," Douglass said. "She was happy with his decision of a mother."
She continued to attend school even after her pregnancy started to show.
"At that moment I didn't have many friends anyway, so I didn't want to tell anybody," she said.
After Sebastian was born, Douglass was in the hospital for two days and took six weeks off from school after giving birth, which meant she missed all her semester exams.
"I thought it was going to be easier because I was going to be at home in my own bed, but everybody started coming over and they wanted to see him," said Douglass, who has continued to live with her mom.
Douglass and Richardson decided to remain separate.
"I love my son, but I wouldn't put myself in a position where I wouldn't be happy, and kids notice things," she said.
Her family members visited her often, giving loads of advice and opinions on how to care for Sebastian. "When I was at home by myself, it was a lot less stressful; I had time to actually be with him and not worry if I'm doing this right or doing that right," she said.
Douglass went back to school for the second semester and it was a challenge for her to catch up. Senior Justin Yearwood is a good friend of Douglass'.
"I've seen her work through financial struggles, stress, personal family issues and finding her balance because she has a kid she wants to take care of, but she's still a teenager and there are things she wants to do," he said.
Even though she had to manage school, nursing her baby and work, she finished her junior year with good grades and continues to thrive in her senior year. Douglass is also a hostess at the Don Cesar Sea Porch Rowe Bar in St. Pete beach.
"She's got a kid and she's got her stuff together," Yearwood said.
Because she continued to nurse Sebastian when she returned to school, there were many times when she had to leave class to pump the milk. "It was hard. People don't think it's hard, but it was," she said. Administration gave her a room in upper B-wing to use when she needed to pump, but there were often awkward encounters.
"There would be times when administration would walk in and be like 'Why are you here?' and I'd have to pull out the machine," Douglass said. One thing that made last year a little less stressful for her was help from teachers and school resource officers. "The SROs made it easier because when going (to pump) during lunch I didn't have to explain myself that much," she said. "My teachers I had last year were really nice and understanding, too."
Sebastian's father is attending college in a different city, but his parents have been helping with babysitting and expenses.

"I don't really have to pay for much, but I try not to depend on them too much because he's my kid," she said.
Teachers and peers were impressed with Douglass' strong work ethic. In January, her fellow seniors voted her "Ms. LHS," a yearbook superlative that goes to the senior who is most involved in her school. "She didn't take her pregnancy as an excuse of not doing her work. She always stayed on top of things and even though she was out giving birth she came back and finished the year," Santiago said.
Other teachers, however, were surprised by her pregnancy and that she wasn't more careful. Douglass, however, just shrugged it off. Despite the hardships, she always follows through to reach her goals, Santiago said. "She was never a victim."