Return to Headlines
3/12/20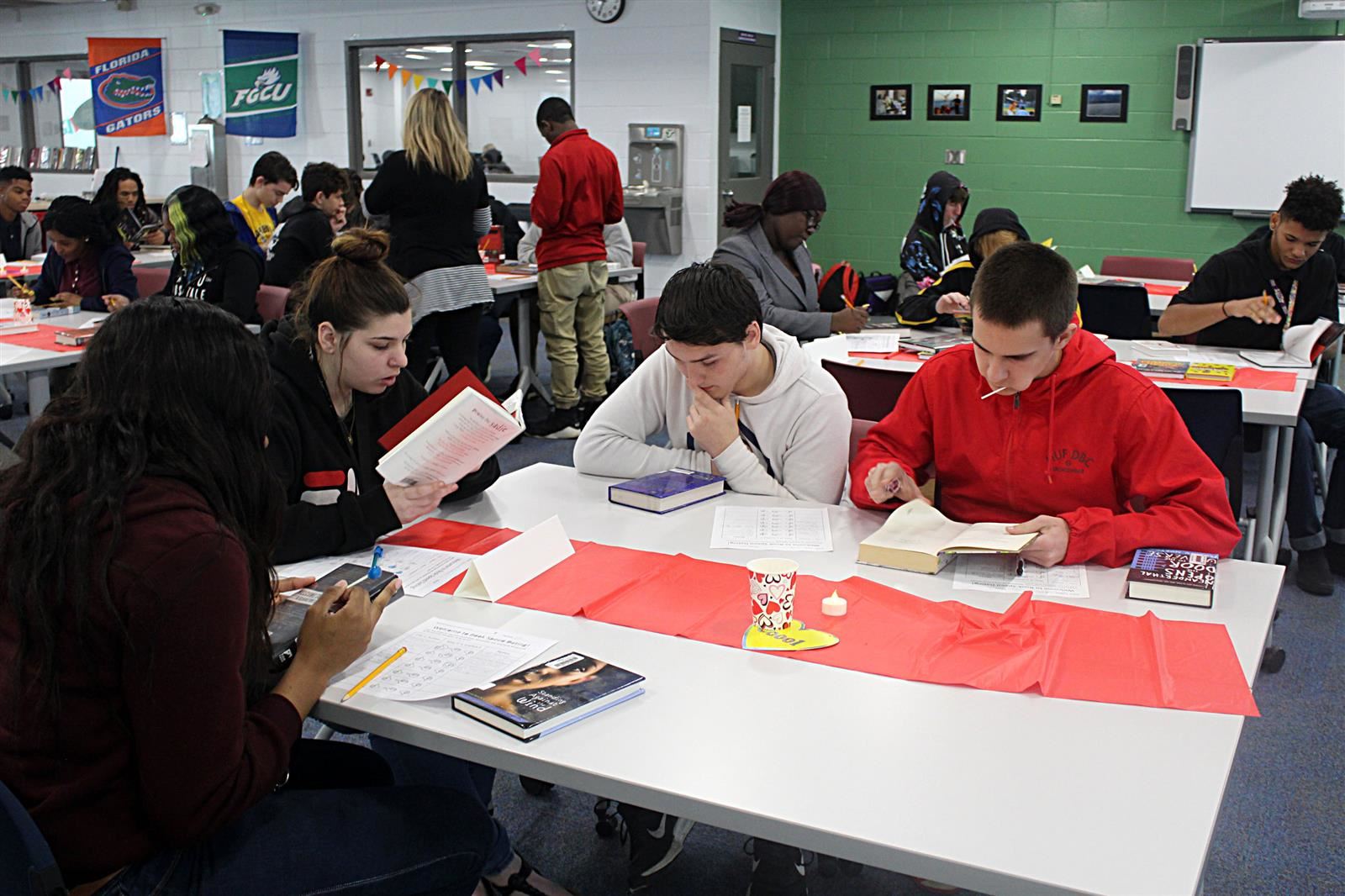 Students read during the Valentine's Day Blind Book Date, an idea designed
by librarian Heather Robinson. (CHRISTOPHER WESSEL | SNN)
By JAMES CRUICKSHANK and ARVINDRA PERSAUD
SNN Staff Writers
It was Valentine's Day, and on one table in the library were four books wrapped in brown paper bags with tags on them that simply stated the books' genre, not the title. Little clues were written on the book covers to grab a reader's attention.
School librarian Heather Robinson was hosting a display where the idea is to have a "blind date" with a book. The books were chosen by a lucky fellow based off their interest.
"I enjoy creating seasonal displays that are relevant to our students and fun to look at," Robinson said.
Senior Zoe Mitchell, who took part in the Blind Date display, said her favorite genre when reading a book is fantasy and that when reading a book, "I want to feel something."
Junior Tiffany Bertram was the first person to see the display and choose a book. She liked the idea because she thinks that hardcover books are better than E-books, which are becoming more trendy.
"You'll learn a lot about what's happening inside," she said about her book.
Bertram said she is happy that Robinson is "bringing the attention to the library like it's supposed to." Because of renovations in the past years, the library has had its restrictions, she said.
English teacher Necole Tunsil said the blind book date was "a very unique idea." When a book is physically in front of a student's face, Tunsil said, they will be more interested than they are when reading digitally.
"It's a good way to promote reading," she said.
English teacher Angela Hawkins also liked the idea. She said that Robinson, despite being her first year here, is doing an amazing job with her displays and the idea of getting more students engaged with literature
"(It) gives a kid a chance to… get their interest sparked," she said. "It's always a good idea when kids can find something new to read instead of just looking at their cellphones."