Bayside High School Clubs
5000 Role Models Club: The 5000 Role Models of Excellence is a program designed to boost the self-image, social skills, and academic performance of targeted males by motivating them to interact with respected and successful men whose real-life accomplishments can inspire young gentlemen to succeed.
Gay Straight Alliance Club: The Bayside high GSA promotes helps to ensure a school community where everyone can feel welcome, safe, and respected.
Girlfriends Club: Girlfriends serve to provide additional support and assistance with mentoring and helping the ladies with entrepreneurial skills and life skills.
Live Free! Club: Through information literacy, Live Free! empowers young people to make informed choices about their health.
SAVE Club: Students Against Violence Everywhere (SAVE) Promise Club empowers student leaders to take an active role in increasing school safety and preventing different forms of violence in schools and communities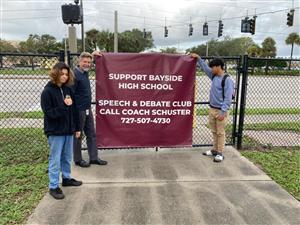 Speech and Debate Club: Empowers scholars to advocate and argue, with evidence, in a convincing and powerful manner to influence others and create a more equitable society.
Principal's Multicultural Club: