Belleair Elementary Families can pick up their students' personal items from the west school carline on the following days/times:
Tuesday, May 26th from 9:00 - 11:00 a.m. OR
Wednesday, May 27th from 1:00 - 3:00 p.m.

Please put your child's name(s) and grade level in the windshield for faster service.
Bring back all of your library books too!
We look forward to seeing all of you next week!
---
SCHOOL CLOSURE UPDATE
School buildings will remain closed for the rest of the school year. Digital learning will continue. More information is forthcoming. Please continue to monitor www.pcsb.org/coronavirus and the district's social media channels for the latest information.
---
It's time to sign up for Virtual Summer Bridge!
This is an ideal summer for ALL of our students to attend.
Register your current Kindergarten - 4th grade students today!

---
We want to thank Lots of Blessings organization for installing a Blessings Box on our campus. We will always have non-perishable foods available in it for families who need it.
Thank you Lots of Blessings! #Belleairstrong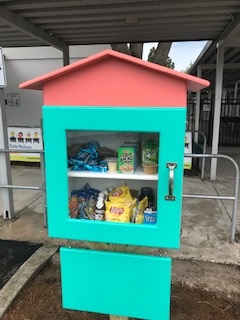 ---
Food Distribution will continue through the end of the school year.