Welcome to Belleair Elementary!

** New **

Our school hours are 8:35am – 3:05pm.
The dress code this year is: Khaki or Navy bottoms and White, Navy blue, or Yellow collared shirts. (

Multi-colored tights are not to be worn under skirts or dresses.
Register your Kindergarten student today for the 2017-2018 school year.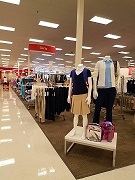 Uniforms are on sale at Target, Walmart, J.C. Penney's
Steinmart and many more. Get your Belleair Tiger ready
for the up and coming 2017-2018 school year.
Uniform colors are White, Blue, or Yellow Collared Shirts
and Navy Blue or Khaki Colored Bottoms.
Please Only Solid Colored Leggins.