Return to Headlines
Weekly Update - Week of June 7th
Azalea Elementary Weekly Update
Week of 6/7/2021
Getting You Connected!
Learning Hours: 7:35am – 1:45pm
Supervision Hours: 7:05am – 2:15pm
Our Core Values - Collaboration, Mutual Respect, Support, Professionalism, Consensus
Our Mission – Attendance + Attitude + Academics = Excellence and Empowerment at Azalea Elementary
Our Vision – 100% Student Success
Our motto – Empowered for life. It's the Azalea way!
Date

Time

Activity

6/9

11:45am

Last Day for Students – 2hr early dismissal
myON Summer Reading Challenge: All resources, flyers and information are now available at ReadonmyON.com. Below are quick links to the web pages.
Talent Show: Here's the show link. Due to the low amount of performers and the short length of the overall performance. We decided to just record the show and send it out versus disrupting the whole campus. Enjoy! Thank you Katie Shull 😊 https://youtu.be/C23KB8q5lBo
Thank you to our PTA and 3rd grader Destiny Newton for the Summer Bash bags that are going home with each child to help prepare them for the next grade level and to avoid the summer slide
Azalea Points of Pride video.Here is our Points of Pride video highlighting parent involvement, student enrichment and student achievement and empowerment https://youtu.be/YmHUtjXyG24
Amazon Smile Do you order from Amazon? Of course you do LOL. Well, every time you order you need to order with Amazon Smile so a portion of the money goes as a charitable donation and our school has one through our PTA. https://smile.amazon.com/ch/59-1853722
Summer Reading List: Ask your child's classroom teacher for their reading level
https://www.pcsb.org/domain/8110
Summer meals available for students who can't get to school sites
Meals On Wheels for Kids will continue serving children this summer with home delivered meals. Meals On Wheels Kids program serves children who have difficulty getting to a school meal distribution site due to transportation or mobility issues. Learn more at https://networktoendhunger.org/mow4kidstampabay.
Need a job or looking for something additional or different?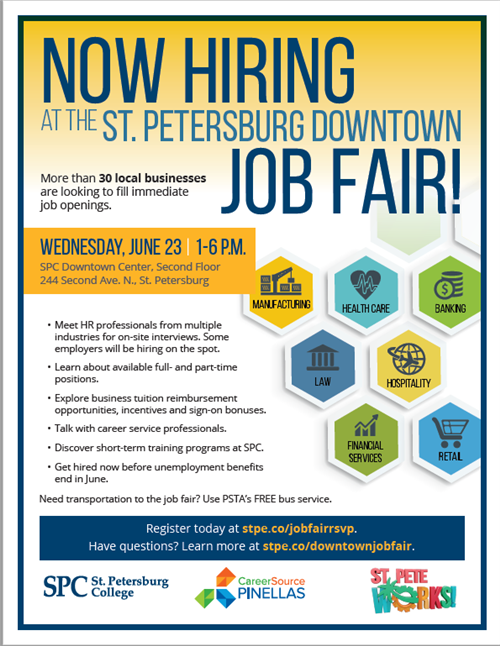 Back to School Clinics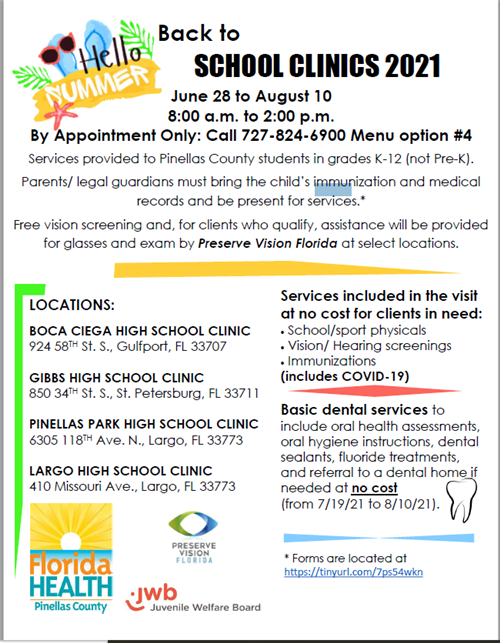 Dental Hygiene
For select dates this summer, the SPC Dental Hygiene clinic is offering Five Dollar Fridays for children and teenagers ages 5–17. This includes an exam by a doctor, x-rays, a cleaning, and fluoride for only $5 if the appointment is scheduled on a Friday throughout summer 2021! (This is a $200 value.)
Learn more by visiting below: https://blog.spcollege.edu/health-sciences-nursing-veterinary-technology-educational-information/five-dollar-friday-at-spc-dental-hygiene-clinic/
Also - the clinic also provides low-cost dental cleaning services throughout the week for individuals 5 and up! The cost for a regularly scheduled appointment is as follows:
Cost:
$45 for cleaning and full mouth x-rays

$30 for cleaning if full mouth x-rays are current
Services Provided
Oral examinations- screening or cursory only

Radiographs (digital and analog)

Cleanings (healthy mouth and periodontal)

Oral hygiene instructions

Limited sealants applied only if indicated and after cleaning is performed

Nutritional counseling
To reserve a Five Dollar Friday appointment this summer for your child, or to schedule a general appointment at SPC's Dental Hygiene Clinic, please contact the clinic directly at 727-341-3668.
Dreambox
Have Fun with Math