Welcome to Azalea Elementary
Home of the Eagles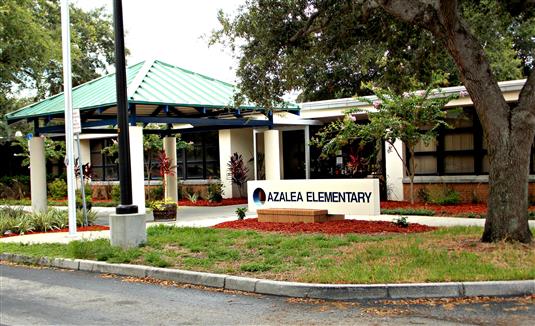 Core Values
Consensus, Collaboration, Support, Respect , Enthusiasm
Mission
Academics + Attitude + Attendance = Excellence at Azalea Elementary
Vision
100% Student Success.
About Azalea
Azalea Elementary School (AES), founded in 1954, is a public, nonprofit school in the Pinellas County School District (PCSD), a governmental organization. AES is nestled in a neighborhood near the Tyrone area in St. Petersburg. The school was originally designed for 9 classrooms, but has grown steadily to now house 40+ classrooms with our latest addition that was completed in August of 2010. AES services approximately 550 students, Pre-K to fifth grade as well as 5 full time ASD units. There is one full time Gifted teacher, two resource VE teachers and two Speech and Language teachers. AES also has a full time behavior specialist, a social worker, a psychologist, and an educational diagnostician.
School hours are 7:35 to 1:35. Students may be on campus starting at 7:05 for breakfast. Students not eating breakfast should report to covered court for grades 3-5 and cafeteria for grades 1-2 and K Pod for Kindergarten. Azalea is a full uniform school. Please visit the link to read about our policy.
Address and Phone
1680 74th Street N
St Petersburg, FL 33710-4554
Phone: (727) 893-2187
Fax: 893-2190
Michael Rebman, Principal
Spring Carnival

Save the Date!! It's Spring Carnival Time!
Friday, April 7th from 4:30-7:30
Don't forget to buy your pre-sale carnival tickets and get the discounted rate of 25 tickets for 5 bucks (they will be 20 for $5 day of).
This year we will have 10 new games! Cd Romas, Snowcones and Chick Fila will be available for purchase (food is cash only).
We will have a photo booth, sand art, wax hand making, and a 50/50 raffle!
We are looking for donations of Water and soda for the carnival. If you are able to donate, please drop off donations in the front office.
Parent University
Pinellas County Schools (PCS) and the Alliance for Public Schools will be hosting our spring Parent University at Gibbs High School on Saturday, April 22, 2017 from 8:00 a.m. – 11: 30 a.m., General Session will begin at 8:30 a.m.
Students will have the opportunity to receive any (or all!) of the following FREE services: Hearing and/or vision screening; school and/or sports physical; Adolescent vaccines to include incoming seventh-graders and computer access to sign up for PCS Parent Portal. Parents must preregister and bring a government-issued photo ID to use some of the services listed.
There will be a plethora of workshops offered as well as Resource Café. Resource Café is an opportunity for guests to visit tables, and have one-on-one conversations with district departments, district leadership and PCS Board members
Free childcare is provided for children in grades K-5 (with advance registration) Go to www.pcsb.org/parentuniversity for more information.
Summer Bridge
Could your child benefit from extra learning opportunities over the summer?
Registration for Summer Bridge is underway. Summer Bridge is especially important for students who are not performing on grade level or need additional help to stay on track. Summer Bridge provides engaging activities and focused instruction to prepare students for maximum success. Most Summer Bridge programs will run Monday through Thursday from June 6 to July 13. Register and find the latest information at www.pcsb.org/summerbridge. Contact the school for additional info or help with the registration process.