Return to Headlines
Weekly Update - Week of August 8th
Azalea Elementary Update
Week of 8/8/22
Getting You Connected!
Learning Hours: 8:45am – 2:55pm
Supervision Hours: 8:15am – 3:25pm
Gates open at 8:15am
Our Core Values - Collaboration, Mutual Respect, Support, Professionalism, Consensus
Our Mission – Attendance + Attitude + Academics = Excellence and Empowerment at Azalea Elementary
Our Vision – 100% Student Success
Our motto – Empowered for life. It's the Azalea way!
Azalea Elementary Families –
Thank you for partnering with us. Azalea is a great place to be 😊
School grades have been released and we are a "B," four overall points away from an "A." This is an incredible accomplishment, as true COVID learning deficiencies were truly evident. Azalea's teachers and staff, as always, were up for the challenge, independently and collectively, to best serve our children. I am so proud of what we all did to move the student achievement needle while keeping all our students and staff healthy. This takes commitment and focus to make this happen. It truly does take partnership with all of you to leverage such an outcome.
We are excited to start the school year and achieve at the next level. As Principal, I ask that you continue to partner with us to ensure we meet our goals. This coming school year we will delve into the NEW B.E.S.T. standards, NEW core Math curriculum, NEW student assessments, NEW legislative updates, 1-to-1 laptops for every student 1st – 5th grade, and more. More than ever, our classroom teachers need your patience and understanding as they will be thrusted into many changes in their classroom instruction.
Learn more: https://www.fldoe.org/standardsreview/
Here are the main points I want to ensure you have from this message. I have bolded the main points for each section. Note: I send out this Weekly Update every Sunday via email until all classrooms have set up their Dojo accounts with their families, then I will post there, on the school story. You can also always find our Weekly Updates posted on the school website as well. Let's do this …
Class lists

– will be posted on the window by the eagle at the front of the school by Friday, 8/5 @ 5:00pm. Of course, students will continue to be added to teacher rosters in FOCUS across the week. If you do not see your child's name on a list or a teacher is not by your child's name, that means something is still required to complete registration. Please call or visit the front office.
Supply lists

– have been posted on our website since May. There is a site shortcut on the home page or visit the resources tab. When viewing from a phone it may look different. Click on the site shortcut from the home page, then pages, then the "+" sign next to supply lists to expand and see all lists.
Meet and Greet and NEW Family Orientation
Meet and Greet is Tuesday, 8/9 from 8:00am – 8:30am. The purpose of this event is to meet the teacher and see the classroom. Classroom visits will last less than 15 min. As a parent, if you have information to discuss or extended questions, please inform the teacher of your needs so a time can be set up for a face-to-face meeting, a phone call or a virtual meeting.

Parents bring uniforms to donate that are new or look lightly used to meet and greet. We'll take all, but we are always in need of larger sizes for our 4th and 5th grade students.
NEW Family Orientation is the same day, Tuesday, 8/9 from 8:45 – 9:15am in the Media Center. I will provide information and following we will offer a brief school tour if interested.
First Day for Students

- Wednesday, 8/10. During arrival, we will have the campus open for parents to walk their child to class.

This will ONLY be available on day one.
Do you need to bring medication to the school for your child? If so, call the school at 893-2187 and schedule an appointment with our School Nurse.
YMCA:

If anyone needs it for families, our area number is (727) 895-9622 and her name is Meghan. All families can register online at

https://www.stpeteymca.org/locations/school-age-programs/
Uniform Policy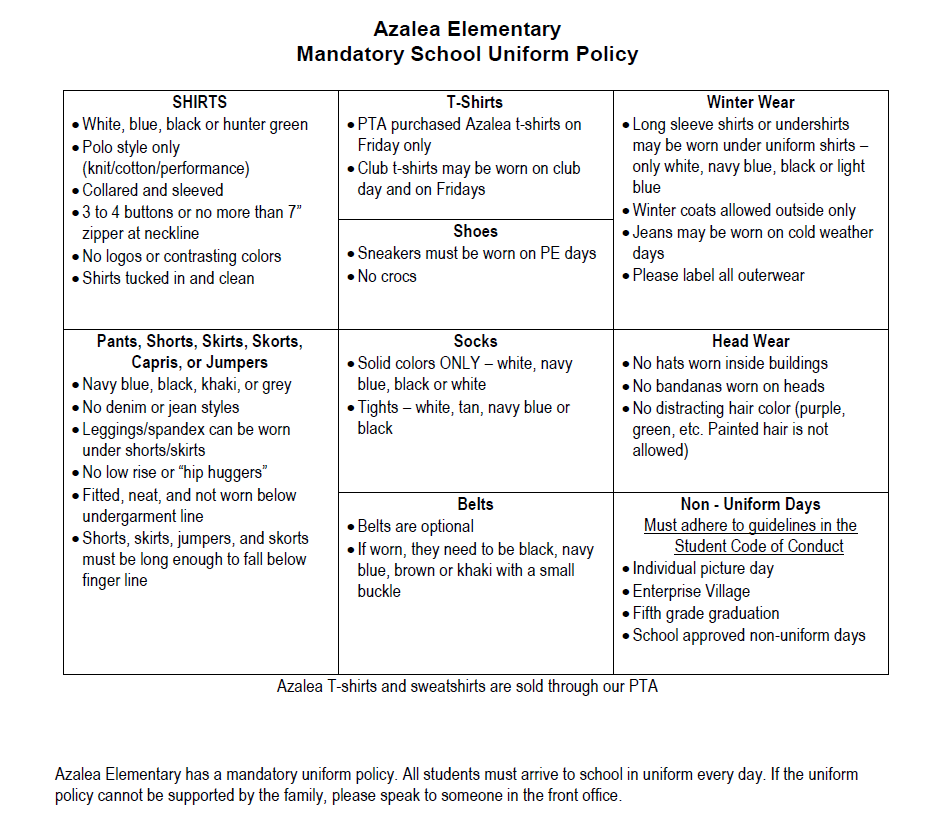 COVID-19 Related Frequently Asked Questions (FAQs):
Updated FAQs regarding COVID-19 practices are now available on the district website (COVID-19 Info/ COVID-19 Related FAQs (pcsb.org)). The FAQs and sick leave bank are also attached for your convenience.
Arrival and dismissal processes

addendum

and

BOTH Drop off/ Pick Up Locations Map addendum.

Here are several

IMPORTANT

points.

Front car circle is located in the front of the school off of 74th St.

Back car circle is located in the back of the school on Russel Dr.

Keep in mind this is a public street. Natural traffic flows are REQUIRED

If you use the back car circle and enter from the 13 Ave N side the main flow of traffic you are fine to follow traffic

If you enter from 18th Ave N you need to use a side street to access the car line, please don't U-turn in front of traffic or park on a side street and walk over

REQUIRED: Have student name(s) printed large enough and in your windshield to maximize our process

Students can be dropped off at either the front or back if they are NOT PreK, KG and ASD. You have designated drop off locations. See below for specifics.

Parents will NOT be allowed to walk onto campus at dismissal. In the front, if you park at the park or on 16th Ave N, your kids will be considered "walkers." They will be released as walkers to the digital sign/ marquee. Parents can meet their child at that location.
Parents are

STRONGLY

encouraged to drive through the car lines ONLY
Arrival and Dismissal Processes
Front Car Circle Arrival:
Kindergarten students will enter through the Kindergarten building and go directly to their holding area if they are not going to breakfast.

All ASD, except Mrs. Platt and Parker/Nelson (PreK) students will be met at the gate located by the bike rack and walked to their classroom.

All other students will enter through the main gate and either go directly to the cafeteria or the designated grade level area. Adults will be posted throughout the hallways to ensure safety.
Front Car Circle Dismissal:
Parker/ Nelson (PreK), ASD, except Mrs. Platt, K, 2Nd and 3rd grade will be dismissed in the front car circle. A grade level teacher will bring students to the car circle. Each grade level will sit as a cluster.

Parents that park and walk up, their students will be considered walkers and will be dismissed to the marquee. Parents will wait there for their child(ren).

PreK, ASD and K dismissal will be at 2:50pm.

2nd and 3rd dismissal will be at 2:55pm.
Back Car Circle Arrival:
All other PreK classes, including Mrs. Platt are assigned to the back gate drop off and will be met by a teacher from their classroom.

All other students arriving through the back gate will either go to the cafeteria for breakfast or their designated grade level area. Teachers will be monitoring the back gate entrance as well as grade level area.
Back Car Dismissal:
All other PreK classes, including Mrs. Platt, 1st, 4th and 5th grades will be dismissed from the back-car circle. Dismissal times for each grade level will be staggered. A grade-level teacher will bring students to the back-covered court. Each grade level will sit as a cluster.
PreK and 1st grade dismissal will be at 2:50pm.
4th and 5th grade dismissal will be at 2:55pm.

Note: PreK will be dismissed from the gate by the fitness center
Siblings:
Siblings will be dismissed to the location of the younger sibling.
BOTH Drop off and Pick Up Locations Map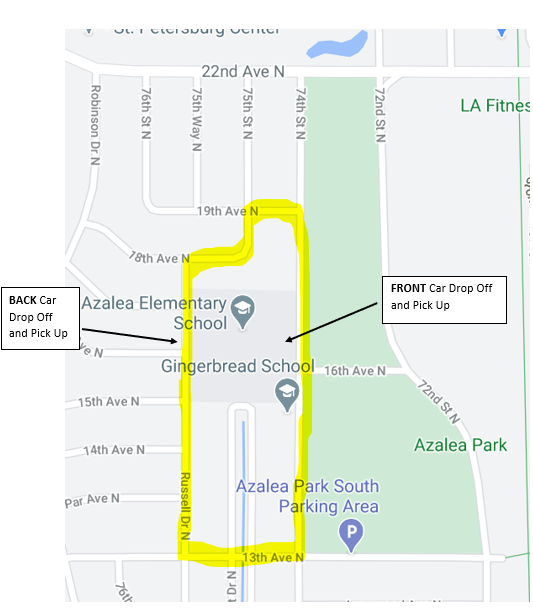 Pinellas County Schools is launching a process to help families get ready for the school year
The district has consolidated all Back-to-School forms, so parents can fill them out in one place - online. Parents can log into Focus at https://focus.pcsb.org/focus and complete their Back-to-School Forms packet. They will be prompted to fill out the forms as soon as they log onto Focus. Forms are also available at https://www.pcsb.org/backtoschoolforms. Please note: Parents must be linked to their student to use the new Focus forms. If they need help with forms, they can contact their child's school. If they need technical support, ask them to contact the PCS Helpdesk at 727-588-6060.
Encourage families to visit the Pinellas County Schools online Back-to- School Guide
Parents will find a link to our online Back-to-School Guide on the home page of our PCS website. The guide includes the student calendar, report card schedules, information about school meals and Back-to-School clinics, and more. The page can also be accessed at https://www.pcsb.org/backtoschool.
FREE Mobile Hotspot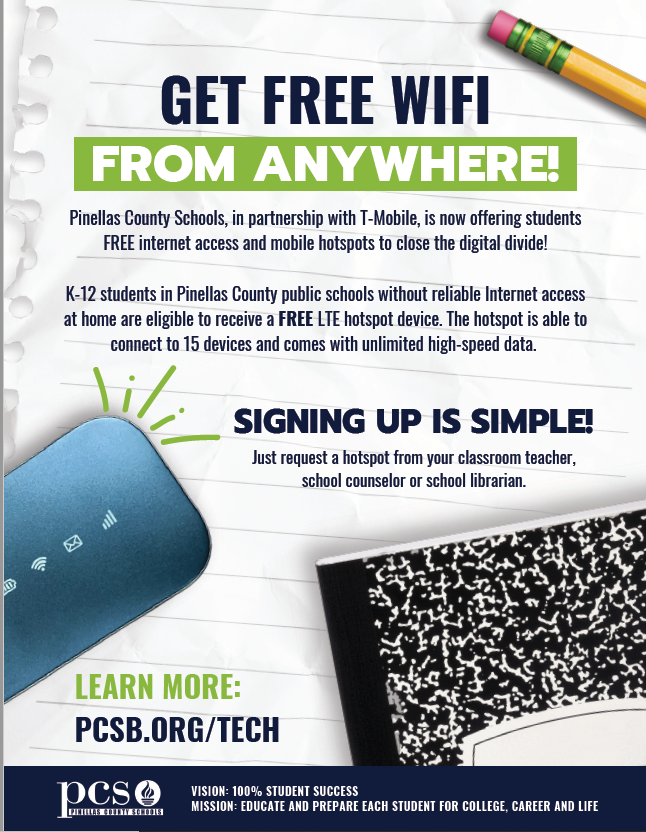 School Guidelines for Success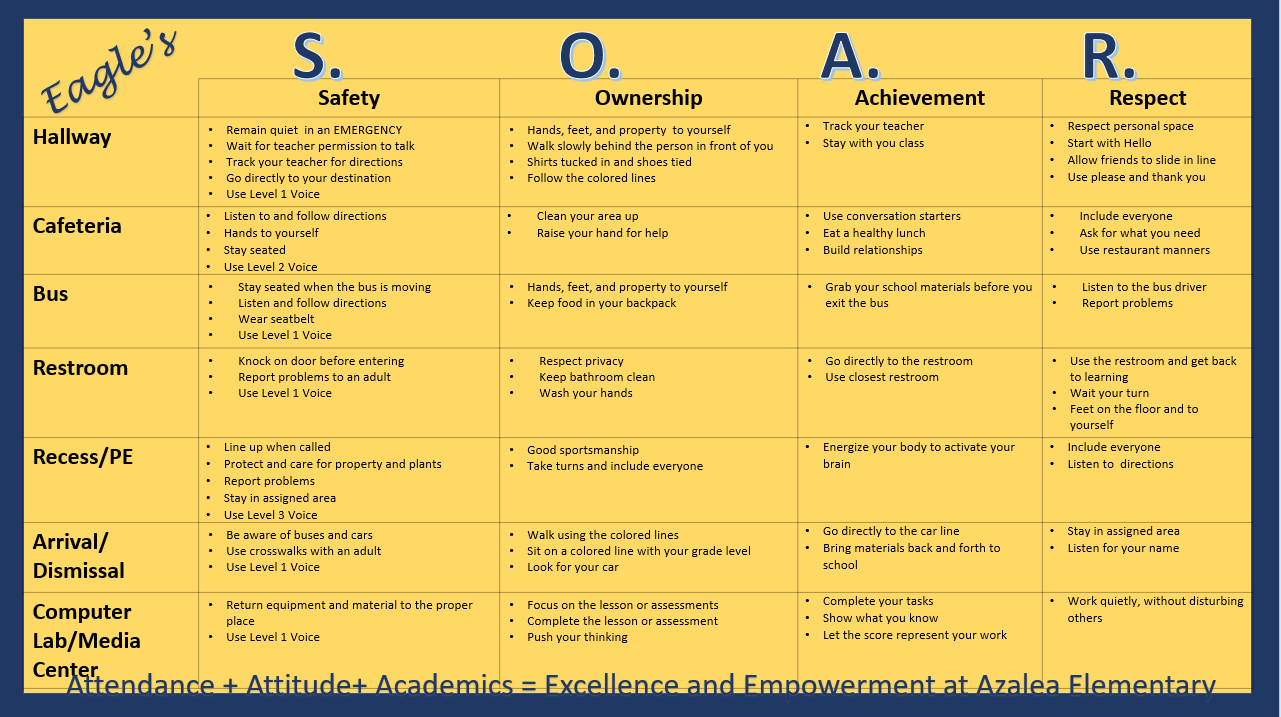 Parent Teacher Association (PTA)
Stay connected on the Azalea Elementary PTA Facebook page:
https://www.facebook.com/AzaleaElementarySchoolPTA/
Join the PTA today!
https://azaleaelementary.memberhub.com/store
PTA Executive Board
President Alessandra Randazzo

V.P. of Membership Jana Angell

Treasurer Christina Platt

Secretary Offra Kaim
Email us: pta.azaleaelementary@gmail.com
School Improvement Plan One Pager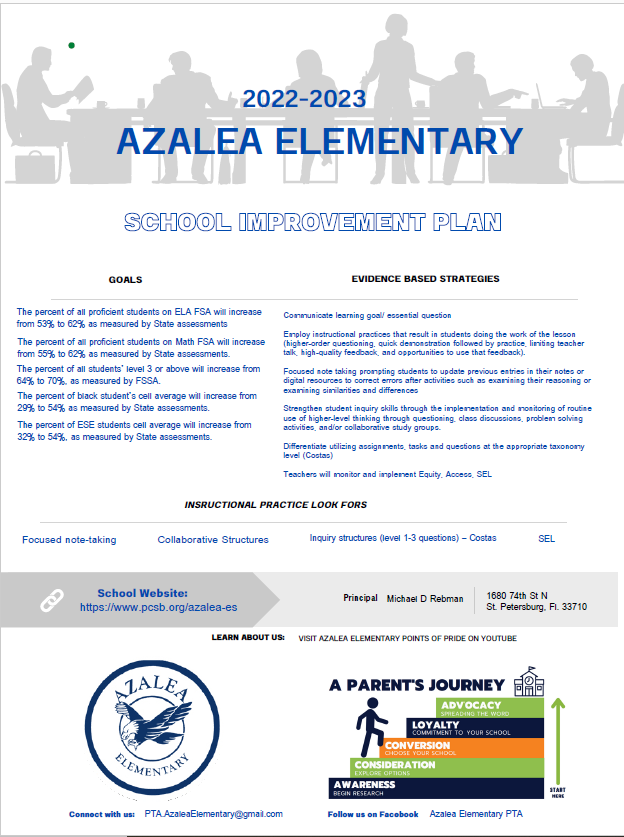 School Marketing One Pager