Return to Headlines
Weekly Update - Week of Oct. 11
Azalea Elementary Update
Week of 10/11/21
Getting You Connected!
Learning Hours: 7:35am – 1:45pm
Supervision Hours: 7:05am – 2:15pm
Our Core Values - Collaboration, Mutual Respect, Support, Professionalism, Consensus
Our Mission – Attendance + Attitude + Academics = Excellence and Empowerment at Azalea Elementary
Our Vision – 100% Student Success
Our motto – Empowered for life. It's the Azalea way!
October awareness events
National Principals Month: Thank you to our school leaders for all you do to advance the success of schools, staff and students. We appreciate your guidance and leadership! Thank a principal!
National Physical Therapy Month: The district acknowledges the important role that physical therapists and physical therapy assistants play in the success of students.
Dyslexia Awareness Month: One in five students has a language-based learning disability. Dyslexia is the most common of the language-based learning disabilities. Learn more.
Disability History and Awareness Weeks: The first two weeks of October are Disability History and Awareness Weeks in Florida. The event encourages an awareness of people with disabilities, the historical contributions of people with disabilities and the disability rights movement. Learn more.
National Hispanic Heritage Month: Through Oct. 15, PCS is observing Hispanic Heritage Month and celebrating the stories of Hispanic and Latino Americans. Learn more about Hispanic Heritage Month in Florida at http://floridahispanicheritage.com.
Breast Cancer Awareness Month is an annual campaign to raise awareness about the impact of breast cancer.
Cybersecurity Awareness Month raises awareness about the importance of cybersecurity and stresses the importance of taking proactive steps to enhance cybersecurity at home and in the workplace.
National Bullying Prevention Month is aimed at preventing bullying and promoting kindness, acceptance, and inclusion.
National School Bus Safety Week is Oct. 18-22. Thank you to our bus drivers who transport students safely to and from school each day! Let them know how much you appreciate them.
National School Lunch Week is Oct. 11-15. This year's theme is Wild About School Lunch. Learn more.
Date

Time

Activity

10/7-10/15

Per Schedule

Dental Sealant Program Starts

Date

Time

Activity

10/15

😊

Final Grades due Friday, 10/15 @ 4:00pm

10/15

7:00 – 7:30am

All Pro Dad's

10/19

😊

Report Cards go Home

10/25 – 10/29

😊

Red Ribbon Week (daily themes TBA)

10/29

8:00am

9:00am

Fall Parade

Gingerbread Parade

10/29

TBD

Drive o Ween
Help! We need Library Volunteers!!
Do you have 4 extra hours a week? Do you love books and having fun with Kids? Then Azalea Elementary needs you! We have remodeled our Media Center and bought lots of great new books for the kiddos, but need help keeping them on the shelves. You can have lunch with your kids or grandkids and keep our Media Specialist sane! 😊 Please email Donna @ galpind@pcsb.org, or call the school and ask for ext. 2030. Don't miss this opportunity to help our Eagles fly through the Media Center and read…read…read!
Tampa Bay Rowdies Spirit night: October 15th
The Rowdies are offering discounted tickets to Pinellas County employees, students and their families. Please share with your school community.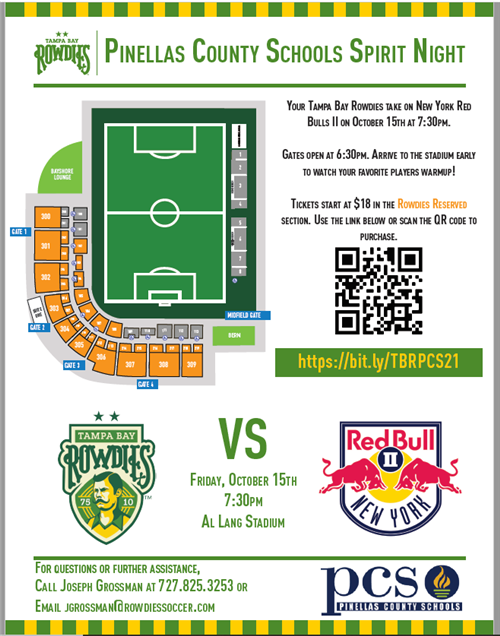 All Pro Dad's https://www.allprodad.com/
Azalea ES has a chapter led by parent, Brian Flinchum. Thank you for your leadership! We have been on hiatus with COVID but we're ready to get back to it. We meet one time per month for 30 min in our Media Center. Dad's come with their kids, we do an activity together and have breakfast. At 7:30 dad's can walk their child to the classroom. How cool is that? Our first meeting is Friday, October 15th @ 7:00am. Sign in at the office and come on back.
Wondering: with our movement to virtual options we are considering an afternoon/ early evening session as well on a different day for dad's that want to participate but cannot make the morning face to face option. Please let me know you interest so we can see if there is enough interest to schedule it. Survey closes Oct. 13th. Follow this link https://forms.office.com/r/7iyKJ1dqKf
Amazon smile: This is an ongoing fundraiser. A portion of purchases you make on Amazon come back to the school. It doesn't add to your purchase price, Amazon simply takes a small portion and supports a charity of your choice. We have received 124.94 since we started this last school year. With only 40 people donating !!!!! Here is the link to donate to Azalea PTA.
https://smile.amazon.com/ch/59-1853722
Level Up: Please take advantage of Level Up, the free, virtual enrichment program that helps you and your child get the most out of their PCS Connects digital learning devices. This week, there is a session that provides parents with at-home resources to support mathematics. And students can learn how to utilize the "Hey Did you Know" feature in Cleaver. Find these sessions and more at www.pcsb.org/levelup
Upcoming opportunities:
Parents' Night In: At-home resources to support the learning of mathematics – Ready Classroom Mathematics is a robust mathematics program that will help your child become a strong, independent mathematical thinker. Parents will receive ideas and resources to use at home to support their child's learning of mathematics. In addition, parents will explore how Learning Games provide mathematics fluency and skills practice in a way that develops internal motivation while encouraging productive struggle. You also will be able to get answers to frequently asked questions. Target Group: Parents/families of students in grades K-5. Time/Date: 4:30 - 5:30 p.m. or 6:30 -7:30 p.m., Tuesday, Oct. 12, or, Thursday, Oct. 14, 2021. Link: Click here to join a session.
Critical Content for Quarter 1 Algebra 1 & Geometry – Algebra 1 & Geometry Quarterly Climb - Part 1: This session will guide students through an asynchronous review and practice of critical content from Quarter 1 of Algebra 1 & Geometry to prep them for Cycle 1 Assessments. Target Group: High School Algebra 1 and Geometry students Date: September 27 - October 14, 2021. Links: Geometry link: Cycle 1 Extra Practice Review. Algebra 1 link: Cycle 1 Algebra 1 Extra Practice Review. Having trouble joining the Nearpod reviews, they can go to join.nearpod.com and the code for Geometry is F8E7M and the code for Algebra 1 is UQ8ZB.
"Hey Did you Know" self-paced enrichment Nearpods on a variety of topics are available on an open Canvas course – Students have a button in Clever titled "Hey Did You Know." Here, students can access self-paced mini-courses in a variety of topics and content areas. They can also suggest new topics. The mini courses can be accessed in class as "early finishers" or from home any time. This feature is designed for gifted and talented learners but is accessible by all district students. Four new topics will be added each month starting in October. Target Group: K-5 Gifted. Access via Clever.
Online Civic Reasoning: Researching online responsibly – We ask students to conduct academic research online, but are we mindful of the pitfalls and common problems? This series of three self-paced Nearpod presentations will engage students with research-based lessons to evaluate online information that affects them, their communities, and the world. Students who complete all three presentations will earn a certificate. Target Group: 6-12 grades. Open now and closes October 31. Link: Click here for the flyer and links to get started.
PCS keeps families in the loop with monthly Parent Guide updates
The 2021-2022 Parent's Guide is an interactive calendar that helps families keep track of important district dates. Families can see what's happening each month at www.pcsb.org/parentsguide, and click on events to learn more about them. There is also a monthly parent tip and other valuable information.
Azalea Elementary Lunch Menu https://pcsb.nutrislice.com/menu/azalea-elementary
Food and Nutrition Update: The Food and Nutrition Department is experiencing occasional menu substitutions from our vendors. We are working closely with our partners to secure the food needed to provide our posted menus, however last-minute changes may occur. We regret the uncertainty this creates for our families and will continue to provide the highest-quality meals and service to our students. Thank you for your patience and understanding.
PreK Openings – 3 and 4 year olds
Call the Azalea Elementary office for information 727-893-2187
3 year olds are $75/week

4 year olds are $65/week for full time

4 year half day is no charge
What do you need to know about COVID-19 and when to send your child to school?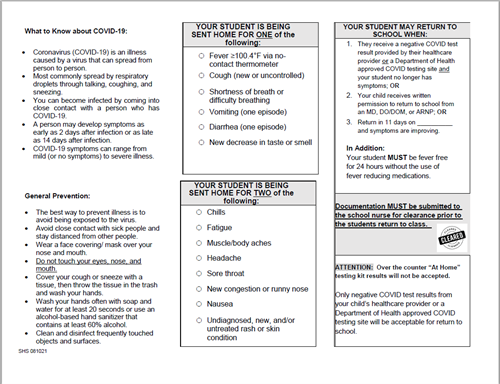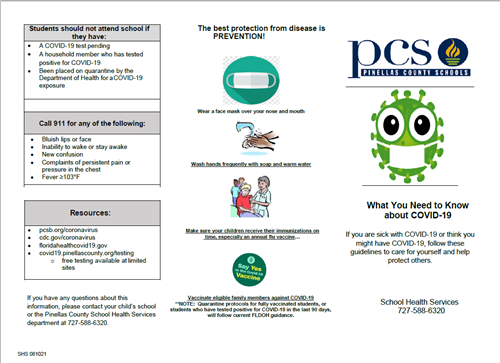 REMINDERS:
Update Lunch Schedule:
Kindergarten-9:35-10:05

3rd-10:10-10:40
2nd-10:40-11:10
5th-10:55-11:25
4th-11:25-11:55 including ASD
1st-11:55-12:25
Meals for Students who are Quarantined
Meals are available upon request for students who must quarantine. When working with families, please let them know that:
24-hour notice is necessary to prepare the quarantine meal package (frozen entrees and vegetables, fruit, milk, shelf stable and/or frozen breakfast items)

Meals will need additional cooking at home and Heating Instructions will be provided in the package

If needed, please email Mr. Rebman, Principal rebmanm@pcsb.org

Cafeteria staff will pack one (1) breakfast and one (1) lunch for each school day the student will be on quarantine.
Please note: This process will change in 3-5 weeks once our prepackaged, shelf-stable unitized meals arrive. An update will be provided once they are available.
Covid Testing location:
Center for Health Equity


2333 34th Street South, St. Petersburg FL 33711




Hours: Monday - Friday, 9 a.m. – 5 p.m.
Want to Volunteer? Please contact Yaritza Ramos ramosya@pcsb.org or call the front office. We can always use volunteers in the Media Center.
Get emergency text messages: Pinellas County Schools uses text messages to communicate information about severe weather and other emergencies. To get alerts, text "Yes" to 67587. If you opted in before, you don't need to opt in again. Verify your personal contact information in Employee Self Service. To update the phone number on file, log in and go to the section called "Personal" and click "Edit/Update."
Join our PTA: You can be active in our PTA just by being a paid member. Your contribution helps fund grants for classrooms, support family events, etc. Visit our school link and become a member today.