Return to Headlines
Weekly Update - Week of May 3rd
Azalea Elementary Weekly Update
Week of 5/3/2021
Getting You Connected!
Learning Hours: 7:35am – 1:45pm
Supervision Hours: 7:05am – 2:15pm
Our Core Values - Collaboration, Mutual Respect, Support, Professionalism, Consensus
Our Mission – Attendance + Attitude + Academics = Excellence and Empowerment at Azalea Elementary
Our Vision – 100% Student Success
Our motto – Empowered for life. It's the Azalea way!
FSA Testing Grades 3-5
FSA Dates:
April 13-5th FSA Writing
April 14-4th FSA Writing
April 20-21 3rd grade FSA Reading
May 4-5- 5th FSA ELA
May 11-12- 4th FSA ELA
May 13-14- 3rd FSA Math
May 18-19- 5th FSA Math
May 20-21- 4th FSA Math
May 25-26- 5th Science
Thank a Teacher:
May 3-7 is Teacher Appreciation Week, and Teacher Appreciation Day is celebrated May 4. Thank you to our terrific teachers for the great work you do every day! Now, more than ever, we appreciate your dedication and devotion. Please help us celebrate PCS teachers. Send news tips, photos and videos featuring teacher appreciation efforts to news@pcsb.org<mailto:news@pcsb.org>.
Celebrate School Nurses:
National School Nurse Day is May 12. On School Nurse Day, we take time to celebrate and recognize the contributions that school nurses make to support the health and education of our students. This year's theme is Championing the Whole Student.
Date

Time

Activity

5/10

2:30

PTA Board

5/11

8:00

4th grade FSA ELA

5/12

😊

National Nurse's Day

5/12

8:00

4th grade FSA ELA

5/13

8:00

3rd grade FSA Math

5/14

8:00

3rd Grade FSA Math

5/14

1:50

School Tour

5/18

8:00

5th Grade FSA Math

5/19

8:00

5th Grade FSA Math

5/20

8:00

4th Grade FSA Math

5/21

8:00

4th Grade FSA Math

5/25

8:00

5th Grade FSA Science

5/28

1:50

School Tour

5/31

😊

Memorial Day – NO SCHOOL
School Advisory Committee (SAC)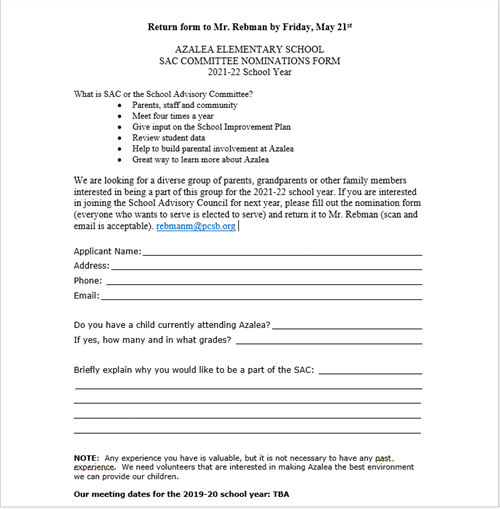 Parent Input into Next Years Class
Send me an email sharing what you'd like for your child(ren) teacher next school year. Not a teacher name, but what characteristics would you like for your child. Rebmanm@pcsb.org
Azalea Points of Pride video.
Here is our Points of Pride video highlighting parent involvement, student enrichment and student achievement and empowerment https://youtu.be/YmHUtjXyG24
Rising Kindergarten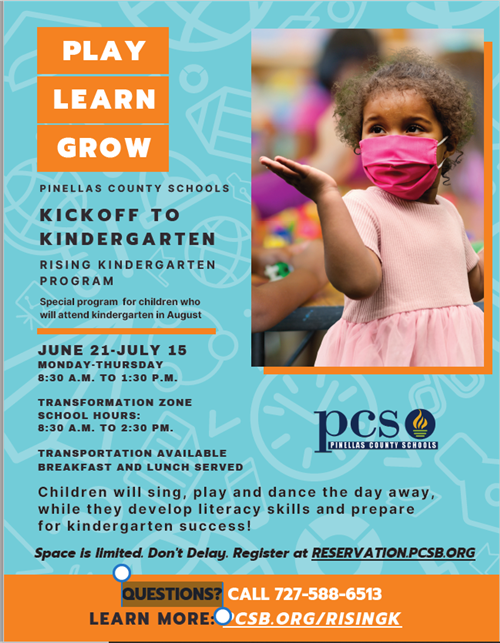 Summer Bridge to offer face-to-face programs
Summer Bridge provides engaging activities to prepare students for maximum success when the next school year begins. Summer Bridge registration opens March 23. Most elementary, middle and high school programs will take place June 21 to July 15, Monday through Thursday. New this year: Transportation will be available. Programs are being revamped at all levels, with elective options at middle school programs and a new College Experience opportunity for high school programs. More details will be shared as they become available.
Parent will need a parent username. This information can be obtained by directing parents to bring a valid photo ID to any PCS school.
To apply go to https://reservation.pcsb.org
Click on the link below to learn more about this year's Summer Bridge Program:
https://www.pcsb.org/page/4032
ESOL Summer Bridge education and support
The ESOL department is planning workshops to educate families of English learners about the importance of Summer Bridge programs. The workshops will include program highlights, registration directions, and tips for translating and navigating the PCS website. Workshops, which will be presented in Spanish and English, will be offered multiple times at each level. More information is available at www.pcsb.org/ESOLSBInfo<http://www.pcsb.org/ESOLSBInfo>.
School Website
The template we use is no longer being supported and will soon be retired. This week, we will update the website to a new ADA (American Disability Act) responsive template. The new template change will not impact any of the content that we already have, but only change the homepage and will allow all visitors to use the school website.
Amazon Smile
Do you order from Amazon? Of course you do LOL. Well, every time you order you need to order with Amazon Smile so a portion of the money goes as a charitable donation and our school has one through our PTA. https://smile.amazon.com/ch/59-1853722
School Tours
These are remaining tour dates for this year. Tours are about 30 mins long and we ask that parents either email Mrs. Ramos, Azalea's Family Community Liaison ramosya@pcsb.org or call the school (727-893-2187) to be signed up as there's a 10 person limit. Be sure to bring your id, mask
School Yearbook
This is an information item with more details to come. This year the price of the school yearbook is $15 for all parents to purchase online only. When the time comes don't miss your opportunity cause they move fast. I look forward to sharing 😊
Pinellas County Schools – STEM Innovation Summer Camp
REGISTRATION OPENS THURSDAY, APRIL 8, 2021 AT 5:00PM
GENERAL CAMP OVERVIEW
* The 2021 STEM Innovation Summer Camp program will take place in person. No virtual offerings will be available this summer.
Cost: $50 for 4 days (Monday-Thursday, no camp on Friday's)
Who Is Eligible To Attend: Any student who will be entering 2-8 grades during the 2021-2022 school year and who are currently enrolled in a Pinellas County public school governed by the Pinellas County School Board. Due to the funding sources utilized to help run the camp, charter, private and Florida Virtual students are not eligible to enroll.
Grade-Span and Class Size: 36 2nd/3rd-grade seats per site (18 students per classroom/1 teacher), 40 4th/5th-grade seats per site (20 students per classroom/1 teacher) and 40 6th-8th-grade seats per site (20 students per classroom/1 teacher)
Student Hours: 8:30 am -3:30 pm
Content: The same STEM content will be offered each week regardless of the camps site location. See student application for STEM content details.
Week and Location Offerings: Week 1 Option: June 21-June 24, Seventy Fourth Street Elementary School, Week 2 Option: June 28-July 1, Garrison Jones Elementary School and Week 3 Option: July 12-July15, Pinellas Technical College, Clearwater Campus
Student Application Packet With Registration Link
To download the 2021 STEM Innovation Summer Camp Student Application Packet that contains the registration/payment link, click on the following: 2021 STEM Innovation Summer Camp Student Application Packet
USF Virtual Summer Camp
Our school was notified that registration for all virtual University of South Florida (USF) Summer Camps is NOW OPEN!
A limited number of scholarships are available to allow access for all families to participate. Click here to apply for a scholarship!
USF is offering a special discount for our school that can be applied during registration! From now until May 15th, 2021, you can use the unique code AZALEA10 to receive an additional 10% off any of the camps listed below.
USF Elementary CyberCamp (Grades 3 - 5)
USF Everyone Can Code (Grades 4 - 6)
If you have any questions, please don't hesitate to contact Maria Gerakios at USF: mgerakios@usf.edu