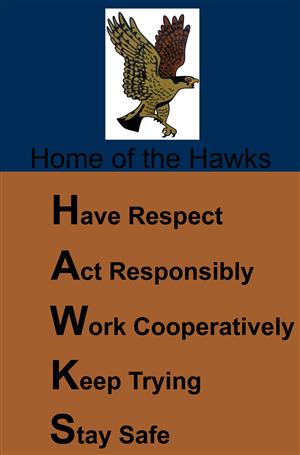 New Heights Elementary is proud to be a Positive Behavior Support (PBS) school! This means that we have the same behavioral expectations school-wide, and we have a process in place to acknowledge all of the wonderful ways in which our students meet these expectations.
School-wide Discipline
On the rare occasion that a student's behavior is not quite meeting expectations, the following process is used school-wide:
Step 1: Verbal warning
Step 2: In class time out
Student will not earn point for that part of the day and will
complete a "think sheet" to reflect on situation.
Step 3: Out of class time out
Classroom Referral will go home and parent will be notified by
Step 4: Office Discipline Referral (ODR)
* Major infractions will result in an immediate ODR.
* Earning 4 classroom referrals is considered a major infraction and an
Daily Points
Students can earn up to 4 points per day for meeting the HAWKS Expectations. Our school-wide goal is for each student to earn at least 3 points per day. When they do this consistently, they will attend a celebration held monthly. These PBS celebrations include activities such as popcorn parties, dance parties, game day, and more!
Awards
Students who consistently earn 4 daily points are recognized with a Behavior Award each grading period, as well as, through the monthly celebrations.
Hawk Pride Awards can also be earned for meeting the HAWKS Expectations. Mrs. Austin and Mrs. Boyd visit every classroom each Friday to personally congratulate students who have earned a Hawk Pride.