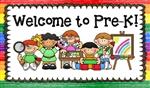 Phone:
Email:
Degrees and Certifications:
Pre-Kindergarten Program

We would like to welcome you and your child to Pre-Kindergarten (Pre-K) at Kings Highway Elementary Magnet School, The Center for Innovation & Digital Learning!

We have a great year planned filled with many wonderful learning experiences provided in a safe and nurturing environment. Pre-K is an important year where students and teachers work according to each child's developmental level to help prepare the way for their educational future.

Through play and hands-on experiences, Pre-K focuses on all areas of the curriculum, building a strong foundation as well as developing good social skills to become ready to learn. The teachers and staff at Kings Highway Elementary facilitate learning at many developmental levels allowing for exposure of new concepts, practice and review.

Kings Highway Elementary Magnet offers a Voluntary Pre-K (VPK) program through Early Learning Coalition of Pinellas County and Blended Pre-K classes provided by Pre-K Exceptional Student Education (ESE). Pre-K ESE offers a variety of programs for children from age 3 through age 5 who have been identified with development delay. The program model is determined at the child's eligibility meeting based on the individual child's needs.

The Blended Pre-K 3/4 program serves 3-year-old children who turn 3 on or before Sept. 1st. It serves students who are identified as having mild-moderate delays in development of cognitive, language, motor and/or social/emotional skills. In addition to exceptional students, the class also serves typical three year olds to include developmentally appropriate activities in literacy, language, science, social studies, math, health and safety, art and music. The goal of the blended program is to better prepare students for VPK while providing an opportunity for inclusion with typical peers to the ESE student.

The Blended 4/5 program is a combination of two different PreK programs: Voluntary Pre-K (VPK) and Pre-K ESE for 4-year-old children who turn 4 on or before Sept. 1st. The program is taught as one class with a curriculum that focuses on development of prekindergarten skills and school readiness. Through activities and play, the program provides many concrete learning experiences as well as focus on language and social skills appropriate for their individual needs. It serves students who are identified as having mild-moderate delays in development of cognitive, language, motor and/or/social/emotional skills.

Voluntary Pre-K (VPK) is a state constitutional amendment passed by voters in November 2002 and requires a pre-kindergarten program for all four-year-old children by fall 2005. The program is designed to prepare four-year-old children for kindergarten and build the foundations for their educational success. This program is voluntary for children and providers. Families will need to make sure they have their VPK voucher before registering for VPK. To apply for a VPK Voucher, contact the Early Learning Coalition at 727-400-4411 or visit www.elcpinellas.net to submit an online application.

When you register, bring your Certificate of Eligibility (voucher) and the
following documents:

• Birth certificate/proof of child's age
• Florida Certificate of Immunization (DH Form 680)
• Physical examination certificate signed by a licensed examiner
• Proof of Florida residency

For more VPK info, call 727-588-6513 or visit www.pcsb.org/vpk.

Supplies: All students will need lunch money or a packed lunch; 1 backpack large enough to carry your child's daily folder and/or lunch box; a complete change of clothes including socks and underwear (in a large ziplock bag with your child's name on it); closed toe shoes; diapers and/or Pull-Ups with Velcro on the sides and wipes if not potty trained; a blanket or beach towel for rest time, daily communication folder (will be provided by the teacher); a list of people who may pick up your child (that person MUST be on the list for your child to leave with them); a list of any allergies your child may have. J For safety reasons, please do not allow your child to bring any toys or candy to school. Toys can easily become broken, lost or stolen.

Drop off/ Pick Up: Car Riders will drop off and pick up students at the Pre-K Car Circle. It is located North of the Pre-K Playground. From Kings Highway, turn onto Otten St, and then turn onto Weston Dr. From Highland Ave., turn onto Otten St and then turn onto Weston Dr. You will run right into the Pre-K Car Circle. PreK Car Circle AM times are from 8:05-8:30 and PM times are 2:20-2:45. You will be provided a Car Rider sign to display on your mirror or dashboard. Staff members will be there for arrival and dismissal to assist students to their class. Bus Riders will be brought to the bus by a staff member. Walkers may pick up and drop off students outside the classroom. R'Club is a before and after school program that is available at the school.

Visitors: All visitors MUST sign in and out at the front office whenever you come onto the school campus. If you need to pick your child up early from school, please sign him/her out in the office before proceeding to the classroom to pick him/her up (please remember to also pick up and wear your Visitor sticker). For parents who want to walk their child to their building, a Pre-K pass will be issued by the office. In order to receive this pass, you must show your drivers license to the office at the beginning of every month. Pre-K Passes will change monthly, so make sure you stop by the office at the beginning of every month to receive the updated pass.

Transportation: If you need to change your plans such as picking up a child who normally walks to school but needs to be a car rider, please write this in your child's daily communication folder. Please do not rely on your child to communicate the message to their teacher. If your child arrives at school after the designated start time, you will need to sign him/her in at the front office. After being signed-in your child can be admitted to the classroom.

Phone Calls: You are welcome to contact us by phone, at the numbers listed below, however; we will be unable to stop instruction to return phone calls during school hours. In the event of an emergency, please call the front office and they will relay a message to us as soon as possible. The best way to reach us is through email.

School Visits: You are welcome at our school, but you must sign-in at the front office prior to any visit. If you would like to observe your child's class, please contact us first so we can arrange a time that would ensure a productive visitation. School board policy prohibits siblings or other children not enrolled at a Pinellas County School to participate in classroom visits.

Conferences: Parent-teacher conferences are typically held at least two times per school year. In addition, if your child has an IEP, we will have an annual IEP meeting.

Meals: Kings Highway Elementary Magnet provides free breakfast for all students. Breakfast is served for K-5 students beginning at 8:05am. Pre-K students will be served breakfast starting at 8:35am. The cost of lunch is $2.00 daily. Students may also bring a lunch. Free or reduced lunch forms are available in the office. You may also go to www.applyforlunch.com to see if you qualify for meal benefits. Most approvals are within 24 hours.

Money at School: Should you choose to send money to school for lunch, fundraising items, t-shirts, or school pictures, please send to school in a sealed envelope labeled with your child's name, grade, teacher's name and the purpose for the money.

Medications: Please see the school nurse in the front office for the forms that must be signed if your child needs medication administered during school hours. Prescription medication must be in the original container. A physician's signature is required for over-the-counter medication to be administered. Please note that cough drops, sun tan lotion and chap stick are considered a medication and may not be used at school.

Birthdays/Food/Snacks: Birthdays are a special time of the year for students. You may provide store bought treats for your child's birthday celebration. Any edible items must be store bought and in the original packaging. Please let us know in your child's daily agenda when you are sending in treats for their birthday. School board policy prohibits serving homemade food items at school.

Modified Dress Code: Kings Highway Elementary Magnet has a modified dress code. This includes collared shirts in navy blue, white and emerald green; khaki pants, shorts, skorts and shorts (please wear shorts under skirts); rubber soled, closed toe sneakers (no boot sneakers please); socks can be any color.

Daily Communication Folder: Each child in our class will have a personal daily communication folder which provides a communication link between home and school. Please take a few minutes each day to read the entries for that day. Please use the agenda to communicate information to your child's teacher. We would love to hear about your child's accomplishments at home. It also helps to know if there are any issues that may affect their learning at school such as the illness of a family member, acquiring a new pet, or a late night. Please initial the daily agenda and return it with your child every day.J

Attendance: Daily attendance is important for your child's learning and for developing consistent routines at home and school. Research shows that children who attend school on a regular basis do better in school. If your child is going to be absent, please keep the following in mind: a written excuse must be provided for all absences. It is extremely important that your child arrive at school on time so there is consistency for them with daily routines and activities. It is equally important that they be picked up on time.

Discipline Policy: Children at this age are growing socially and emotionally. Each child's safety is a priority for every class and all staff. In the classroom, children are learning to express their emotions, establish relationships with adults and peers at school, and solve problems. This is all facilitated by staff providing well-planned, age-appropriate activities and rules. As part of this growing and learning process, children sometimes need to be redirected or teachers need to step in to help children solve problems. Parents/Guardians will be actively involved in this process by ongoing communication with the staff. We will be discussing our classroom and school rules daily so students can develop good social skills to become ready to learn.

Kings Highway Elementary Magnet School Expectations
Be Safe
Be Responsible
Be Respectful
Helping Your Child Be Successful in School: Please work with your child on the following skills at home: sharing, cleaning up, recognizing colors, shapes, identifying numbers, identifying letters, cutting with scissors, buttoning, snapping, zipping and tying. Please continue working with your child using the bathroom independently, dressing him or herself, feeding him or herself independently, knows how to wash his or her hands independently, knows how to cover his or her sneeze, knows how to wipe her or her nose independently, follows simple directions and can sit and listen to a story.
We understand that learning these procedures is a process. Some children find it easier or more stressful than others. Our focus is to make this transition to Pre-K as easy and enjoyable as possible. We welcome your support as well as your patience in this transition, and look forward to working with you and your child. We look forward to a wonderful, rewarding year with your child and your family.
Educationally Yours,
Kings Highway Elementary Magnet Pre-K Teachers:
Ms. Trish Dragustine, ESE Associate dragustinep@pcsb.org
Ms. Cheryl Good, CDA Teacher goodc@pcsb.org
Ms. Elena Mattis, CDA Teacher mattise@pcsb.org
Mrs. Joella McCluster, CDA Teacher mcclusterj@pcsb.org
Miss Pamela Doleshal, ESE Teacher doleshalp@pcsb.org
Mrs. Shannon Riek, M.A.T. ESE Teacher rieks@pcsb.org
Mrs. Pearlie Seymour, CDA Teacher seymourp@pcsb.org
Mrs. Linda Sullivan, ESE Associate sullivanli@pcsb.org
Contact Information:
Kings Highway Elementary Magnet School
Address: 1715 Kings Highway, Clearwater, FL 33755
School hours: 8:35am to 2:35pm
Teacher hours: 8:00am to 3:05am
Principal: Mrs. Garyn Boyd