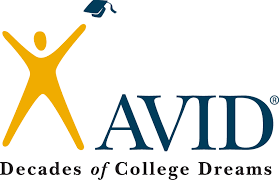 Our Mission:"AVID's mission is to close the achievement gap by preparing all students for college readiness and success in a global society."


The "AVID Elective"

The core component is the AVID Elective, which supports students as they tackle the most rigorous classes. AVID students learn:

organizational and study skills
work on critical thinking and asking probing questions
get academic help from peers and college tutors
participate in enrichment and motivational activities that prepare them for college and future careers
Furthermore, AVID students become academically successful leaders and role models for other students.

The AVID Curriculum: Developed and refined by middle and high school teachers for three decades, the AVID instructional program focuses on methodologies that will help students prepare for - and participate in - a rigorous college-preparatory curriculum. These methodologies are referred to as WICOR:

W - Writing. Students clarify and communicate their thoughts and understanding of material.

I - Inquiry. Students ask questions which allow them to clarify, analyze, and synthesize material.

C - Collaboration. Students challenge, help, and learn from one another.

O - Organization. Students learn how to organize, retrieve and maintain their materials and data.

R - Reading. Students analyze, question, critique, clarify, and comprehend material.
If you have any questions, please contact:

We need high school tutors!


For More Information click here

AVID at East Lake Middle School Academy of Engineering


Our particular AVID program is unique. East Lake Middle School is a magnet engineering school, with a strong focus on STEM, as well as engineering. We only offer advanced coursework school-wide, which leads to an academic program which is exceptionally rigorous. Our entire faculty supports all students for them to reach 100% of their potential and to assist them in breaking down their own academic barriers. The ELMS AVID elective offers support due to the rigors of transitioning from the primary to secondary education. Our school's AVID program is unique, in that it focuses on many key studying and organizational strategies, goals, and exposure to outside enrichment opportunities. In addition, the program strives to support students academically and socially as they learn to rise to the high expectations of our school, while also including students' focus on engineering and STEM.

Rising 7th and 8th graders use the link below to apply:

You will need your student's R2.D2 to complete the application

Rising 6th graders use the link below to apply: