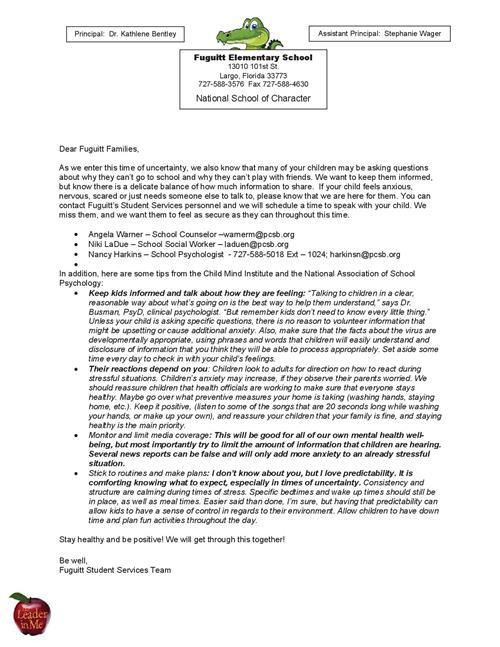 Click here for School Menu Info During Building Closures March 23-27
Distribution Times for Digital Technology. Bring your own pen for safety! Student will need to login at school to authenticate once for home use of Microsoft Teams
Grades Pre K, VPK, Kindergarten and First grade will be 8 am to 10am
Grades 2 – 3 will be 10am to Noon
Grades 4 & 5 will be 1pm to 3pm
Hello Fuguitt School families. This is your Principal Dr. B with some important information. I know this is a time of uncertainty for many of us as we continue to support our families and one another. As we make the transition to digital learning, I want each of you to know that the safety and learning of your child is of the utmost importance. While our school building may be closed, learning will continue.
Over the next week I encourage you to engage in the academic enrichment activities available through our school website as our teachers prepare for their class specific lessons that will begin on Monday, March 30th.
I also want to make sure you know that our school will be distributing digital devices for students and families that do not have access to a computer, iPad, tablet or smartphone. Any existing device that can access Clever and the Internet will work. If you already have such a device, visit our webpage for next steps.
For any family that needs a digital device, we will be distributing devices for at home learning on Tuesday, March 24 between the hours of 8am and 3pm in the front of the school. Both the student and a parent or guardian must be present to check out the device. I encourage you to come at your assigned time to ensure we do not have a large crowd.
If you are experiencing any symptoms of COVID-19 or are not feeling well, please send someone on your behalf. We will be following all CDC protocols, including social distancing. We ask that you do the same.
If you have any concerns or special needs, please contact the school or me directly. We want to ensure all families have the necessary technology and Internet access to engage in online learning while school is closed.
Again, see our website for more information or contact the school via telephone at 588-3576 with questions. I will continue to keep our families updated. Thank you for your patience and flexibility. We are a strong community and I know we will continue to support each other as we move forward.
Click here for the August September 2019 Gator Tales Newsletter!
Click here to register for Fuguitt's YMCA Suncoast Before and After School Program
Digital Learning
Pinellas County Schools offers a variety of fun and challenging learning opportunities for students in grades K-12.
Homework Helpline
Pinellas County Schools Homework Helpline, (727) 547-7223, offers free homework help for students in grades 1-12. The Homework Helpline is staffed by teachers certified in math, science, language arts and social studies. Help is available from 5 to 8 p.m., Monday through Thursday, on all school days, except when there is no school the following day.
Read a TumbleBook
Come back tomorrow to read another FREE book!