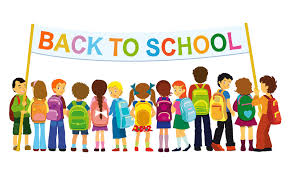 2017-2018 Pinellas Park Elementary
Principal Back to School Message
We hope all of our Bears have had a wonderful summer and are looking forward to a new school year. We also want to welcome our newest Bears to Pinellas Park Elementary! The first day of school for students is August 10th. Our school hours for students are 8:35 am -3:05 pm. Students who arrive prior to 8:20 am are to report directly to the cafeteria. Our cafeteria opens each morning for breakfast for 1st-5th grade students at 7:45 am and 8:05 am for Kindergarten. Breakfast is served until 8:30 am. All students will receive free breakfast and lunch this year.
Incoming Kindergarteners, please come meet us for a Kindergarten Play Date on Tuesday, August 1st 9:00 – 10:30 AM at our Pinellas Park Elementary Kindergarten Playground. 5017520 52nd Ave N, Pinellas Park, FL 33781. This is a time to meet fellow classmates, build new friendships and learn more about Pinellas Park Elementary! Siblings are welcome. We look forward to seeing our little Bears at this PPE PTA sponsored event. School spirit shirts will be on sale for $5. Please bring cash.
Our Teacher Meet and Greet this year will be held on Wednesday, August 9th from 8:30-10:30 AM. Students will be able to find their classroom, drop off school supplies and meet their teacher at this time. Please adhere to the time schedule as teachers will only be available at these assigned time. Bilingual assistants will be on campus to assist families speaking Spanish and Vietnamese.
Please make sure your child knows how he/she is getting home every day! This is very important to your child's safety. If you have questions about bussing information, please contact the front office for information. If you are planning on using the car circle and your child is in grades 1st-5th , please know that you may only use the main car circle (north near public library), not the smaller circle (west 53rd St), as that is for Pre-K & Kindergarten student pickup and drop off only. Pre-K & Kindergarten drop off begins at 8:05 am. No earlier as there is no supervision prior to 8:05 AM.
Your child will be bringing home very important papers on the first day of school. Please take a moment to fill out these papers and return them to school. Many contain important contact information requests that will help us communicate effectively with you this year. We appreciate your time and attention to this information.
On the first two days of school, parents will be permitted to walk their students to their classrooms between 8:05 and 8:30 am. After the first day of school, we will resume our normal arrival procedures, and parents will need to drop their children in the designated car circle. We will have plenty of staff on hand to make sure students to get to breakfast and class safely. Please remember any parents needing to come on campus or pick students up early will always need to have a photo id on them and be named on the child's student information card in order to do so.
Our school supply list is currently on our website: https://www.pcsb.org/pp-es and copies can also be found in our front office. Our school phone number is 727-547-7888 should you have any questions. Please like our PPE PTA Facebook page as well.
We look forward to seeing all of our Bears at the Meet and Greet on August 9th and then on the first day of school August 10th! We will also spend time with parents on Aug. 17th at Back to School Night starting at 6 PM.
Remember, Pinellas Park Elementary School is where we come to learn, and we love learning!
Go Bears!
CLass Assignments
We believe that all teachers at Pinellas Park Elementary are highly qualified and provide instructional settings in which children thrive and succeed. Class placements are generated by student achievement data, prior teacher input, and requirements for special education classes.
All classes are tentative and subject to change based on state mandates.
Pinellas Park Elementary Fast Facts for Parents 2017-2018
Our first day of school will be on Thursday, August 10th at 8:35 AM.
Important information, updates and school supply lists are located on school webpage: http://www.pcsb.org/pp-es
A Meet & Greet will be held on Wednesday, August 9th from 8:30 AM-10:30 AM. This is a time for all of our students to visit their classrooms, meet the teacher, drop off any school supplies, or ask any questions. The teachers and staff will be very busy preparing for the opening of school so we ask all parents to adhere to our Meet & Greet times. Classrooms will not be open for visitations before 8:30 AM or after 10:30 AM.
Parents are welcome to escort students to class Thursday, August 10th-Monday, August 14th. For safety purposes, we will do this for the first three days only; then we will maintain a secure campus for the remainder of the school year.
Please be sure your child knows how he/she will be getting home from school each day!! Start this way of work day 1. If your child is a bus rider, have him/her ride the bus. This prevents confusion later.
Student hours for K-5th grade: 8:35 AM- 3:05 PM.
Modified dress code is in effect. Notification on PPE website and in student agenda book.
VPK options include morning or full day. See or call Mrs. Chancey (DMT) for details at 547-7888.
Breakfast starts for 1st-5th grade at 7:45 AM, must drop off at North car circle only (near library).
Breakfast starts for K at 8:05 AM.
Breakfast ends promptly at 8:30 AM.
VPK students eat breakfast in the classroom.
All students receive free breakfast & lunch.
Students welcomed to classroom at 8:20 AM, seated & ready to learn promptly at 8:35 AM. Students will be marked as tardy if they are not in their classroom by 8:35 a.m.
Bus circle & car circle: please refer to map.

The West car circle (53rd St) is for VPK & K only.
The North car circle (library) is our new carline for 1st-5th
The East lot (52nd St) is for buses only during the following times: 8 AM-8:45 AM and 2:15 PM-3:30 PM.

Bus riders: Wear colored bands /bands on backpack for first week of school. Pick up your bus band early at the table near media center during Meet & Greet Aug, 9th. Students who are eligible bus riders should receive a postcard in the mail in mid August with his/her assigned bus stop, route number, pick up time, and drop off time. If you do not receive a postcard in the mail or have a questions about transportation you can call the help line at 587-2020 or visit the transportation link on the Pinellas County Schools website: pcsb.org
Car riders: please complete a name plate to hang on rear view mirror/place on dashboard to include LAST Name, first name & grade. These are available in the classroom.
For car riders: Older siblings go to the car circle of the youngest child. (Example: 4th grade student would go to the Kindergarten car circle with sibling.)
R'Club is available for before & after care. Located in the MPR/café.
Please sign up for PTA. $5 membership fee. Please partner with us in your child's education!
If your child will need to have prescription or over the counter (OTC) medication during school hours, it is important for you to visit the front office prior to school starting. Both prescription and OTC medications require additional paperwork to be completed by the parent and/or doctor. Prescription medication may ONLY be brought in by the parent and must be in the original prescription bottle
Congratulations
Mrs. Karen Vargus, PASA Elementary Assistant Principal of the Year!