Principal: Lori Frodine
Pinellas Park Elementary
7520 52nd Street North
Pinellas Park, Florida 33781-3044
School Hours: 8:45 AM - 2:55 PM
Phone: (727) 547-7888
Fax: (727) 547-7892
Pinellas County is beginning Phase I to reopen things, but many people still need help. Please use the link to locate information for assistance:
Where to go for help in Pinellas County
Summer Bridge Registration
Click Here for Summer Bridge Registration
PROGRAMAS VIRTUALES DE VERANO PARA LA ESCUELA PRIMARIA
May 12, 2020
Dear Pinellas Park Parents,
As you know, the situation surrounding COVID-19 is rapidly changing. How we have come together as a community to support our students says so much about our school. During the week of May 25th, the school campus will be open at designated times for parents to be able to collect any belongings left at school, including school pictures and return any items from the classroom (i.e. devices, library books, patrol belts, etc.). If you plan on having your child(ren) participate in our Virtual Summer Bridge Program you will need a device with a camera, so on your designated day, please bring your device so we can confirm it will be suitable for Summer Bridge.
We created a schedule by last name so that you may pick up multiple grade levels at a time. Please follow the schedule below as we will only be able to service those families outlined at those designated times. Thank you in advance for your patience and support during this extraordinary time as we try to close the school year!
| | | | |
| --- | --- | --- | --- |
| | Wednesday, May 27th | Thursday, May 28th | Friday, May 29th |
| 9am-11am | Last Name: A-F | Last Name: N-R | Make Up: A-M |
| 1pm-3pm | Last Name: G-M | Last Name: S-Z | Make Up: N-Z |
Safety is our top priority so you will not be allowed to exit your car, but rather our staff will bring items to you in our North Car Circle. Please have your child's name posted on a sign in your car window to make going through the area more effective. Please note that we will do our best to return all your child's items. However, items that are not school related and not labeled will not be considered a priority. You may communicate with your child's teacher for specific items through Teams or email to see if it is possible to have other items available.
Thank you for patience as we try to do our best to make this process as safe and effective as possible!
Sincerely Yours,
Lori Frodine
Principal
Pinellas Park Elementary
frodinel@pcsb.org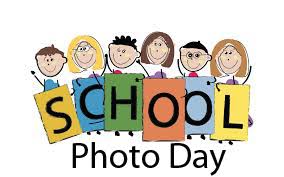 Questions about Spring Pictures please click here:
Life Touch Spring Pictures Process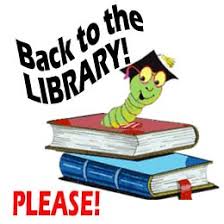 Overdue library books? No problem!
Students you will recieve an email from Mrs. Reeves with any overdue school library books. How can you return items?
1. On your day to pick up other personal items at school, you may drop off the books
2. If you need to you can drop them at the public library
3. You can email Mrs. Reeves and we can arrange to wait till Fall Semester.
4. Please do not worry! We are going through all classrrooms to clean out materials. We will be looking for any materials that may be in classrooms.
5. Email Mrs. Reeves if you have any questions.

Technology Issues: How do you log into TEAMS the first time?
Students use your user name we call it your R2.D2. The log on is R2.D2@pcsb.org
Please view this document to explain TEAMS for students: Student File How to Use TEAMS
Parents please watch this video about TEAMS: video for families about TEAMS
Technology Issues: Teams slow
Using Teams via Clever? Find it slow or lagging, please try downloading teams to desktop through Office 365 suite. Log into the student's Clever account, click on Office 365 app, click on Teams, and then in the bottom left hand corner there is a button for "Download Desktop App."
Technology Issues: "I can't get into Clever."
What type of device are you using? Apple iPad, computer, Android or Samsung tables.
Apple iPad:
If you are using an Apple iPad, go to the Apps store to download TEAMS, iReady, Myon, or Microsoft Word, Nearpod, etc. These should be free.
Once downloaded use student's user name to log into the app: here is an example of what the student's address would look like R2.D2@pcsb.org
With the apps download you can now use the Clever portal: clever.pcsb.org
If you have multiple users make sure each child has logged out of their app and clever, closed the browser, press your home button twice then swipe up to make sure open apps are closed.
PC windows school or district computer:
Can the student log onto the device with their user name and password?
If they cannot please let your teacher know so we can determine what help we can give you.
If they can log onto the computer with their user name and password, the clever shortcut icon may not work. Please go to PCSB.org then to Clever.
Click on "log in with Active Directory"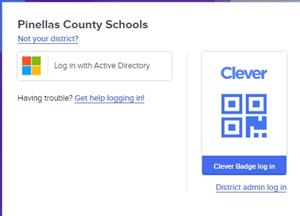 PC windows computer for a personal computer:
Are you using the Google Chrome browser and is it updated?
Please use the Google Chrome browser to go to PCSB student if you are using a computer.
Clever is located on the far left.

Have you tried clearing your browser cache?
Go to your Chrome Browser
On the far right look for the three vertical dots and click on them
Click on history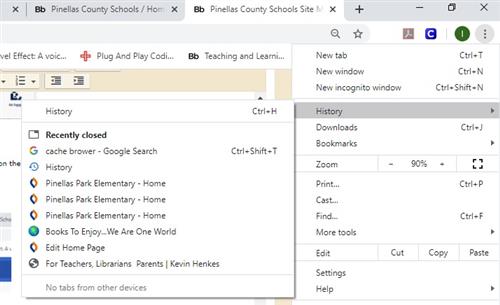 Once the History opens
Go to Clear Browsing data and clear the information then reboot Chrome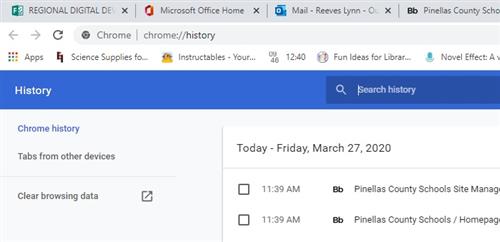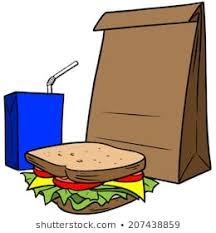 New Food Distribution Information
All meals are FREE for anyone 18 years old & under Child/Teen must be present to receive meals
Meals will be served as 'Drive-Thru" at the Car/Bus circle & for 'Walkers' near the Main Entrance of School
Meal Package Distribution
If needed, a full week's-worth of meals will be distributed each Wednesday throughout the closure.
Schools below will distribute meals from 10:30 a.m. – 12:30 p.m.
Wednesday, April 29 – 6 days-worth of meals
Wednesday, May 6 – 6 days-worth of meals
Wednesday, May 13 – 6 days-worth of meals
Wednesday, May 20 – 6 days-worth of meals
Wednesday, May 27 – 6 days-worth of meals
Anona Elementary

Azalea Middle

Bay Point Elementary

Clearwater Intermediate

Dunedin Middle

Eisenhower Elementary

Fairmount Park Elementary

Garrison-Jones Elementary

Gulfport Elementary

High Point Elementary

John Hopkins Middle

Kings Highway Elementary

Largo Middle

McMullen Booth Elementary

MK Rawlings Elementary

New Heights Elementary

North Shore Elementary

Oak Grove Middle

Plumb Elementary

Sawgrass Lake Elementary

Southern Oak Elementary

Tarpon Springs Elementary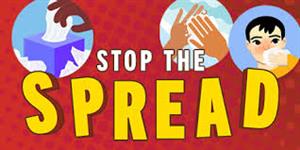 Always a good practice to remember to stop common cold or flu from spreading always use a tissue or sneeze into your elbow, cover your nose and mouth when you sneeze, wash your hands often and make sure to throw away any used tissues.
Family Facts on Hand Washing Spanish
FAQ's about safety procedures at Pinellas Park Elementary
Pinellas Park Elementary Vision:
As a community, we will provide the necessary support to all scholars so that they will succeed and reach the highest level of student achievement.
Pinellas Park Elementary Mission:
All stakeholders will work together in a cooperative partnership, which will enable our scholars to become contributing citizens and lifelong learners. Together we will provide a balanced curriculum that is driven by data and based on individual needs.
Pinellas Park Elementary Motto:
Pinellas Park Elementary Bears are on our way to an A!
Pinellas Park Elementary Values:
Commitment to Children, Families and Community, Respectful and Caring Relationships, Cultural Competence, Integrity, Responsibility, Connectedness