Could your child benefit from extra learning opportunities over th
e summer?
Registration for Summer Bridge is underway. Summer Bridge is especially important for students who are not performing on grade level or need additional help to stay on track. Summer Bridge provides engaging activities and focused instruction to prepare students for maximum success. Most Summer Bridge programs will run Monday through Thursday from June 6 to July 13. Register and find the latest information at
www.pcsb.org/ summerbridge
. Contact the school for additional info or help with the registration process.
Connect For Success Laptop Spring Clean Up

Please return your Connect for Success school laptops to Pinellas Park Elementary for the spring clean up. You can bring them to your teacher, Mrs. Reeves or drop them off at the front office.
Parents: You will need to come to the school in May for our Summer laptop programs. You will need to provide a copy of an ID or drivers license card. The updates are still going on at this time. We will provide you with times and dates.

Students will get an opportunity to visit the book fair with their classes.
Families you are welcome to visit daily from 8AM until 4 PM. Please sign in at the front office.
Family Night will be April 27, 2017 from 5:30 PM until 7:30 PM. Just stop by even to say hello!
Students may visit before and after school only if their family member is with them.
Sorry No Personal Checks can be accepted by Pinellas Park Elementary. Cash or card only.
What Flavor do you like to read? Come by to eat up some great books!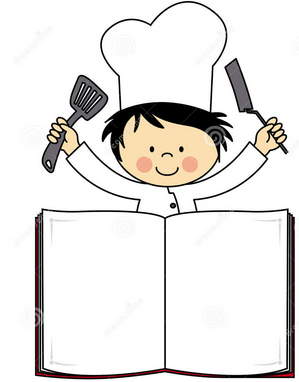 Pinellas Park Elementary families!
Join us on Thursday, April 27th for the
first annual Book Tasting
from 6:00 p.m. to 6:45 p.m.
What to expect:
· Public Library cards
Librarians will sign families up for public library cards and share about the many exciting programs they offer.
· Book Tasting & Book Fair
Participate in our Book Tasting. "Taste" new genres of books to enjoy.
~You don't know you like it 'til you try it~
Now, you're ready to browse the book fair for a new favorite book
· Cozy up and read some good books!
Bring your blankets and favorite books or your newly purchased books from the book fair and head to the reading spot for family reading time.
· Enjoy a Hot dog meal
1 hot dog, a bag of chips and a drink $2 per meal
return to classroom teacher by Apr. 21. You must RSVP to receive a meal. Money will be collected at the event.

Pinellas Park Elementary Girl Friends Club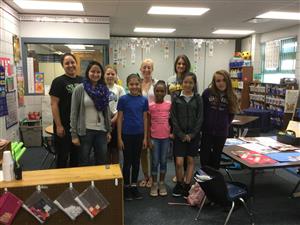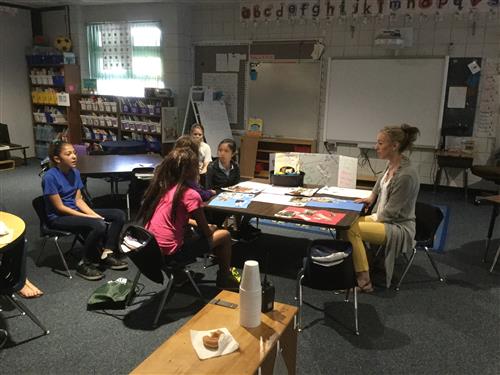 Meeting with Pinellas Park Middle School to discuss visions of the future.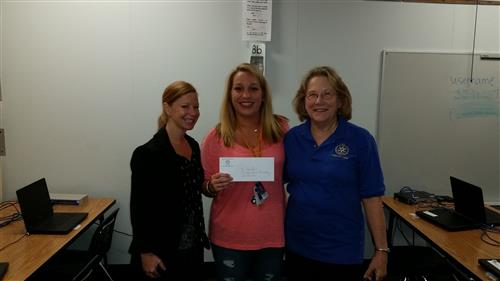 Congratulations to Ms. Crawford

Pinellas Park Rotarian Janet Waddell(right) presented a $25 check to first grade teacher Katie Crawford(middle) as part of their weekly Teacher / Speaker awards program. Also pictured on left is Pinellas Park Elementary principal Lisa Freeman
5th Grade Visit to Tall Ships/USF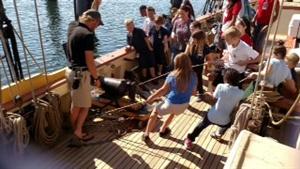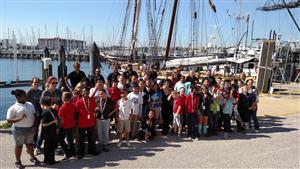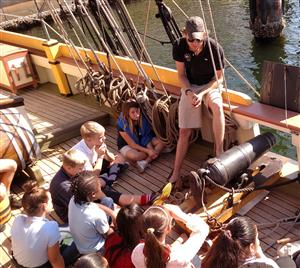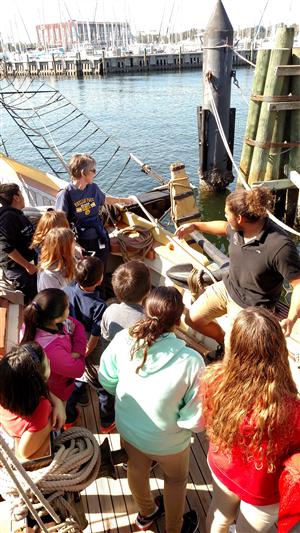 MYON Reading CHALLENGE WINNERS!
Congratulation to Mrs. Lints' and Mrs. Singleton's students for being top readers in the Myon Challenge Winter Break Reading Contest!
Thank you to David and Julie Cole from Myon for your continued support of our reading program!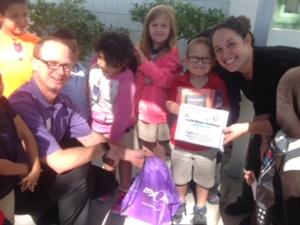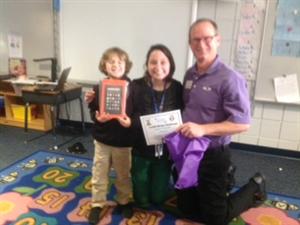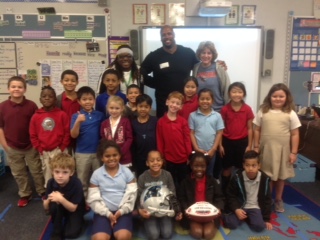 Corey Thorton and NFL star Ron Edwards with Mrs. Allston's Class