Information about physically returning to CBE for 2020
Drop off and pick up
All students must be dropped off and picked up in the car circle.
Parents will not be able to wait in the patio area or on the sidewalk in front of the school to drop off or pick up students.
Cafeteria
All students will be facing the same way in the cafeteria (toward the stage).
Each table will have only 2 students.
Parents will be unable to eat with their student for breakfast or lunch.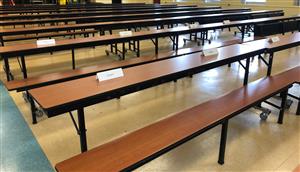 Classrooms
Classrooms that have individual desks will have them spaced apart (6 feet from the middle of a desk to the middle of the next desk).
Classrooms with tables will have plexiglass shields for those who are not 6 ft apart (these dividers are not in schools yet to show you in the pictures).
Students will be required to wear their mask when they are not able to social distance. This may include when they are at tables with plexiglass.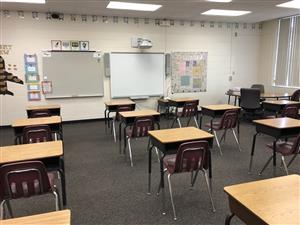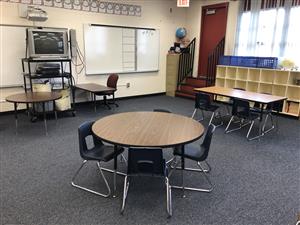 Front Office
Plexiglass shields are in place for when parents are working with our office staff.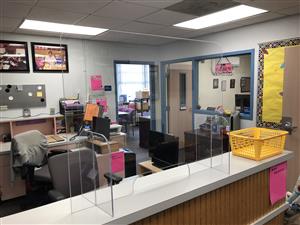 Masks/Face Shields
When staff and students are not able to social distance, they will be wearing masks/face shields (school provided or their own), unless there is a medical note brought in that a student is unable to wear a mask/shield.
Staff working with our DHH students will be using face shields or masks that are clear so communication is not impeded.
Water Fountains
Water Fountains will be disabled at the school. Students should bring a water bottle (or 2) to school each day.
We will have a water bottle refill fountain in the cafeteria.
Sanitation Stations
Will be located around the school.
PE
Will take place outside (unless there is inclement weather) and students will not need to wear a mask at PE.
Students will take their mask to PE so they can wear them when they are lining up or in the event they are unable to social distance.
Focus will be working on individual skills rather then group games
Art/Music
Will take place in the Art or Music room.
Masks will be worn when students are not able to social distance.