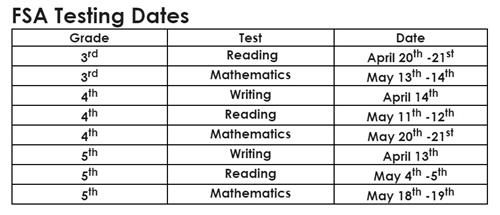 Click here to view the Ready, Set...Kindergarten Presentation
My PCS Online Parent/Family Information
This link is the one-stop shop for all My PCS online resources. Parents can view videos and participate in training to navigate the online platform.
https://www.pcsb.org/mypcsonline
For parents who would like their child to return to school, please contact the front office at 727-893-2332. Filling out the Learning Option Change form is not required at Bear Creek Elementary. All students may return.
Click here to view information for families returing to campus after winter break.
Week of April 5, 2021
Happy Sunday, BCE Family!
I hope that you all enjoyed your extended Easter weekend.
Please note that the district's mask mandate is still in effect. A mask is still required for all students and adults entering a district office, building or campus. Refusal to wear a mask is grounds for a student to be assigned to virtual learning. I am flexible on many things; however, this is a non-negotiable. As the principal of Bear Creek Elementary, I will protect the health, safety and well-being of my staff and students at all cost.
Please see the calendar of events for month April.
April Calendar of Events
April 6 – Grades 3 – 5 Practice Reading FSA (3rd and 5th @ 9am; 4th @ 10:30am
April 9 – Grades due in portal
April 9 – Jeans Day (Students may wear jeans for $1.00)
April 10 – Grades 4 & 5 Saturday Writing Academy @ 9-11am (Day 2)
April 13 – Promise Time Planning (No Tutoring)
April 13 – FSA Writing Assessment (Grade 5)
April 14 – FSA Writing Assessment (Grade 4)
April 20 – ELA FSA Grade 3 – Day 1
April 20 – PTA & SAC Meeting @ 6pm via Zoom
April 20 – Quarter 3 Report Card Distribution
April 21 – ELA FSA Grade 3 – Day 2 (see schedule)
REMINDERS and UPDATES
ESE Parents/Guardians
Please be on the lookout for ESE surveys in your child's backpack. Please complete the survey ASAP. Bear Creek dollars will be given to students who return the completed survey. We will be giving gift cards away in a drawing to parents who complete the survey! Thank you in advance!
Summer Bridge 2021
Summer Bridge student registration is now underway. Please see attached flyer for Summer Bridge dates and registration information.
Click here for the Summer Bridge Flyer
YOUR CONTINUED SUPPORT IS NEEDED
As we continue to navigate our current reality, I would like for us all to keep the safety and wellness of Bear Creek Elementary as our main priority. Before sending your child to school each day you are to assess your child's wellness with the following questions:
SELF-SCREENING QUESTIONS
Has your student experienced any of these symptoms, not associated with previously diagnosed conditions, in the past 72 hours:
Fever greater than 100.4/chills
Cough/shortness of breath
New loss of taste or smell
Nausea/vomiting/diarrhea
Experienced multiple symptoms
In the last 14 days, has your child:
been in close contact with anyone who has been diagnosed with COVID-19;
been placed on quarantine for possible contact with COVID-19;
traveled abroad or to an area of the country where it is recommended that they self-quarantine;
had a COVID-19 test pending
If your child is experiencing any of these symptoms or conditions, it is extremely important that they not enter the school building and you should contact their healthcare provider.
All PCS staff, students or visitors entering a school board building are required to affirm their wellness by answering the questions above.
BEAR CREEK MITIGATION STRATEGIES
Face covering/mask must always be worn while on campus
Daily wellness screenings
Only one adult/family will be permitted to enter the front office lobby at a time
Appointments are required for the following:
-Finalize student registration (now available online – please see directions below)
-Medication drop-off to the clinic (Please DO NOT send medications with students)
-Device Pick-up for My PCS Online families
-Meeting/conference with staff
Routine cleaning and daily sanitizing
Practice social distancing (to the greatest extent possible)
Additionally, please DO NOT send students to school if any of the following scenarios are true.
- Your student has knowingly been in contact with anyone who has tested positive.
- Your student or other household member is awaiting the results of pending test.
Please notify school personnel as soon as possible. This will allow us to keep our campus safe and contact the district COVID-19 team.
I appreciate your collective effort in ensuring our campus is COVID free and safe.
Please Note: All Covid-19 public reporting information is available on the district homepage. This information is updated weekly and can be viewed by campus or district building. My main objective is to keep my school community informed as positive cases are confirmed by the Department of Health.
Please let me know if you have any questions or concerns.
Theme for the school year: All Means All
Quote for the school year: "The strength of the team is each member. The strength of each member is the team." - Phil Jackson
Thank you for being a member of the TEAM.
Principal Houston
Click here to view Principal Houston's Welcome Back letter.
Click here for the District Reopening Plan.
Click here for the Bear Creek Student Handbook.
Click here to view Open House teacher videos.