Click here to view the Ready, Set...Kindergarten Presentation
My PCS Online Parent/Family Information
This link is the one-stop shop for all My PCS online resources. Parents can view videos and participate in training to navigate the online platform.
https://www.pcsb.org/mypcsonline
For parents who would like their child to return to school, please contact the front office at 727-893-2332. Filling out the Learning Option Change form is not required at Bear Creek Elementary. All students may return.
Click here to view information for families returing to campus after winter break.
Happy Sunday, BCE Family!
I hope that you all had an amazing weekend!
Please see the calendar of events for the remainder of February.
March Calendar of Events
February 26 – March 22 – Dreambox Derby (please see attached flyer for details)
March 1 - March 12 - Acceptance period for VPK and Pre-Kindergarten 3 Programs, don't forget to log back into reservation.pcsb.org to check the status of your application and accept an invitation.
March 2 – Read Across American & Dr. Suess' Birthday
March 5 – Jeans Day
March 10 – PTA Fundraiser Pick-Up @ 2pm in the cafetria.
March 15-19 – Spring Break - No School
March 22 – Dreambox Derby Ends
REMINDERS and UPDATES
Dreambox Derby is now underway…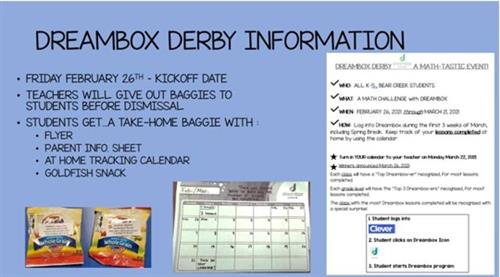 New Covid-19 Positive Case Reporting
This is an important reminder regarding our COVID-19 communications protocols. As you may know, the district maintains a dashboard on our website that lists all positive cases in our schools at www.pcsb.org/covid19cases. That dashboard is updated each work day and is searchable by location and date. We have been asked to simplify our communications process to ensure families only receive the most essential communications, so we will be updating our protocols moving forward.
Beginning today, February 21, we will do the following:
Notify by phone and email any student or staff member who is identified as a direct contact and must quarantine.
Update the district's COVID Public Dashboard every weekday at noon with cases confirmed the previous day.
A link to the district's COVID Dashboard is on the homepage of the district's website and has also been added to the homepage of every school's website. You can bookmark the page for quick access.
Beginning today, if you do not receive a call, then your student has not been deemed a close contact of a positive case and should attend school normally. If at any time you would like additional information about the number of cases at your student's school, or the safety protocols being followed, we encourage you to use our Let's Talk! online messaging system, which is available on our website, or reach out to your school principal.
As always, we ask everyone to monitor themselves for any sign of illness. We must continue to work together to keep our schools healthy and safe.
Thank you for your support of Pinellas County Schools
Acceptance Period for Application Choice Programs is Coming Soon!
Families can accept a seat for magnet, fundamental and career programs
Pre-K3 and VPK Registration for 2021-2022
Pinellas County Schools is beginning the online application process on January 19th - February 1st, 2021, for Prekindergarten for 3-year-old children and Voluntary Pre-kindergarten for 4 years old.
Parents need to have a Focus Account to be able to apply online. If you do not have one, please stop by any Pinellas County School to obtain an username and password and to received step by step instructions on the application process and what paperwork you will need to register.
Pre-K 3 is for children who will be 3 years old on or before Sept. 1, 2021. For information about Pre-K 3, please read more on the Districts website www.pscb.org or call 727-588-6000 x 2184.
VPK is for children who will be 4 years old on or before Sept. 1, 2021. For more information about VPK, visit www.pcsb.org/vpk or call 727-588-6513. Parents will also need to log back into the district's Student Reservation System on March 1st - March 12th to view and accept an invitation for Pre-K 3 and VPK programs. The front office at Bear Creek is open from 8:15 am to 3:55pm and our number is 893-2332. Please call the front office staff and they will help you with any questions.
Why is attendance so important?
Chronic Absences (or missing 2 or more days of school a month, whether excused or unexcused) as early as Pre-K is associated with poor reading skills and retention in the 3rd grade. By the 6th grade, it is considered as early warning indicator that a student will drop out of high school.
Let's All Strive for Good Attendance!
YOUR CONTINUED SUPPORT IS NEEDED
Please note that the district's mask mandate is still in effect. A mask is still required for all students and adults entering a district office, building or campus. Refusal to wear a mask is grounds for a student to be assigned to virtual learning. I am flexible on many things; however, this is a non-negotiable. As the principal of Bear Creek Elementary, I will protect the health, safety and well-being of my staff and students at all cost.
As we continue to navigate our current reality, I would like for us all to keep the safety and wellness of Bear Creek Elementary as our main priority. Before sending your child to school each day you are to assess your child's wellness with the following questions:
SELF-SCREENING QUESTIONS
Has your student experienced any of these symptoms, not associated with previously diagnosed conditions, in the past 72 hours:
Fever greater than 100.4/chills
Cough/shortness of breath
New loss of taste or smell
Nausea/vomiting/diarrhea
Experienced multiple symptoms
In the last 14 days, has your child:
been in close contact with anyone who has been diagnosed with COVID-19;
been placed on quarantine for possible contact with COVID-19;
traveled abroad or to an area of the country where it is recommended that they self-quarantine;
had a COVID-19 test pending
If your child is experiencing any of these symptoms or conditions, it is extremely important that they not enter the school building and you should contact their healthcare provider.
All PCS staff, students or visitors entering a school board building are required to affirm their wellness by answering the questions above.
BEAR CREEK MITIGATION STRATEGIES
Face covering/mask must always be worn while on campus
Daily wellness screenings
Only one adult/family will be permitted to enter the front office lobby at a time
Appointments are required for the following:
-Finalize student registration (now available online – please see directions below)
-Medication drop-off to the clinic (Please DO NOT send medications with students)
-Device Pick-up for My PCS Online families
-Meeting/conference with staff
Routine cleaning and daily sanitizing
Practice social distancing (to the greatest extent possible)
Additionally, please DO NOT send students to school if any of the following scenarios are true.
- Your student has knowingly been in contact with anyone who has tested positive.
- Your student or other household member is awaiting the results of pending test.
Please notify school personnel as soon as possible. This will allow us to keep our campus safe and contact the district COVID-19 team.
I appreciate your collective effort in ensuring our campus is COVID free and safe.
Please Note: All Covid-19 public reporting information is available on the district homepage. This information is updated weekly and can be viewed by campus or district building. My main objective is to keep my school community informed as positive cases are confirmed by the Department of Health.
Please let me know if you have any questions or concerns.
Theme for the school year: All Means All
Quote for the school year: "The strength of the team is each member. The strength of each member is the team." - Phil Jackson
Thank you for being a member of the TEAM.
Principal Houston
Click here to view Principal Houston's Welcome Back letter.
Click here for the District Reopening Plan.
Click here for the Bear Creek Student Handbook.
Click here to view Open House teacher videos.