Theme for the school year: All Means All
Quote for the school year: "The strength of the team is each member. The strength of each member is the team." - Phil Jackson
Families Returning to Face-to-Face Instruction Click Here for Important Information.
NEW - Click here to see Meal Distribution Updates
WEEK OF OCTOBER 24TH
Happy Sunday Bear Creek Families,
Please see calendar of events for the month of October.
October Calendar of Events
10/26 – No school for students
10/27 – Bear Creek Reads featuring Mrs. Shible (VE Resource Teacher) @ 6pm on DOJO.
10/26-10/30 – Red Ribbon Week
10/27 – Quarter 2 begins
10/27 – First day for students transitioning back to face-to-face instruction from online
10/30 – Materials Pick-Up @ 8:45am in the car circle.
10/30 – Bear Creek PTA Sponsored Halloween Family Event
UPCOMING EVENTS
The Week of October 26th is Red Ribbon Week
Students and staff are encouraged to participate in the daily themes.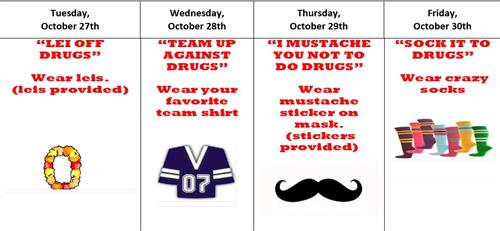 PTA Family Engagement Event – Friday, October 30th (Flyer posted to our DOJO page)
Bear Creek's Haunted Lane – Grade Level & Times
PK – 2nd (6:00 - 6:45pm)
3rd – 5th (6:45 - 7:15pm)
From the desk of Ms. Lily Giering – BCE Community Engagement Liaison
BCE Families,
Our school is looking for individuals to speak to our students via zoom for our virtual Great American Teach-In (GATI). We would like to invite you or, other family members who might be interested, to present to our students during this year's event. The GATI provides our students with experiences they may otherwise not have. The speakers and guests on that day always make it a special time for our students.
Here is some information to assist planning your time at our school:
You may choose to speak to only one grade level, or several classes.
You may present for 30-minutes, an hour, or for the entire day. Our first speakers will start at 9:00 am and present for about 30-45 minutes.
Remember these are elementary age children and attention spans could vary. Hands on activities are often effective and fun for the students.
Consider wearing appropriate attire related to the occupation or hobby you plan to discuss.
Likewise, please check in advance if you have any handouts or "goodies" you would like to share with the class.
Please contact me at gieringl@pcsb.org for more information.
If you are interested in attending Bear Creek Elementary Great American Teach-In on Wednesday, November 18, 2020. Please fill out the attached GATI speaker application link below at your earliest convenience.
Thank you for considering the giving of your time. The GATI is an excellent way to broaden to opportunities available to students.
Looking forward to hearing from you.
GATI speaker application link: http://bit.ly/2VYt51l
REMINDERS and UPDATES
YOUR CONTINUED SUPPORT IS NEEDED
Please note that the district's mask mandate is still in effect. A mask is still required for all students and adults entering a district office, building or campus. Refusal to wear a mask is grounds for a student to be assigned to virtual learning. I am flexible on many things; however, this is a non-negotiable. As the principal of Bear Creek Elementary, I will protect the health, safety and well-being of my staff and students at all cost.
As we continue to navigate our current reality, I would like for us all to keep the safety and wellness of Bear Creek Elementary as our main priority. Before sending your child to school each day you are to assess your child's wellness with the following questions:
SELF-SCREENING QUESTIONS
Has your student experienced any of these symptoms, not associated with previously diagnosed conditions, in the past 72 hours:
Fever greater than 100.4/chills
Cough/shortness of breath
New loss of taste or smell
Nausea/vomiting/diarrhea
Experienced multiple symptoms
In the last 14 days, has your child:
been in close contact with anyone who has been diagnosed with COVID-19;
been placed on quarantine for possible contact with COVID-19;
traveled abroad or to an area of the country where it is recommended that they self-quarantine;
had a COVID-19 test pending
If your child is experiencing any of these symptoms or conditions, it is extremely important that they not enter the school building and you should contact their healthcare provider.
All PCS staff, students or visitors entering a school board building are required to affirm their wellness by answering the questions above.
BEAR CREEK MITIGATION STRATEGIES
Face covering/mask must always be worn while on campus
Daily wellness screenings
Only one adult/family will be permitted to enter the front office lobby at a time
Appointments are required for the following:
-Finalize student registration (now available online – please see directions below)
-Medication drop-off to the clinic (Please DO NOT send medications with students)
-Device Pick-up for My PCS Online families
-Meeting/conference with staff
Routine cleaning and daily sanitizing
Practice social distancing (to the greatest extent possible)
Thank you for being a member of the TEAM.
Principal Houston

Hello Bear Creek Families,
Toys for Tots has opened its enrollment for this year's holiday season. If your child is 12 years of age or younger by Christmas Day, on free or reduced lunch, and lives in Pinellas County they are eligible to receive at least one toy from this organization. If you are interested – please sign up as soon as possible. Slots fill up very quickly, but if you apply now you should be OK.
Here are the steps:
Apply to Toys for Tots by going to https://t4tpinellas.ptaptsa.org/pre-registration
Fill out the online form.
Look for the email confirmation.
On or around Dec. 11th, look for an email that you must acknowledge to stay on the list.
Look for confirmation email with a date, time, and code that you need to bring to the toy distribution site.
Check your status by going back to the site and entering your email.
Pick up the toy(s) at the designated time.
Have a Merry Christmas!!
Click here to view Principal Houston's Welcome Back letter.
Click here for the District Reopening Plan.
Click here for the Bear Creek Student Handbook.
Click here to view Open House teacher videos.
My PCS Online Parent/Family Information
This link is the one-stop shop for all My PCS online resources. Parents can view videos and participate in training to navigate the online platform.