Brooker Creek Broadcasting Company
The BCBC News Crew is composed of four teams of fourth graders that rotate each week. Being a member of the BCBC News Crew presents an opportunity like no other for students interested in the production process. Each morning students produce a live news show that is televised over Brooker Creek's closed circuit TV system and Video Furnace. Students produce the news daily from the BCBC broadcasting room located in the Media Center. They use a "state of the art" Tri-Castor system that allows them to tape and edit videos as well as play recorded news clips. There are several different roles that team members must fill in order to produce the daily news.
Anchors: Reads a script from the teleprompter they introduce the different parts of the broadcast team.
Current News: Reads the lunch menu for the day, fact of the day, and other daily announcements. Current News also introduces guest speakers.
Sports: Writes a sports report and reports on sports of Florida or national interest.
Weather: Views the weather script and reports the weather and introduces the birthdays.
Cameras: Record the various positions on camera zooming in and out when necessary.
Sound: Activates various microphones and adjusts the sound level for each.
Script writer: Uses the internet to assemble the weather forecast. Plays the Star Spangled Banner and runs the teleprompter.
Audio Visual: Activates the cameras and controls the transitions between them. The AV person also is responsible for chroma key effects with the current news and weather reporters
Students who become reporters often polish their public speaking skills. They develop and practice the needed proficiency that enable them to read with fluency and prosody—key elementary school fundamentals. This may take practice at first, but students who participate in the BCBC News Crew often leave the 4th grade with rich communication abilities and gained self-confidence.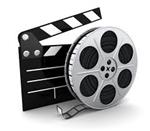 Students who report the news will learn the art of public speaking by:

Using voice volume effectively


Learning the importance of articulation

Developing good pacing and understanding the importance it has on speech.

Developing optimal eye contact

Talking to the audience as opposed to reading to them

Building confidence speaking in public

Learning about teamwork between other reporters and crew members

Developing good body language habits for sitting and standing situations

Developing good speaking habits by avoiding "ums" and "uhs"
The behind the scenes crew is also learning valuable skills. There are many technological roles that must fit together perfectly to run the show. There must be someone running the cameras, the teleprompter, controlling the audio (microphones, background music, and sound effects), as well as someone controlling the visual effects. Students who work behind the scenes often excel in technology and get to apply their knowledge in a creative ways.
Students gain experience working with technology by:
Learning about teamwork between other reporters and crew members

Learning how to operate a sound board

Learning how to operate the camera

Learning how to use a microphone

Learning how to operate a teleprompter

Learning how to trouble shoot unexpected technological difficulties

Learning leadership skills that will be useful throughout life